OBSESJE Returns to Teatr Wielki in April
Performances run 21-23 April 2023.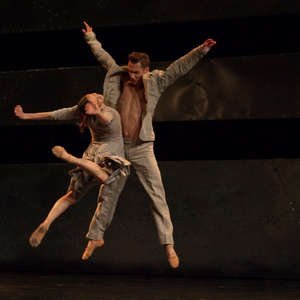 W dobie forsowania epickich narracji bywa nam tęskno do bagatel, etiud, filmów nowelowych czy zbiorów opowiadań. Wieczór Obsesji to rzadka okazja obejrzenia kameralnych form baletowych autorstwa wybitnych choreografów, prezentujących dwa różne idiomy - abstrakcyjny i narracyjny. Emil Wesołowski opowiada historię rozpadu związku miłosnego - ze zmiennością nastrojów i sprzecznością pragnień, przyciąganiem i odpychaniem, kiedy jedno pragnie bliskości, drugie już jej unika.
Wysłyszał tę opowieść w pierwszym poemacie symfonicznym Karłowicza, stanowiącym początek muzycznej dojrzałości kompozytora (ledwie pięcioletniej, bo przerwanej nieszczęsną wycieczką narciarską pod Kościelec) - dziele naznaczonym powracającymi falami smutku po niedawnej śmierci ojca i siostry. Krzysztofa Pastora inspirowały dwa rodzaje obsesji: kompulsywna repetycyjność muzyki Schnittkego i Góreckiego, twórców, u których rządzą rytm i motoryka rodem z Święta wiosny oraz obsesyjne powtarzanie motywów.
Choreografia do fragmentów Schubertowskiego kwintetu to taniec czysty, abstrakcyjny, by nie rzec: autoreferencyjny. Pastor mówi, że inspirowały go także osobiste, nierzadko "obsesyjne", relacje pomiędzy tancerzami w jego zespole. Kto ma w pamięci Pianistkę Hanekego, temu już zawsze Schubert kojarzyć się będzie z presją perfekcji i seksualności.