Review: CABARET at The Rozrywka Theater In Chorzow
Old is fresh and spicy.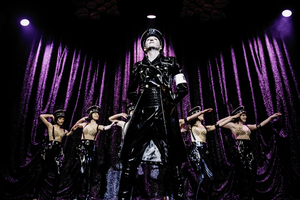 This show is one of a kind and this year we celebrate the 50th anniversary of a Bob Fosse masterpiece. Great opportunity to revisit this production on stage and decide if it has lost any of its greatness after all these years. The show in Chorzow rose to the challenge spectacularly.
The piece is dynamic and simply beautiful. The scenography changes so quickly and unexpectedly that you don't have time to blink or think.
All the characters are big but not overwhelming which is a huge plus. Wioleta Malchar as Sally Bowles, is having so much fun on stage it's contagious. She is full of energy, has a beautiful voice and this mystical power that makes you want her more and more. She is excellent in loud and intimate songs, she flies a little on stage. Maciej Kulmacz, as Clifford Bradshaw, convinces with his youth and his naivety, he goes through a transformation to be ready to take responsibility not only for his action but also for his future baby. And last but not least (oh no...) Kamil Franczak, as Master of Ceremony, is just amazing, nothing to say except your jaw will drop and drop and drop after each of his entrances.
The songs are great! The choreographies (Inga Pilchowska) are so vital that your legs will jump unconsciously; the vibe, especially during the party scenes, is so real it almost feels like you're right there with them (even the air is different, I don't know how they do it). There is a lot of perversity but not a lot of eroticism: it's true bohemian Berlin of the early 1920s. The second act is different, more political and serious. You fell like you felt on the ground from the clouds and it hurts. That's THE plot twist.
Changes and diversity will absorb you completely as not only the scenery, but also the music, style and actors change so quickly that you simply lose control and devote yourself completely to what you see on stage. There is so much good. It is a truly amazing show, it is a hight quality life theater. A delight.
The only bad thing I can say about this show is that there were too many...good things. At some point, you stop absorbing those juicy little details because it's too much.
It's well prepared, the dancers have amazing moves, the singers have amazing voices and everything is in the right place. The scenography (Grzegorz Polocinski) is precise but crazy, the costumes (Anna Chadaj) are just perfect and everything is coherent. I would give less space to parallel stories even if a love of 65+ is beautiful and full of pain.
Director Jacek Bonczyk made a perfect mix of talented people and motifs. His sense of style and atmosphere creates a cohesive whole.
Life in a cabaret is beautiful but unreal and that's what makes you want to stay there, in a cozy and quirky environment. It made me want to stay forever in this theater for sure.
Photo: Andrzej Wloclawek