Review Roundup: PETER PAN at Pittsburgh CLO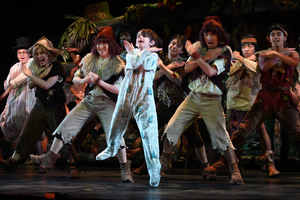 Pittsburgh CLO welcomes both Jenn Colella and Charles Shaughnessy back to the Benedum, as they both starred in previous summer season hits: Jenn as Annie Oakley in 2008's Annie Get Your Gun, and Charles as Henry Higgins in 2003's My Fair Lady.
Based on J.M. Barrie's classic tale, PETER PAN is one of the most beloved family favorites of all time. This high-flying Tony Award®-winning musical has been performed around the world and delighted audiences for 60 years! Peter and his mischievous fairy sidekick, Tinkerbell, visit the nursery of the Darling children late one night and, with a sprinkle of pixie dust, begin a magical journey across the stars that none of them will ever forget. In the adventure of a lifetime, the travelers come face to face with a ticking crocodile, a fierce tribe of Lost Boys, a band of bungling pirates and, of course, the villainous Captain Hook. Featuring the iconic songs, "I'm Flying," "I've Gotta Crow," "I Won't Grow Up" and "Never Never Land," as well as a rousing story full of magic, warmth and adventure, PETER PAN is the perfect show for the child in all of us... who dreamed of soaring high and never growing up.
Let's see what the critics have to say!
Sharon Eberson, Pittsburgh Post-Gazette: On opening night Friday, the green ball of light that represents the fairy Tinker Bell had a couple of miscues, but those were few. The Neverland quick-change sets are designed for crowds making a splash, including Peter's below-ground home and the pirate ship's deck, but navigating them isn't always easy. Best is the Darlings' home, where there's room to move - and fly. The CLO Orchestra has had some great moments this season, particularly the classic overtures that are mostly absent in postmodern musicals. Instead of bolting for the door, make note of the orchestra as the musicians play you out - and there's a goodbye surprise you won't want to miss.
Emily Wolfe, Pittsburgh City Paper: Peter Pan, in general, would probably be better off not being a musical at all. The score, written by Morris "Moose" Charlap and Carolyn Leigh (with additional music and lyrics later written by Jule Styne, Betty Comden, and Adolph Green), is remarkably unmemorable, and few songs reveal anything new about the story, setting, or characters. When Colella does get the chance to show off her belt, though, you're glad she's singing. And when she climbs back onto the windowsill at the show's end for a reprise of Peter's ode to "Neverland," the magic is all there. This is where Peter Pan works best: The wires might be showing, but it's hard not to crow alongside Colella as she flies triumphantly back to childhood.
Ted Hoover, Pittsburgh Current: Director/choreographer Patti Colombo has been working on various Broadway, regional and television productions of Peter Pan for a lot of years and it's immediately obvious she knows the show inside and out. There are some cuts - the number "Oh, Mysterious Lady" is gone - plus some more substantial changes. The "Ugg a Wugg" song (which would be inexcusable presented in its 1954 form) has been transmogrified into a huge, and thrilling, percussive dance sequence. Colombo has overseen a production where entertaining an audience is the prime directive. Which brings us to Jenn Colella and her fireball of a performance as the title character. With the force of her joyous, infectious and powerful presence she is the glue holding together this production. There's flying, dancing, singing, moving sets, child actors and grown actors in animal costumes, but Colella has all of it clutched tightly in her hand and it's simply impossible not to beam ear-to-ear when she's onstage.