Pittsburgh Artists With Chilean Roots Feature in World Premiere of LOOKING FOR VIOLETA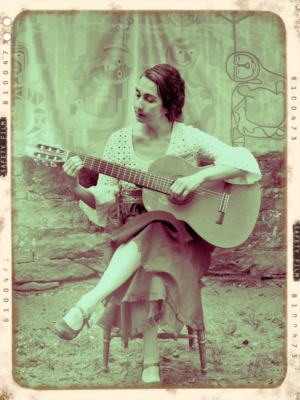 Quantum Theatre creates Looking for Violeta, a world premiere collaboration brimming with the music, poetry, joy, and sorrow of the life of legendary Chilean folk singer and activist Violeta Parra.
This original work evolved as a collaboration of a team of artists, writers, and musicians brought together by Quantum's Artistic Director Karla Boos, who has a deep and ongoing relationship with Latin American (and Spanish) theatre, music, and dance, stretching back to Quantum's inaugural production of Pedro Páramo in 1990. Carolina Loyola-Garcia, a longtime Quantum collaborator (The Red Shoes, María de Buenos Aires, Ainadamar), contributed to the development of the work and stars as Violeta Parra. María José Galleguillos wrote the script, meeting with the team on Skype calls from Santiago, Chile. Emily Pinkerton, an ethnomusicologist and composer known across the region as half of the collaborative folk duo The Early Mays, composes original music based on her decades of study with a focus on Violeta Parra. Daniel Nesta Curtis, director of the Contemporary Ensemble at Carnegie Mellon University, joins as Music Director.
Quantum's crew erected a production-encompassing tent in Frick Park next to the Lawn Bowling Greens (7300 Reynolds Street) as a nod to Violeta Parra's iconic tent, or peña. Peñas are traditional gathering places where food, drink, and folk music could provide cover for political agitation. At the height of her international fame, Violeta took the concept to a new level of effectiveness as a place of love and solace for indigenous peoples and the poor. Evoking the spirit of the peña, Quantum encourages theatregoers to picnic before the show.
Violeta Parra was a titanic figure in the art and activism of the 1960s, particularly in Chile, but also internationally. Her music is deeply rooted in the indigenous Andean cultures of Chile, drawing on many traditional South American poetic and dance traditions. She comes from a deeply artistic family - her brother, Nicanor Parra, was a poet of the stature of Pablo Neruda, who was also a friend. Nicanor, played by bass-baritone Eugene Perry (The Winter's Tale), is a major figure of Quantum's production, who leads the audience in the act of 'looking for Violeta.' Strongly associated with the nueva canción movement, Parra used her status and platform to highlight the conditions of oppressed peoples across Latin America as unrest arose against many totalitarian regimes.
In addition to her incredible musical contributions, Violeta Parra was also skilled in embroidery, creating many arpilleras, a collection of which were exhibited in the Louvre in 1964. A traditional and specifically feminine art form that emerged under the dictatorship of Augusto Pinochet, arpilleras were a source of income for the people and served to convey subversive messages against the authoritarian government. Representing these intricate woven hangings is an effort between Scenic Designer Tucker Topel, Assistant Designer Sarah McPartland, and Fabric Art Consultant Brigitte Le Brigand. Long time Quantum collaborators C. Todd Brown (lights) and Steve Shapiro (sound), with Marissa Miskanin (costumes) round out the design team.
The performing ensemble includes Kelsey Robinson, Jerreme Rodriguez, and Raquel Winnica Young, with Emily Pinkerton leading a band of Jon Bañuelos, Erik Lawrence, José Layo Puentes, and Ryan Socrates.
Looking for Violeta performances are August 2nd - August 25th, Wednesdays - Sundays. Wednesdays, Thursdays, and Saturdays at 8:00PM, Sundays at 7:00PM, and Fridays at 9:00PM. Location: Frick Park Lawn Bowling Greens, 7300 Reynolds Street, Pittsburgh, PA 15208. Free street parking is available. Tickets can be purchased by calling 412-362-1713 or online at www.quantumtheatre.com/violeta. Prices range from $38-$55. Discounts available for groups of 10 or more.
Special Performances:
Pay What You Can Night on Wednesday, July 31st
Community Night on Thursday, August 1st,
Opening/Press Night on Saturday, August 3rd, with a post-show champagne reception.
Post-Show Q&A on Sunday, August 4th, Q&A session with the cast and team.
Social Q sponsored by Reed Smith LLP on Wednesday, August 7th, a preshow reception and look at Pittsburgh through Quantum's eyes. Media sponsor: The Incline.
Quantum Quaff on Thursday, August 8th, a pre-show wine tasting event.
Quantum-on-the-Couch on Saturday, August 17th, a post-show discussion of the psychology of the characters.
Now in its 29th season, Quantum Theatre is a company of progressive, professional artists dedicated to producing intimate and sophisticated theatrical experiences in uncommon settings, exploring universal themes of truth, beauty, and human relationships in unexpected ways. Quantum Theatre is devoted to eclectic experimentation, staging its works in environmental sites that inspire directors, designers, and performers, and delight audiences. They reflect Pittsburgh's character, history and architecture, and are as different from one another as a monumental blast furnace, grand museum, an abandoned industrial site, a modern office tower, a beloved City lake, and a waterless indoor swimming pool. The company is influenced by theater artists working in new ways around the world, often bringing such artists to its Pittsburgh laboratory, where Quantum assembles unusual artistic teams, empowers creativity, and nurtures bold ideas.
Related Articles View More Pittsburgh

Stories

Shows
More Hot Stories For You