Stars Come Together in Desert Showstoppers Broadway Concert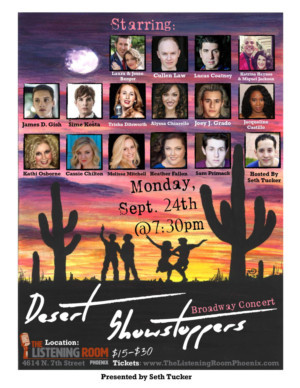 Stars of the valley's theatre scene come together to sing their favorite, most impressive, show-stopping songs! You know the singers, you know the songs, now come watch them show off in, "Desert Showstoppers"!
Tickets: DESERT SHOWSTOPPERS BROADWAY CONCERT (https://www.brownpapertickets.com/event/3612537)
$15 General Admission
$30 VIP Includes reserved seating, Pre-show shot with the cast, Signed poster, Post-show Greenroom toast!
While most theaters have Mondays off, "Desert Showstoppers" has gathered local stars to belt their faces off. It's big hit after big hit in what will be a ridiculous, nonstop, unforgettable concert. Hosted & Directed by the self proclaimed, "Hilarious" Seth Tucker, guests include West Side Story stars James D. Gish and Alyssa Chiarello (Phoenix Theatre), K-Pop Singer Sime Kosta, local singing couples Jesse & Laura Berger and Katrina Haynes & Miguel Jackson, duo Heather Fallon & Cassie Chilton, Belaganas rapper Joey J. Grado, stars of Arizona Broadway Theatre, Valley Youth Theatre and many more! Join us as we "cheers" the toast of the town at this BYOB event (Expect a drinking game to ensue). One night, one performance, tons of local stars! Accompanist: Darin Shryock
PERFORMERS (subject to change):
Seth Tucker
Cullen Law
Joey J. Grado
Sime Kosta
Alyssa Chiarello
James D. Gish
Heather Fallon
Cassie Chilton
Laura Berger
Jesse Berger
Katrina Haynes
Miguel Jackson
Sam Primack
Melissa Mitchell
Kathi Osborne
Trisha Ditsworth
Jacqueline Castillo
Lucas Coatney
&
More
A BYOB Event!
(Approx. 1hour 45 minutes)