Photo Flash: Beowulf Alley Theatre's A PIECE OF MY HEART
As a follow up to the April production of LAST OF THE BOYS, this Memorial Day, Beowulf Alley Theatre will continue its recognition of our American soldiers' families for their shared sacrifice. Join us for a three-week run of A PIECE OF MY HEART by Shirley Lauro, adapted from the Keith Walker book of the same name. Whitney Morton will direct this poignant chronicle of the women of the Vietnam War. The cast includes Janet Bruce, Samantha Cormier, Catherine Killough, T Loving, Steve McKee, Jennifer Roberts and Maria Rallings. Recommended for ages 13 and older.
More than 15,000 American women volunteered to serve in Vietnam. Many were wounded and eight were killed. Ms. Lauro's play memorializes these brave women as it bring to life true stories of six courageous women who volunteered to serve their country, the men who were part of their lives and the struggle to make sense of the war that irrevocably changed them and the nation that shunned them, their every limit tested. A Piece of My Heart portrays their strengths, weaknesses and sheer endurance, embracing the music, confusion, heroism, and idealism of the late 60s, portraying both the women's sorrows and their intense joys, looking beyond politics to reflect on the incredible human experience of living and working in the midst of violence and chaos - and surviving. This tale of women in a conflict that forever changed America's relationship to war is searingly relevant today. It is important to educate our young people about the sacrifices and bravery of these young women, then in their late teens and early 20s, who are now the mothers and grandmothers of a new generation faced with a new kind of war.
A PIECE OF MY HEART has earned The Susan Blackburn Prize (Finalist) as Best English Language Play by a Woman, The Barbara Deming Prize for Women Playwrights, and The Kittredge Foundation Award. The Vietnam Vets of America, Inc. has cited the work as "the most enduring play in the nation on Vietnam." Lauro has written over twenty plays and one-acts.
The theatre is located at 11 South 6th Avenue, 85701 in Downtown Tucson, AZ, between Broadway and Congress. For more information consult our website at www.beowulfalley.org or call (520) 882-0555.
Photos by Creatista/Scott Griessel


Jennifer Roberts, Steve McKee

T Loving, Janet Bruce, Catherine Killough, Maria Rallings, Samantha Cormier, Jennifer Roberts, Steve McKee

Steve McKee, T Loving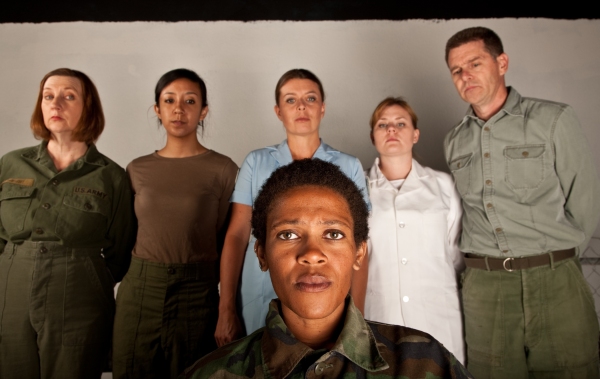 T Loving with Janet Bruce, Catherine Killough, Maria Rallings, Jennifer Roberts, Steve McKee