BWW Review: Elevating! Touching! Magnificent! David Bennett's MAN OF LA MANCHA Is A Tour De Force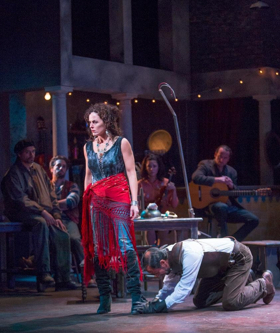 Every now and then, a transformational moment will occur in the theatre, transporting the audience into new realms of experience and understanding. Such a moment is at hand in David Bennett's vivid and compelling interpretation of MAN OF LA MANCHA. (Arizona Theatre Company's third production of the season, running through January 28th at the Herberger Theater Center in Phoenix.)
Bennett's work is a grand and inspired achievement. It touches the soul and ignites the emotions.
By altering the action's setting ~ from a 16th Century dungeon to a common room, a spacious holding "cell," in Franco's 20th Century Spain, where Inquisition and Insurrection converge ~ he offers a lens through which W. May more clearly contemplate and relate to Dale Wasserman's original intent, the "espousal of illusion as man's strongest spiritual need, the most meaningful function of his imagination." Indeed, the theme fits Wasserman's overall commitment to challenge oppression wherever it exists ~ in a Spanish dungeon, a tavern, or even an Oregon psychiatric hospital.
By infusing the show with the vitality and sensuality of Flamenco and by engaging the players as musical accompanists, Bennett creates a captivating rhythm and mood within which the play's transactions are consummated.
Miguel de Cervantes is the classic's champion of illusion and the imperative of dreaming impossible dreams. As the imprisoned tax collector who has foreclosed on a church, he must submit to a kangaroo court comprised of thieves and murderers. Thus, the self-defense play-within-the play ensues, wherein the poet/actor becomes the knight errant, Don Quixote.
Philip Hernandez's portrayal as Cervantes/Quixote is beyond brilliant. It is transcendent, a masterful display of virtuosity. Seamlessly shifting from one character to the other, he preserves the dignity of both, their respective idealism and aspirations simply two horns on the same goat. When he sings The Quest, it becomes a chant of the heart, every word infused with meaning and passion.
Hernandez is joined by a tremendous ensemble, each delivering standout performances. Most notably:
Carlos Lopez is charming and disarming as Quixote's trusty and faithful squire, Sancho.
Michelle Dawson combines a seductive fire and vulnerability in her role as Aldonza/Dulcinea. She has the eyes of a tigress as she fends for herself in what we would today call a hostile work environment. But, as Quixote discerns a more benign image beyond her steely jaded self, she yearns for that illusion and ascends to a higher purpose.
Michael Sharon is a forceful presence in the dual roles of the mock trial prosecutor (The Duke) and Dr. Carrasco, determined to dissuade Quixote of his illusions.
Amelia Moore and Jose Luis Uz electrify the stage and punctuate key scenes with the rhythmic fury and sensuality of their Flamenco dance. In this regard, Aldonza's rape is emblematic of the choreographic genius and sensitivity of Kathryn Van Meter that permeates the entire production. It's a freeze-frame moment as Aldonza lies in the background and Moore takes center stage in a dance that conveys both the brutality and pain of the violation and the ultimate empowerment of the victim. Moore's performance is mesmerizing!
Bennett's version of MAN OF LA MANCHA is a triumph that must be seen to believe in the power of theater to elevate the human spirit.
Photo credit to Tim Fuller
Related Articles View More Phoenix

Stories

Shows