Photos: STOMP Cast Meet Filipino Fans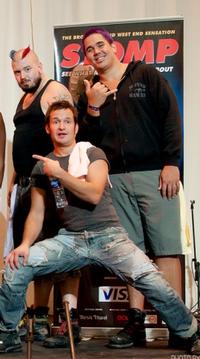 October 18, 2011, Manila, Philippines -- Longtime cast members of the dance, percussion, and visual comedy show Stomp Angus H. Little, Melanie Joseph, Johannes Bohun, Nigel Clarke, Mikey Lantis, and Andy Pang enthusiastically promoted their show and wowed the crowd at Greenbelt 3, Trinoma, and Glorietta malls last weekend.  Stomp's currently playing for a limited run at the Cultural Center of the Philippines until Sunday, October 23. 
Stomp, created by Luke Cresswell and Steve McNicholas, showcases actors who use ordinary objects as musical instruments: brooms, dust bins, and boxes of matches, among others, while they show off their dance moves, and flair for comedy.
"What drives Stomp is its complex combination of polyrhythms building one on top of the other in waves of tension and release, creating a kind of mesmerizing, hypnotic effect on the audience. That they're doing this with common household objects and industrial junk, is what makes it so appealing... Co-directors and co-creators Luke Cresswell and Steve McNicholas have crafted a well-paced show that's amusing and toe-tapping at the same time," says Chris Gibson of BroadwayWorld.com.
Stomp has been seen by more than 15 million theatergoers in 48 countries across 5 continents since its world premiere in the United Kingdom in 1991.
Show tickets are sold at P750, P1000, P1500, P2000, P2500, P3000, P3500, P4000, P4500, P5000, P5500, and P7000.  Senior citizens enjoy a 20% discount. Visit Ticketworld outlets at selected National Bookstore branches, Robinsons Department Store (Galleria, Malate, Metro East, Festival Mall & Starmill Pampanga), and Ayala Center (Greenbelt 1, Glorietta 4, and Trinoma Mall cinema booths), or call (632)891-9999.
Photos by Dale Bacar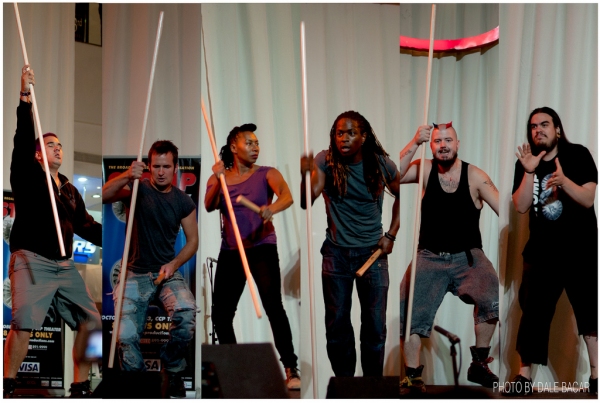 Angus H. Little, Melanie Joseph, Johannes Bohun, Nigel Clarke, Mikey Lantis, and Andy Pang

Angus H. Little, Melanie Joseph, Johannes Bohun, Nigel Clarke, Mikey Lantis, and Andy Pang pose with a Filipino fan

Angus H. Little, Melanie Joseph, Johannes Bohun, Nigel Clarke, Mikey Lantis, and Andy Pang pose with Filipino fans