Photos: Blue Repertory's Production of BARE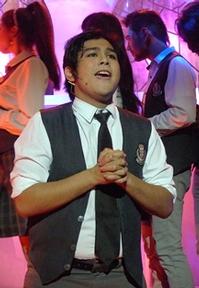 Co-written by Precious Lee Cundangan
Manila, Philippines, March 6, 2012 – Manila theatergoers have until Saturday, March 10, to catch Blue Repertory's production of Off-Broadway musical Bare at Teatrino, Promenade, Greenhills Shopping Center.  Theater and film actress Ana Abad Santos (39 Steps, A Grand Night for Singing) directs the production, starring Bibo Reyes (In the Heights, Hair) and Jaime Barcelon (Little Women, Disney's The Little Mermaid).
Bare, which features the book, music, and lyrics of Jon Hartmere Jr. and Damon Intrabartolo, revolves around a group of high school seniors studying in a Catholic boarding school. The play deals with sexual orientation and gender identity issues among teenagers. In the middle of it all is the secret romance between Peter (Reyes), an altar boy, and Jason (Barcelon), the school's golden child. Peter believes that their romantic relationship should be made public; Jason thinks otherwise.
Admiringly, Santos' direction is emphatic, sensitive, and honest.
Reyes' Peter is simply a breath of fresh air in a tension-filled play. The young actor lights up the stage with his acting and singing.
While on the contrary, Barcelon's Jason needs to loosen up a bit more. 
Besides Reyes and Barcelon, Maronne Cruz (Ivy), Cassie Manalastas (Nadia), Orange Sanchez and Franco Chan (Matt), Mark Bernardo (Lucas), Jenny Jamora (Peter's mother, Claire) Rem Zamora (Sister Chantelle/Priest), Jussy Pena (Tanya), Mikah Franco (Kyra), Mica Fajardo (Dianne Lee), Raisa Tabusalla (Rory), Jian Kho (Zack), Gabriel Perez (Alan), Lara Antonio (Louise), Luigi Du (Jakob), CJ Francisco (Seth), Bernice Reyes (Mary Jane), and Dar Uy (Daniel) are also in the cast.
Onyl Torres (musical director for vocals), Abi Sulit (assistant musical director for vocals), Joseph Tolentino (musical director for the band), Carlon Matobato (choreographer), Leeroy New (set designer), John Batalla (lighting designer and technical director), Jethro Joaquin (sound designer), and Raven Ong (costume designer) complete the production's creative and artistic team.
For tickets, call Chiz Jardin at (63)916-578-7618 or email nicojardin12@yahoo.com.
Bare is presented with special arrangement with Theatrical Rights Worldwide, 570 Seventh Avenue, Suite 2100, New York.  www.theatricalrights.com.
Photos by Jeffrey Aguiman and Dale Bacar


(Center) Bibo Reyes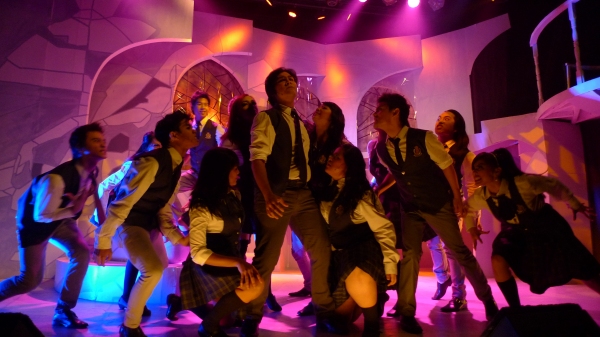 Blue Repertory presents BARE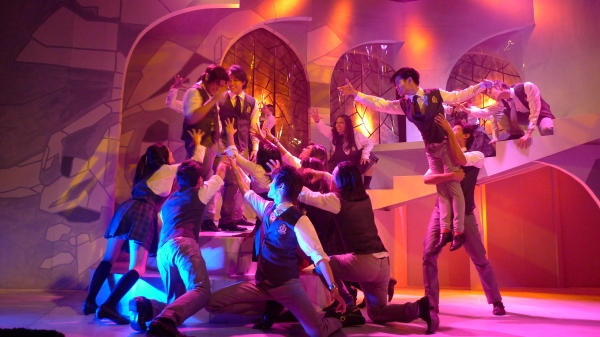 Blue Repertory presents BARE

Blue Repertory presents BARE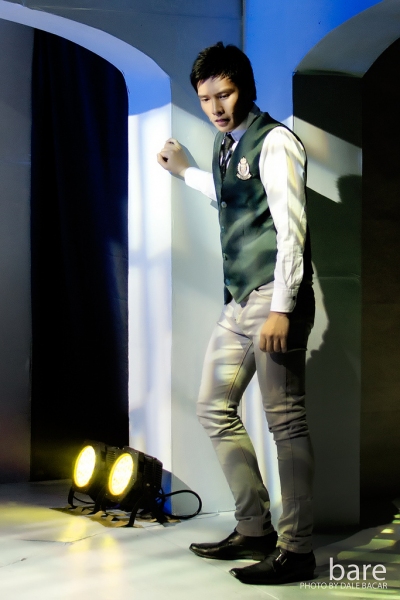 Blue Repertory presents BARE