Photos: Eugene Domingo, Edgar Allan Guzman Accept BWW Awards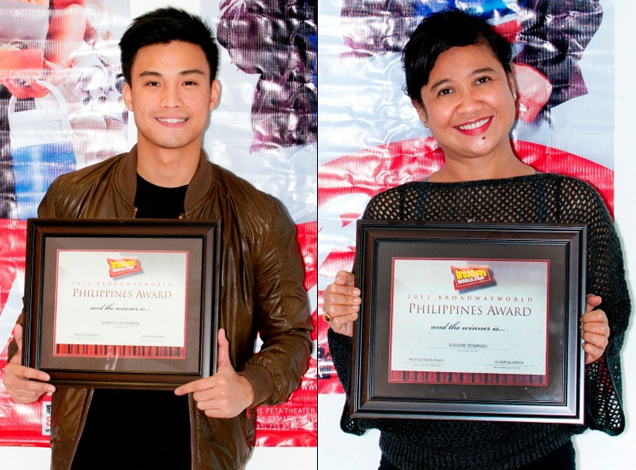 Manila, Philippines, September 7, 2013--Philippine Educational Theater Association (PETA), which produced "Bona," the stage adaptation of the 1980 Lino Brocka film of the same name, received five 2012 BroadwayWorld (BWW) Philippines Awards at Lino Brocka Hall, PETA Theater Center Friday, August 30.
Winners Edgar Allan Guzman, Best Actor (Play); Eugene Domingo, Best Actress (Play); Soxie Topacio, Best Direction of a Play; Joey Paras, Best Featured Actor (Play); and PETA, Best Theater Company, were present to receive their awards.
"I'm happy for this recognition and I'm looking forward to having more significant roles in theater. And for someone new in professional theater, I'm challenged and humbled at the same time--hoping that I would really make a mark as an actor.
"My role as Gino Sanchez in 'Bona' has taught me not to be like the character. It made me realize that we artists should go beyond the applause and adulation, and lead a life worthy to be idolized," said Guzman.
Domingo said, "As an actor from the theater, being recognized by BroadwayWorld legitimizes my craft as a thespian. This is very inspiring!
"I feel I should do more plays not just because it is my first love, but also I have faith in the ability of the Filipino artists to deliver a world-class performance."
Soxie Topacio, the play's director, added, "It's flattering to be voted by people for the award."
"Bona" is about a call center agent, who is an avid fan of rising star Gino Sanchez. Blinded by her obsession with Gino, Bona turns her back on everything she values and gives up nearly everything she has.
The BroadwayWorld Philippines Awards are theater fan choice awards, which garnered more than 4,000 nominations from the Philippines last year. Nominees were trimmed down to 125.
Nominations for the 2013 BroadwayWorld Philippines Awards--covering productions from October 2012 to September 2013--will be accepted next month.
Photos by Dale Bacar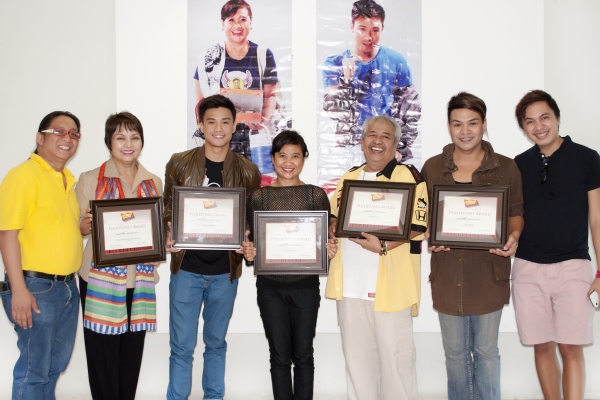 Raffy Tejada, CB Garrucho, Edgar Allan Guzman, Eugene Domingo, Soxie Topacio, Joey Paras, Dudz Terana

Eugene Domingo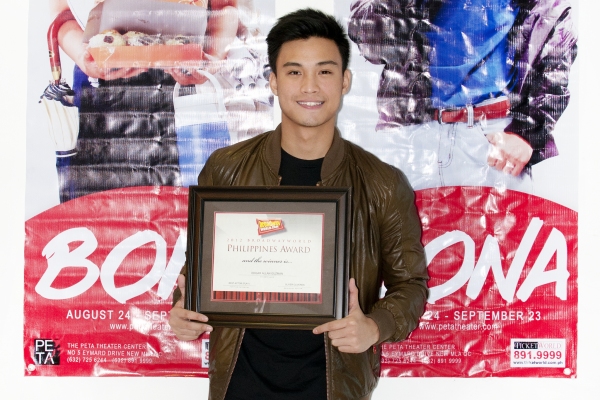 Edgar Allan Guzman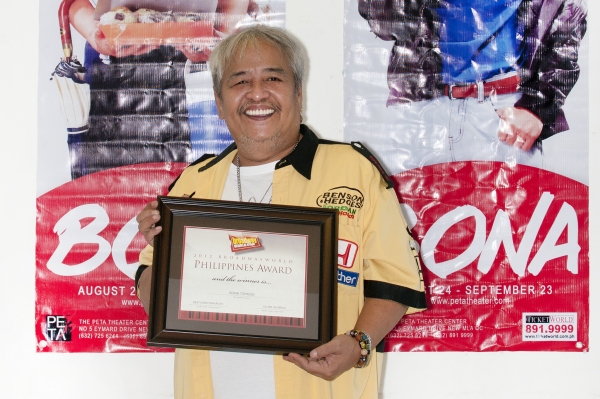 Soxie Topacio