Photos: BWW Night Out at AMERICAN IDIOT
Manila, Philippines--Made possible by the producers of the high-octane rock musical AMERICAN IDIOT, Globe Telecom and 9 Works Theatrical, BroadwayWorld.com (BWW) readers Maxine Dimaano, Aundrea Bunyi, Jerico Ranin, and Lemuel Villanueva, together with their guests, scored tickets to the show via a digital lottery. At last night's performance at the sprawling amphitheater within the new Globe Iconic Store at Bonifacio High Street, these lucky lottery winners also had the chance to hang out a bit with the show's producers, cast, and crew.
"I'm still on AMERICAN IDIOT high! It was really a spectacular show last night. I was literally at The Edge of my seat all throughout the show and almost cried when the cast sang 21 GUNS," Lemuel posted on Instagram.
"Thank you, Globe, 9 Works Theatrical, and BWW for the tickets and shirts! #happykid," Maxine said.
Directed by Robbie Guevara, AMERICAN IDIOT is the Tony Award-winning musical based on American punk rock band Green Day's studio album of the same name. The score includes hits such as "American Idiot," "21 Guns," and "Wake Me Up When September Ends." It features a book by Billy Joe Armstrong (lead vocalist of Green Day) and Michael Meyer ("Thoroughly Modern Millie," "Spring Awakening").
"It is a rock opera about disillusioned youth and how they initially and naively perceived the world around them, only to be humbled later on when confronted with the harsh realities of life," Santi Santamaria, 9 Works Theatrical executive producer, wrote in his program notes.
Distinctive in the production, its cast features a rare blend of theater newbies, but real-life rock stars, and seasoned stage performers: former Rivermaya band vocalists Jason Fernandez (Johnny) and Norby David (Theo), Chicosi band lead vocalist Miggy Chavez (Will), Wolfgang band lead vocalist Basti Artadi (St. Jimmy), Nel Gomez (Tunny), Yanah Laurel (Whatsername), Alex Godinez (Heather), Ela Lisondra (Extraordinary Girl), Kai Atienza, Ariel Reonal (Favorite Son), Gian Gloria, Mako Alonso, Sarah Facuri, Chesko Rodriguez, Shalee Vicencio, Mark Tayag, and Kendrick Ibasco.
The team behind AMERICAN IDIOT also includes Joe Caliro (Globe executive producer), PJ Rebullida (choreography), Sab Jose (assistant direction), Daniel Bartolome (musical direction-instrumentation), Onyl Torres (musical direction-vocals), GA Fallarme (video and projection design), Mickey Hirai (costume design), Myrene Santos (hair and makeup design), Sceneshop (set execution), Mio Infante (scenic design), Dong Calingacion (technical direction), Martin Esteva (lighting design), Jaime Godinez and Rards Corpuz (sound design), Randy Salvador, Philleep Masaquel (technical supervision), Soc Bergantinos (technical assistance), Maine Manalansan (graphic creative management), and JC Inocian (photography).
AMERICAN IDIOT ends its limited engagement on Sunday, July 10. For tickets (starting at P2,090), visit TicketWorld.com.ph or Globe.com.ph/American-Idiot.
Photos: Ulysses Manuel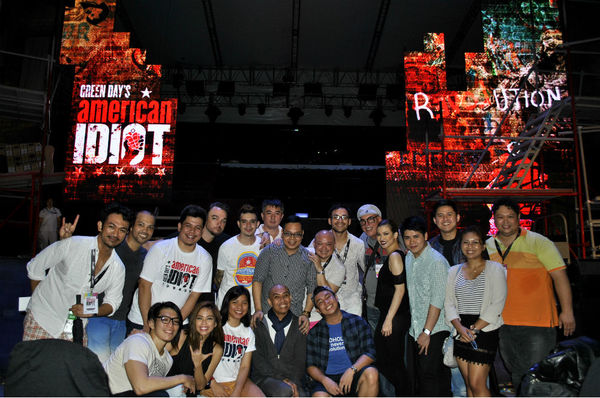 BWW Night Out at AMERICAN IDIOT (with the lottery winners, producers, cast, and crew)

BWW Night Out at AMERICAN IDIOT (with the lottery winners and cast)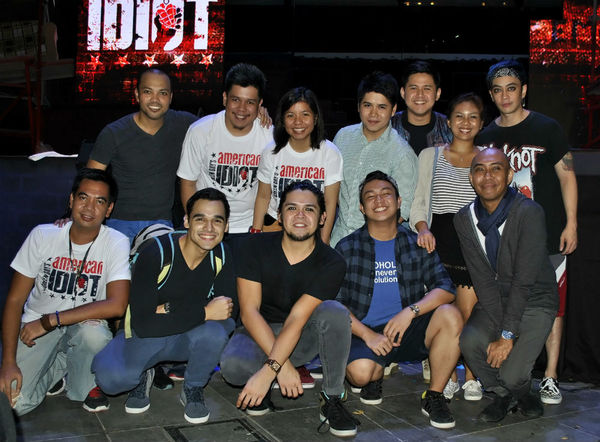 BWW Night Out at AMERICAN IDIOT (with the lottery winners and cast)

Miggy Chavez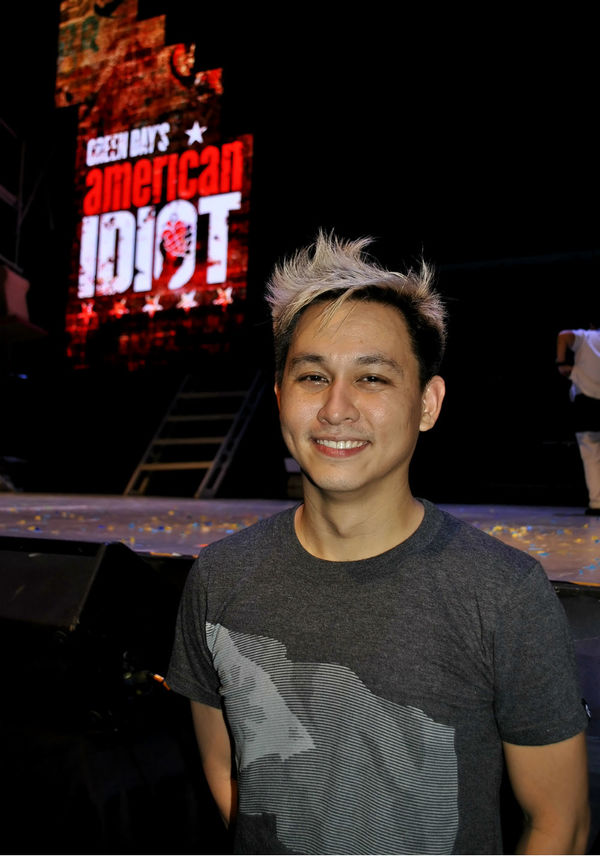 Norby David

Basti Artadi

Jason Fernandez

BWW Night Out at AMERICAN IDIOT (with the lottery winners and cast)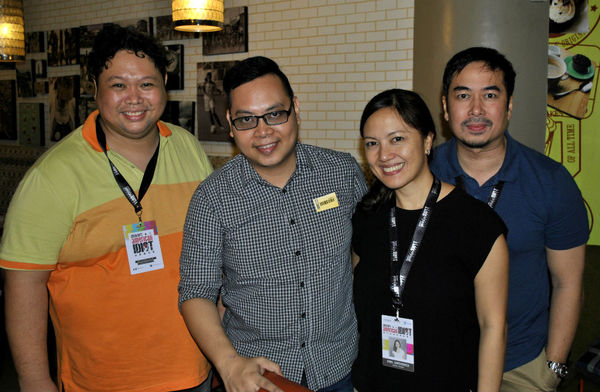 Jonjon Martin, Oliver Oliveros, Anna Santamaria, Santi Santamaria