Photo Coverage: Asian Premiere Of AMERICAN HWANGAP, Show Closes 10/3
Korean American playwright Lloyd Suh's Off-Broadway play "American Hwangap" holds its Asian premiere in Manila through a co-production arrangement between the Cultural Center of the Philippines' (CCP) resident theatre company Tanghalang Pilipino, and New York-based Lark Play Development Center. Top billed by the Philippines' most respected actors on stage, television and film - Mario O' Hara, Celeste Legaspi, Gina Pareño and Bembol Roco - "American Hwangap" is presented in its original English form, and in a Filipino translation written by Philippine literature professor and writer Joi Barrios-Leblanc. The play runs until Sunday, October 3, 2010 at the CCP Little Theatre.
The Korean term "hwan-gap" or 60th birthday is considered an important celebration for it completes the zodiac cycle, and signals rebirth. The immediate family gathers together in a lavish feast where the offsprings honor and offer wine to their father or mother who is turning 60.
However, it has been a more difficult situation for displaced worker Min Suk Chun (Bembol Roco) - who left his wife Mary (Celeste Legaspi), eldest son David (Jeremy Domingo), daughter Esther (Liesl Batucan), and mentally challenged youngest son Ralph (Nicco Manalo) in their old house in Texas for a second lease on life in Korea. After 15 years, Min Suk Chun returns to America to celebrate his "hwan-gap", and to figure out how he could patch things up with his estranged family members.
In contrast to the minimalist design in the play's earlier productions in San Francisco, California (March 2009), produced by Magic Theatre Company (Loretta Greco), and in New York City (May 2009), produced by the Ma-Yi Theatre Company (Ralph Pena) and The Play Company (Kate Loewald), the current staging at the CCP showcases a detailed set design by London-trained scenographer Mio Infante.
Katsch Catoy's occasionally dark theatrical light design and Jethro Joaquin's often disparate pairing of redneck and Korean inspired incidental music as opposed to Kalila Aguilos' excellent contemporary costume choices build-up to the show's still impressive production values.
Chris Millado directs.
Although we feel the material depicts more of a stereotypical middle-class and suburban American family than a unique and intriguing Korean American household, the hilarious and poignant performances by the five man cast, especially those of the supporting cast - Domingo, Batucan and Manalo - hold the show together.
The play's writer Lloyd Suh, Lark Play Development Center director John Eisner, The Play Company producer Kate Loewald, Magic Theatre producer Loretta Greco and BroadwayWorld Philippines attended the Sunday matinee performance of "American Hwangap" on September 26, 2010.
For last weekend tickets, contact Ticketworld at (632)891-9999 or visit www.ticketworld.com.ph. Ticket prices: PhP 600, 300, and 480 (for senior citizens)
Photos by Oliver Oliveros


Liesl Batucan, Nicco Manalo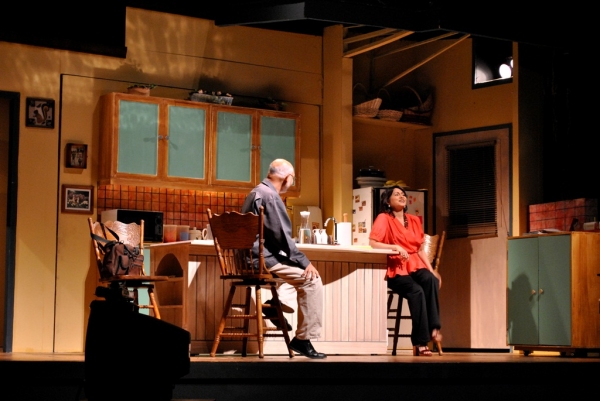 Bembol Roco, Celeste Legaspi

Celeste Legaspi, Bembol Roco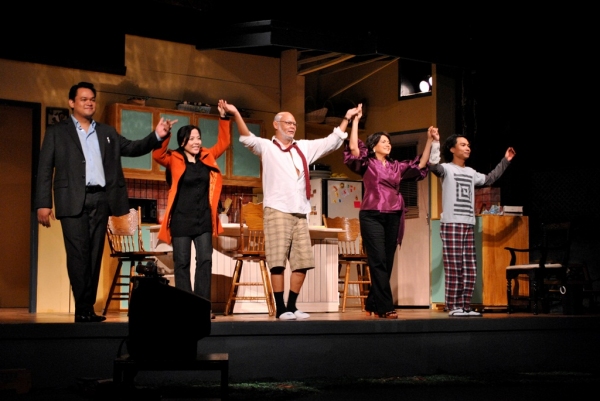 Jeremy Domingo, Liesl Batucan, Bembol Roco, Celeste Legaspi, Nicco Manalo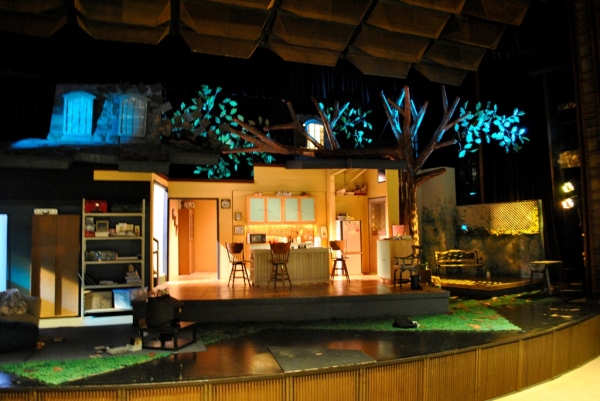 Mio Infante's set design

Loretta Greco, Kate Loewald, Lloyd Suh, John Eisner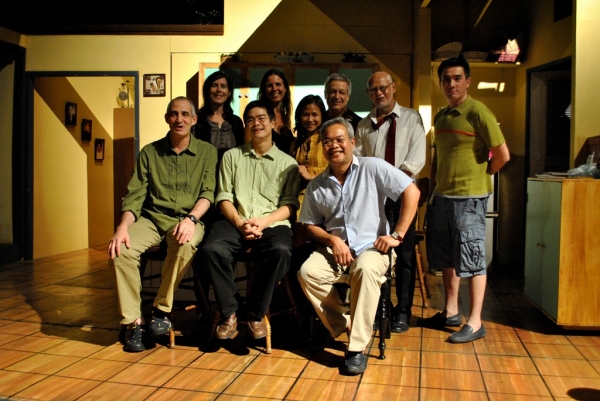 Group photo with Chris Millado, Mio Infante, Bembol Roco, Loretta Greco, Kate Loewald, Lloyd Suh, John Eisner