In the Spotlight: Philippine Stagers Foundation's Widespread Appeal Among School-based Audiences
Manila, Philippines--If art is a nation's soul, we're utterly remiss in unleashing its sublime potential. Society reflects our attitude and perception of universal needs, and a major shift in perspective is long overdue.
There's the tired notion of art as a trivial pursuit; if you're not among the lucky few destined for acclaim, be sure to create a legit livelihood.
We can ascribe partial blame to an abiding motif in education, where the arts barely survive as an extracurricular afterthought. Best case scenario is theater arts as a 'club' or, as identified in American high schools, a fine arts elective. No doubt a good thing, but God forbid the arts should be a core requirement.
Another assumption has an implicit socio-economic and intellectual bias: Art is a privilege for those who can afford or comprehend it. It's elitist and justifies the myth that art belongs only to the affluent and the erudite.
The struggle to validate the arts in our schools is decidedly manifest in the workplace. Performing artists must reconcile a reputable skill set with a paltry income and face the reality of an alternate gig to make ends meet. As an actor and erstwhile producer, I'm privy to the inner workings of a career fraught with speculative concerns about the bottom line: How do we get more bodies in those seats so we may continue to do business?
The balancing act of producing quality shows while striving to fill the house is not uncommon to a good number of theater companies. Confronted with a stingy economy and a public steeped in a burgeoning digital terrain, we have to wonder, what gives?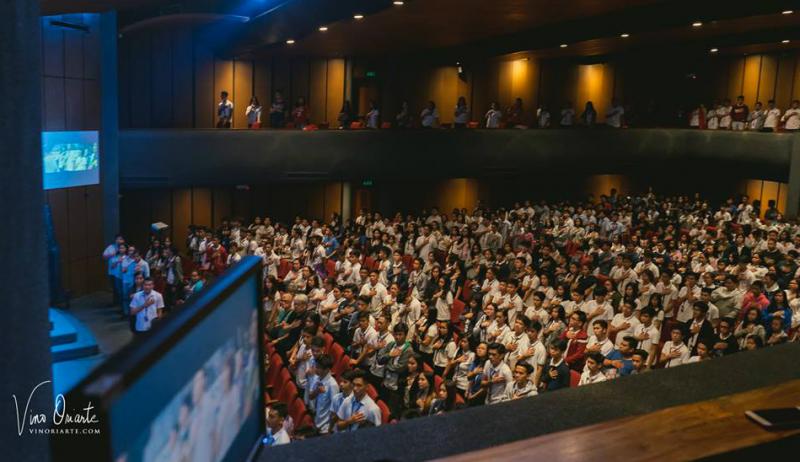 If art is aimed at enhancing the quality of our lives, how do we get folks to take the hint without exhausting our limited marketing resources?
A long career in theater education has made me an advocate for a liberal solution to this muddle. At the risk of trolling like a disgruntled socialist, I'm advocating for a sweeping structure that implements the arts as the foundational component of student learning. Not just a core subject, as it were, but the guiding principle of how learning is achieved.
Indeed it's utopian and much easier said than done, given the consistent lack of prudence from the established order. Without some sort of legislative mandate (free market abhors altruism), it takes a shameless amount of peddling by artists of all ilk to reach the untapped masses.
For what it's worth, one can dream the ideal, hip enterprise: an interdisciplinary arts model whereby artists work alongside classroom teachers, steered by an integrated curriculum with measurable objectives. But it's a wholesale project requiring district approval, research, and implementation. Considering the current deficiencies in our public schools across the Philippines, that dream remains indefinitely on the back burner.
Fortunately, artists are a tenacious breed. We're accustomed to operating out of the box, yet we crave a public that affirms our values. To transform certain perceptions, it's up to us to create easier access for young people to be a part of what we do. If they can't make it to our turf, we must go where they are.
I'm aware of the caveat-not every show, for instance, is portable and not all theater is suitable for young viewers. I say fine; develop your brand and refine your niche. Many of us have the flexibility to go out and knock on some doors.
The good news: there's a legitimate opportunity to work with the school system. Several companies have ongoing partnerships with various schools that enable students to enjoy live theater productions off campus. Additionally, some schools engage local artists to conduct appropriate theater workshops in the classroom, normalizing the artistic experience while forging meaningful connections with other disciplines.
Theater Outreach: Finding Connections
It's in the spirit of the arts as a conduit for education that I found myself drawn to the theater for young audiences, with a particular interest in the work of Atty. Vincent Tañada and the Philippine Stagers Foundation (PSF). Tañada's work--as it relates to the current demands for the arts in schools--will be my main focus of this discussion.
Now in its 16th year, PSF produces original plays and musicals designed to educate, challenge, and entertain students across the country. From the intensive 8-week workshops that Tañada offers annually, free of charge: actors are trained, scenes are devised, and production ideas are conceived.
The few exceptional graduates of the summer intensives have a unique shot at joining the company, starting at the apprentice level under Tañada's aegis as artistic director. The commitment to develop a cohesive and fully employed ensemble, coupled with a vigorous marketing campaign, sustains an artistic continuity and audience development unprecedented in the history of Philippine theater.
As a point of clarifying my interest in this outreach model, I'd like to offer a brief personal context. My wife Ginny and I have served as certified school teachers for the bulk of our adult lives. But in 2002 we founded Studio Connections of Arizona, a non-profit afterschool theater and visual arts program, as a way to reach young people beyond the confines of our respective classrooms.
Our efforts spawned a succession of programs that not only empowered young artists to excel in their individual craft, but also created a network of young leaders who would go on to facilitate numerous community events: art exhibits, theater productions, and a slew of fundraising projects such as musical recitals and coffeehouse jam sessions.
Relocating from the USA to the Philippines is part of my assimilation as a dual citizen as well as my ongoing research in theater as a tool for classroom integration and a mechanism for sociopolitical action. While I enjoy participating in various aspects of production, my main thrust is preparing children and teenagers for artistic literacy and community development.
Having seen Tanada's widespread appeal with young audiences, I would make a case for PSF as a textbook model for bringing the art form to the masses, as opposed to the conventional ritual of producing theater in one's venue where select audiences come as paid guests.
It's not an issue of which work or venue is better suited for young audiences, but it's easy to recognize which model provides better access to the forgotten viewer. Most people in the province would never see a live professional production unless it was brought to them. Touring shows can serve that purpose, but even then the cost can be prohibitive -- and not all touring shows have an educational component.
Granted, what PSF does isn't new as few other companies have already laid the groundwork for collaborating with schools. Instead of reinventing the wheel, Tañada has developed the existing model to encompass a larger population with a unique product specific to a school's educational needs.
Today, Tañada and company have exceeded their own expectations, based on the staggering audience turnout alone. A typical PSF musical will seat an average of 1,200 people, most of them high school and college students (some venues are coliseums fit for a rock concert, which the company has no problem filling to capacity). Many schools are regular patrons and shows are booked well in advance. In some cases, theater workshops are facilitated ahead of scheduled events, free of charge.
To boot, PSF has the lowest cost of admission anywhere. To attract folks in remote nooks and crannies, that cheap ticket has become Tañada's strategic linchpin.
A Proven Formula
Recently, I had the privilege of documenting PSF's Mindanao tour of its current production of OBRA NI JUAN, a musical based on the controversial life and works of National Artist and Filipino revolutionary Juan Luna. From Iligan City to Surigao, auditoriums filled up in record numbers (with a last-minute additional performance in Gingoog City to accommodate an excess of 2,000 students).
It's fair to assume that it's a captive audience required to fulfill a class obligation, but based on their sheer excitement, you wouldn't think students are forced to show up at all. (Many of the students are repeat viewers from a previous season and know the names of the actors by heart.)
The mere sight of thousands lined up to see a theater production is nothing short of overwhelming. But what boggles is that in most Mindanao cities the company performed up to three separate shows on a given day, which is Tañada's usual requirement as a way to maximize profit. (By month's end, OBRA concludes its run and expects to break a season record of nearly 400 performances.)
Because of high production and travel costs, it's hard to fault the company for setting that expectation, though Tañada has had his good share of criticism from detractors who find his hands-on approach too self-indulgent. For the record: he writes, sings, acts, directs, and markets his own productions (with assistance from his seasoned marketing team, Jeffrey Ambrosio, and Chris Lim). On his musicals (usually historical in nature), he collaborates with award-winning composer Pipo Cifra.
The common retort to the criticism of Tañada as an obsessive do-it-all showman? He does it all because he can.
As a business entity, PSF is a family affair. Ticket sales and actor payroll are managed by secretary/treasurer Anna Bautista, who is Tañada's sister (and surrogate stage mother to adoring cast members). His mother, Emy Tañada, has been a part of the dramaturgical process from the outset and assumes the leadership in designing and executing PSF's spectacular costumes.
Family or not, actors and crew are treated like one. "Loyalty begets loyalty" is Tañada's common refrain--survey the studio and you'll witness several members who've been around the company for years, some of them from its inception. Attrition is minimal, usually a result of an actor's pursuit to complete a college degree or a desire for more time with family (working at PSF is a full-time job).
That's the business model in abbreviated form. From a creative standpoint, Tañada swears by the same formula that has made him and PSF a household name among schools all over the country.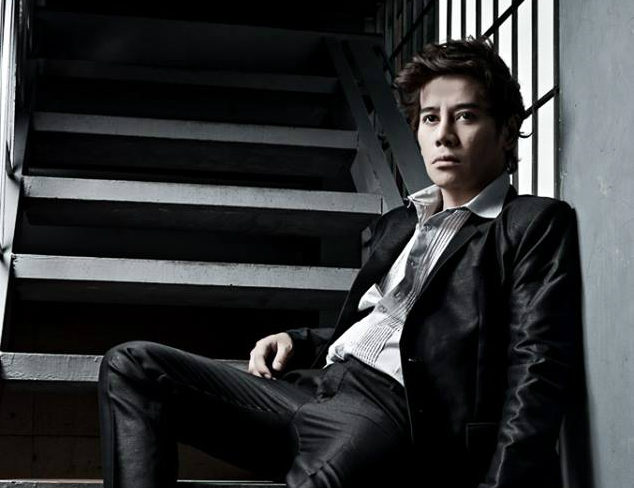 Below is a segment of an interview I conducted with Mr. Tañada after a recent performance in Surigao.
What keeps you going? You could be a famous actor, or do well as a film director, but why do all this for schools?
VT: I started as a writer. My passion is really in writing. I have this advocacy because I'm an educator myself. I started as a professor at San Beda. As an educator, I'd been observing students, and I recognized the limited attention span of the new generation. In so doing I utilized the theater arts--in fact the arts as a whole--as a good instrument for complementing education.
You've done a really good job of sustaining the company's success. How do you differentiate what you do from other theater companies?
VT: You know, this is really self-serving, but the key to my success is selflessness. This is actually not my bread and butter. I'm very passionate about Philippine Stagers because I truly believe that it's a good vehicle, not only for myself, but also for my people. I want them to be successful--not only in their career as theater performers, but as good people as well.
I've read somewhere that you have an aggressive marketing strategy. What exactly does that mean, and how are you able to find such far-reaching connections where others haven't gone?
VT: Well, definitely I cannot tell you the specific details about it because, in a way, that's telling everybody how we work here. The main thing about my job is that I'm different from other marketers because I market my own product. I create the product, and then I market the product. Others have their own marketing team. An artist can never be a good businessman, but the thing is, I'm also a businessman. I started as a businessman -- I had my own catering business, I opened my own restaurant, I opened a bar...so it's unusual for an artist to also be a businessman.
What do you say to critics who bemoan your low ticket prices, making it exceedingly difficult for others to compete because you've priced them out of the market, so to speak?
VT: I just want to say, really, that it's "different strokes for different folks." I have marketed to public schools...and as a result, I have several private schools from them as well. I just feel that the business itself -- the advocacy -- is something that is priceless. If you want something and if you're really passionate about it, it doesn't have a price. What excites me more is that I'm inspiring a lot of people. Not the emolument, not the financial benefit--which, to me, is just a byproduct.
About your material itself. You have a very successful musical collaboration with composer Pipo Cifra. What is the prevailing writing formula that seems to really appeal to the masses?
VT: Three things. The first one is love, there should be love. Second is humor. Third is spectacle. Those are three things that are always present in a PSF production.
I've also noticed that you have an extremely dramatic climax, almost always involving a hero's death, followed by some sort of resurrection in an epilogue type of musical number, with principals wearing all white.
VT: (laughs) Yes, yes. I call that retribution. Not only with the story, but with my craft as well. Retribution, always.
A notable entertainment personality in town refers to the theater demographic like a pizza. There's this limited audience pool. Every theater company gets a slice of that pie. Where do you find yourself on that pie?
VT: I'm not part of that pie...When I was starting I did not feel like I was welcome. So I didn't want to be a part of that pie; I wanted to have an entirely new pie--for myself (laughs).
Well, that's admirable. But in the end, you're still part of a theater community. At some point, you have to recognize a relationship to the community. How do you "fit in" while feeling like an outsider at the same time?
VT: I just feel like I need to coexist with them. I just want to make theater very much alive in the Philippines. If they don't like me it's not my problem.
Do you ever see yourself collaborating in the future?
Why not? I've been trying that, actually. Somebody came to me last Christmas--a pillar of Philippine theater--and asked me if we can collaborate. And right there and then I said yes.
What do you say to critics who denigrate you for performing in your own shows? Isn't writing and directing enough?
VT: I'm not performing for the critics. I'm performing for the thousands of people who've witnessed my plays, who've been clamoring that I act for them...I'm not getting any younger, and so I endeavor to perform to the best of my capacity...And mind you, this is not the only thing I'm doing. I'm doing other plays that I'm not a part of, I'm just directing. I'm not even the writer.
Good to know. I've heard of upcoming projects involving other writers. And you have an original straight play that your group is also touring, called RAIN. Can you say a little bit about that?
VT: Yes. It's a collection of contemporary plays written by new writers. I directed all the plays but I'm not part of the ensemble...In fact, every summer that's my objective. I welcome new writers, I hold workshops for them. We have eight new productions every summer. I direct their plays for them.
I see. And that's where we find the other part of your advocacy.
VT: Yes. Yes, it is.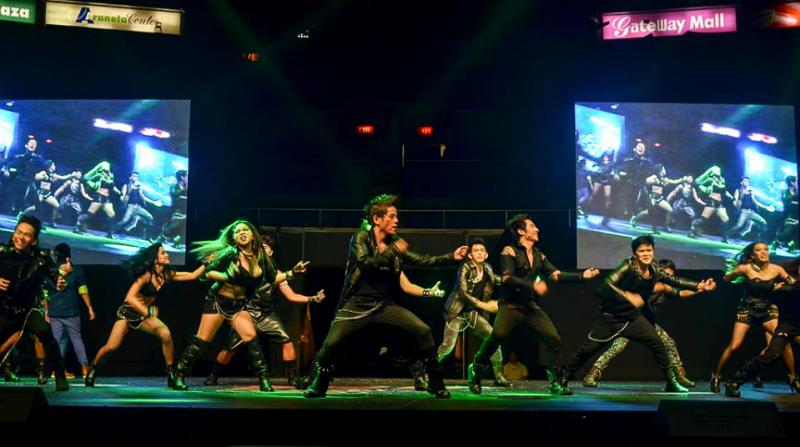 The Heartbeat of the Masses
While there's a kernel of truth to Tañada's rep as an iconoclast--the "bad boy" of Philippine theater--he's beloved outside the circle and finds justice in the welcoming reception of his youthful demographic. Estranged from the mainstream, perhaps, but Tañada doesn't mind being the economic outlier in an industry that struggles to stay solvent despite government or corporate sponsorship. It's a testament to the power of mass endorsement and playing to specific cultural sensibilities without surrendering the integrity of one's craft.
In a recent conversation with theater pioneer and innovator, Frank Rivera, he had this candid assessment of Tañada and the Philippine Stagers:
"I don't want to say this because the term is derogatory. I don't mean it to be derogatory, I mean it to be the opposite of that: It's bakya, very masa. I don't mean that it's tacky (like it usually means in English). I just mean that it's very mass-based. He has the grasp of what the young people and the millennials really like."
Like a snarky devil's advocate, I interrupted, "You mean people lacking in culture?"
"Yun ang maganda diyan" (that's what's good about it), was his quick affirmation. "Yung kultura niya, ikakabit niya sa mga bagong kulang ng kultura." (The culture is something he sneaks in on behalf of the newbies who lack the culture.)
Rivera's comment brought one point into focus: Where other producers won't deign to tread, Tañada is more than happy to roam, unfazed by haughty notions of theater being too "enlightened" for mass appeal. His goal is to educate the masses and he will do what it takes to hook their interest.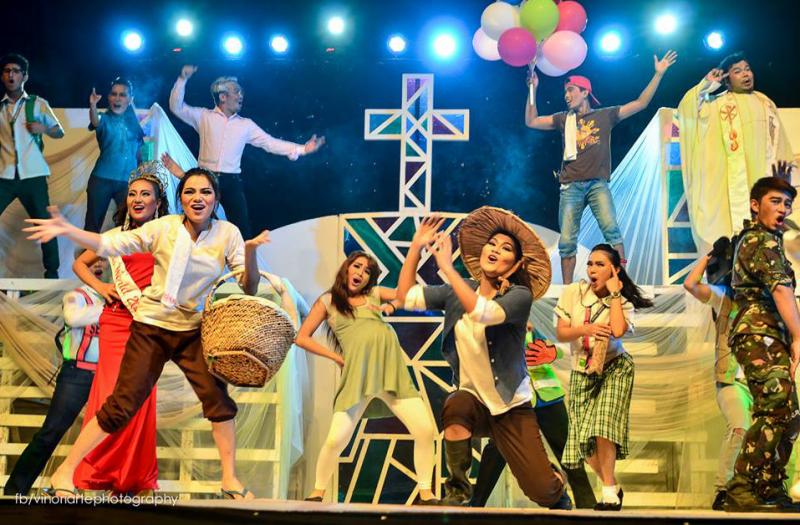 It starts with a spectacular musical number with energetic dance sequences, dispensing with the usual expository elements. His viewers are accustomed to big opening salvos, so he gladly indulges. Mr. Rivera added, "Just like most Broadway shows. And when he starts his exposition, ipapasok na niya yung mga jokes." (...then he inserts all those jokes.)
Gradually, dollops of insight unfold as the play reveals significant historical details (some of which might never find print in today's textbooks), all within the context of dialogue written in eloquent Tagalog. Tañada is particularly keen on fighting any attempt at historical revisionism.
Which brings me to the meat and potatoes: a show like OBRA NI JUAN is an interdisciplinary model of how student learning can occur on multiple levels. It's held together by an engaging narrative--a psychological study of an unlikely revolutionary hero who suffered from mental illness at the height of his artistic triumph. Highly theatrical in approach, the production features a sprawling scenic design that simulates a gallery of Juan Luna's epic works, synthesized by a proven dramatic form and a deftly researched musical genre. Students come away with an experience rich in language, music, visual art, history, and stagecraft elements.
Mr. Rivera counts himself as one of Tañada's harshest former critics. "When I first noticed that (acting style), I told Vince, 'So, you're the actor who plays to the audience.' And then he just said, 'Frank, I know what I'm doing.' And later on, I found out. I know what he is doing."
Ironically, the company's most effective marketing strategy is the unwitting placement of Tañada's grandiose personality front and center. He exploits social media with unabashed ubiquity (sometimes appearing in brazen, shirtless poses), his followers currently in the thousands. His post-show speeches are oratorical home runs, championing the arts in schools and student activism through an understanding of history. He's magnanimous to a growing fan base and is quick to respond to numerous requests for photo ops and autographs. He's been known to hold an open house every so often for die-hard PSF fans.
To say he's a man of paradox is a glaring understatement.
Some of his actors have adopted a similar disposition: a large social media presence and a matinee-idol persona that plays to smitten, cheering crowds. It's a sensational sight, not unlike the raucous reception that greets rock stars and film celebrities.
There lies the rub. How much is a theater artist willing to sacrifice his or her artistic identity in favor of such notoriety? It's too easy for savvy theatergoers to dismiss Tañada's brand as a fanciful feast scarce in flavor, a dumbing down of standards to placate unschooled viewers.
"That is where they're wrong," said JC Nigado, journalist-cum-PSF house manager. "If you go back to theater history, walang pagkakaiba ang ginawa ni Shakespeare (there wasn't any difference in what Shakespeare did) -- or Moliere, or Euripides back in Greece."
He recalls the Elizabethan "groundlings" who stood in rapt awe at Shakespeare's plays for a mere penny, stressing the significance of mass participation in the development of the Bard's popularity.
"And Shakespeare sustained himself as an actor, a writer, and a producer. He was also a good businessman, like Vince. Vince knows his theater history."
To drive his point about advocacy, Nigado has the sufficient audacity to assail the Cultural Center of the Philippines (CCP), that sacred cow of artistic institutions, whose "high art," he claimed, will always have the same small audiences, the same recognizable faces in the crowd. He laments the state of CCP as a "national theater" that will never reach the population it should serve due to expensive tickets and its perceived inaccessibility.
"It's been around for 50 years. Now it's like a museum, a field trip destination. Once you've been there, that's it. It doesn't become a habit. How can it be a habit that way?"
Back to Mr. Rivera, who offers an additional insight into Tañada's popularity with the youth and millennials, which itself seems unassailable despite the continuous criticism leveled at his production company.
"Most people who criticize his work haven't seen his show. Or if they've seen it, taas sila ng kilay at isa lang ang comment: 'Ay, ang daming tao.'" (They raise an eyebrow and their only comment: 'Wow, so many people.') He maintains that people should pay attention and ask why there are so many people, as if to suggest personal bias is keeping people from learning a thing or two.
My take on this:
Here's a veritable formula that merges pop culture with fundamental theatrical values. Here's earnest ensemble work buttressed by an elaborate musical score, and laced with stylistic elements culled from such traditions as Ibsen, Commedia dell'arte, and contemporary American musical theater. And yet it comes packaged as a genuine Filipino product for a proud Filipino audience (albeit 'green' in matters of exposure). For all the snubs he endures from the intellectual circle, Tañada is a step ahead of the race to preserving the future of the arts in our schools.
Mr. Rivera rightly reminds us to take caution in our judgment of young people, that out of these massive student audiences will emerge our desired future theatergoers. His conclusive idiom for the so-called elites and cultured types, which is up for debate till the cows come home:
"We don't have the monopoly on what is good and what is beautiful. What's good and what's beautiful is decided by the many."
Photos: Vino Oriarte

Related Articles View More Philippines

Stories

Shows
Born and raised in Cebu, Philippines, Robert Encila is a professional singer, actor, and certified teacher. An alumnus of the University of Arizona, he taught (read more...)