Exclusive: Nikki Gil, Joaquin Valdes Chat THE LAST FIVE YEARS
Manila, Philippines--In its fifth year, 9 Works Theatrical brings together the first-time tandem of Nikki Gil ("Sweet Charity," "They're Playing Our Song") and Joaquin Valdes ("Red," "Into the Woods"), playing the beloved couple featured in Jason Robert Brown's ("The Bridges of Madison County," "Parade") cult musical THE LAST FIVE YEARS. The production, directed by Robbie Guevara ("Grease," "They're Playing Our Song"), runs from Saturday, August 9, until Sunday, August 31, at Carlos P. Romulo Auditorium, RCBC Plaza in Makati City.
Gil plays Cathy Hyatt, a struggling actress; Valdes, Jamie Wellerstein, a rising novelist.
Revisiting Bittersweet Memories; Looking Forward to New Beginnings
THE LAST FIVE YEARS' storytelling is told in reverse chronological order (on Cathy's part): Cathy begins the show at the end of her marriage with Jamie; while Jamie begins the show on the first day he met his future wife.
In real life, Gil just ended her almost five-year-old romance with fellow TV host-singer Billy Crawford. That makes her relate to Cathy as she finds herself at the end of a journey with a man she used to love.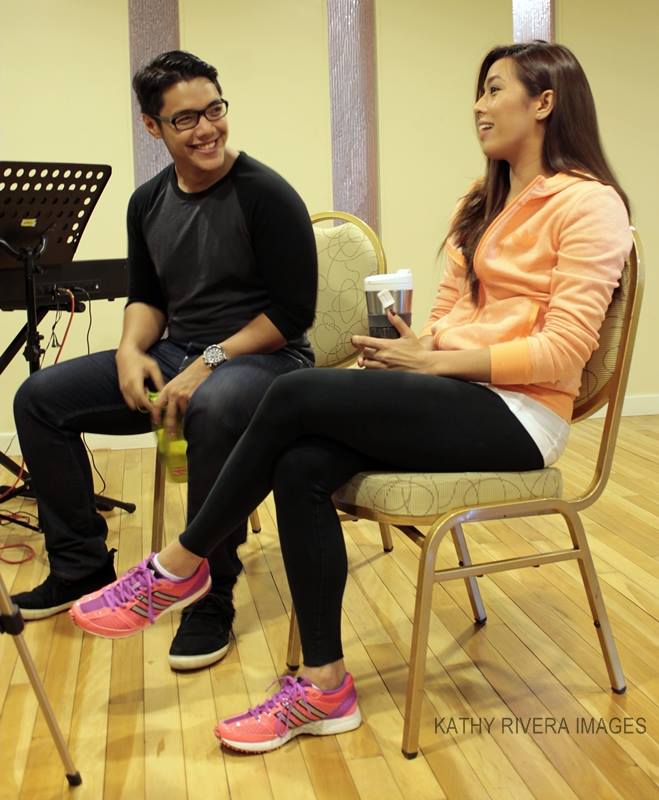 Valdes as Jamie, on the other hand, is elated to tell Jamie's love story with Cathy. Valdes relates to his character because he recently proposed marriage to his almost three-year-old girlfriend. He and his fiancée are tying the knot next year.
In an exclusive interview with BroadwayWorld.com (BWW), Gil could not veer away from talking about her past and current relationships because the musical she is starring in tackles love, commitment, and separation.
But one thing is certain, according to the talented singer-actress: She is grateful to the people who were with her during her life's stormy moments. She had a pastor, who ministered to her; her family; and loyal friends, such as fellow TV host-singer Iya Villania.
In the same interview, Valdes was more ecstatic when sharing how he and his fiancée met and finally decided to commit to each other. In his fiancée, he has found a woman who is secure in herself; that was her trait that has smitten him.
While sharing his love story, Valdes is very much like Jamie: One can picture him singing one of the show's quirky musical numbers "Shiksa Goddess," with sheer excitement.
Being Complete to Complement Each Other
Gil and Valdes both believe that when someone commits to a relationship, he or she must be "complete" first to complement his or her partner.
Valdes, whose favorite song in the musical is "The Next 10 Minutes," also mentioned in the interview that there is no formula or a checklist for someone who is getting married. "The decision to commit to a lifelong partnership is not bounded by security.
"You should be willing to step into the world of the unknown...till the world explodes," he said.
Gil, whose favorite song in the musical is Jamie's "The Schmuel Song," fell in love with the song because Jamie was singing it in support of Cathy's dreams. It is OK for Jamie that Cathy would soar high; he has such an unconditional love for her.
"Both are young and they have [promising] careers before them. But at one point, one says, 'One must have to give; we can't have a flourishing career and a happy lovelife at the same time. [Unfortunately] there is competition between the two. That [eventually] strained their relationship," she said.
As the opening night nears, Gil wants to trade her reverse chronological narration of the story with Valdes' more normal order of things.
Although he does not want to trade the way his character is written, he agrees with Gil that it could also be great for the two characters to interact more with each other onstage, and not just in their wedding song, "The Next 10 Minutes," where their timelines intersect.
However, both believe that the production is an emotionally powerful, intimate piece about two New Yorkers who fall in and out of love over the course of five years, masterfully envisioned and written by Brown, who won the Drama Desk Awards for Best Music and Best Lyrics when the show premiered Off-Broadway in 2002.
Anna Kendrick ("Into the Woods," "High Society") and Jeremy Jordan (Disney's "Newsies," "Smash") play the characters of Cathy and Jamie, respectively, in the upcoming film version of THE LAST FIVE YEARS, which will premiere at the 2014 Toronto International Film Festival next month.
For tickets to THE LAST FIVE YEARS, starring Nikki Gil and Joaquin Valdes, visit ticketworld.com.ph.
Photos: Kathy Rivera, Erickson dela Cruz