Darren Espanto Covers 'Top of the World' from LYLE, LYLE, CROCODILE
The live-action and animation hybrid film now screens in the Philippines.
Manila, Philippines--Filipino-Canadian singer-actor Darren Espanto does a cover song of Benj Pasek, Justin Paul, and Joriah Kwame's "Top of the World" from the live-action and animation hybrid film "Lyle, Lyle, Crocodile," which is screening now in the Philippines.
In the musical comedy film, Canadian singer-songwriter Shawn Mendes lends his singing voice to Lyle, who is described as a croc with a heart of gold.
"Lyle, Lyle, Crocodile" is based on the best-selling book series by Bernard Waber, first published in 1965. It is the second book of the Lyle, the crocodile, series, whose first book was "The House on East 88th Street," published in 1962.
It was first adapted into an animated musical for HBO in 1987.
"When the Primm family (Constance Wu, Scoot McNairy, and Winslow Fegley) moves to New York City, their young son Josh struggles to adapt to his new school and schoolmates. All of that changes when he discovers Lyle, a singing crocodile living in the attic of his new home.
The two become friends, but when Lyle's existence is threatened, the Primms must band together with Lyle's charismatic owner, Hector P. Valenti (Javier Bardem), to show the world that family can come from the most unexpected places. And there's nothing wrong with an enormous singing crocodile with an even bigger personality," its official synopsis says.
"Top of the World" is part of the scene where Lyle gives Josh a tour of the big city.
"Even though Lyle has to sneak out in the middle of the night because the world is afraid of him, he finds refuge on the top of a theatre," said Mr. Paul.
Suddenly, with Josh, Lyle has someone to experience everything the magical city offers, including how to grab a free meal from the city's best restaurants.
"He's just taught Josh how to dumpster dive. They're walking through the city, and music pours up through the grate from a Broadway show downstairs," Mr. Pasek said. "It's Lyle's favorite song, and he can't wait to share it with Josh and celebrate this moment of finding someone to share his life with."
In the Philippines, "Lyle, Lyle, Crocodile" is distributed by Columbia Pictures, the local office of Sony Pictures Releasing International.
Oliver is a seasoned public relations and digital marketing professional who works with CEOs and young professionals to hone their creativity, stakeholders' engagement strategies, and writing a... (read more about this author)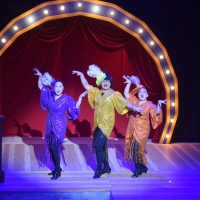 Check Out Performance Photos from PETA's New Musical, WALANG ARAY

November 29, 2022

Before media guests and prospective show investors, Philippine Educational Theater Association has just presented some generous excerpts from the company's newest original musical comedy, 'Walang Aray,' a humorous, entertaining tribute to a classic favorite, Severino Reyes' 19th-century zarzuela 'Walang Sugat.'
---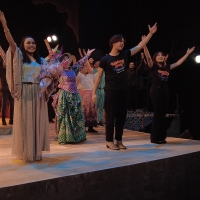 Video: PETA Welcomes KD Estrada and Alexa Ilacad

November 28, 2022

Philippine Educational Theater Association, which produced hit musicals 'Rak of Aegis' and 'Care Divas,' has officially welcomed young stars-singers KD Estrada and Alexa Ilacad to its family. Estrada and Ilacad, both Star Magic contract artists, are set to lead PETA's return to producing original Filipino musicals via 'Walang Aray,' a humorous and entertaining take on Severino Reyes' 1898 zarzuela 'Walang Sugat.'
---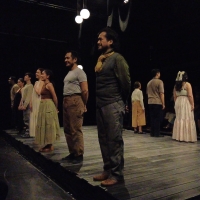 Video: CAROUSEL Cast, Musical Director Take Opening Night Bows

November 27, 2022

Repertory Philippines, one of the country's pioneering theater companies, officially opened its 85th season with a reimagined production of Rodgers and Hammerstein's classic 'Carousel' on November 26.
---
VIDEO: After a Three-Year Wait, Gian Magdangal to Play Billy--Finally

November 23, 2022

Over three years ago (blame the COVID-19 pandemic), actor-singer Gian Magdangal was announced to play the conflicted leading man, Billy Bigelow, in a reimagined take on a classic, 'Carousel.'
---
Carlo Vergara's INDAYUGANG BANAL Streams Online, Now Thru Nov. 27

November 21, 2022

Maiba 18 Productions, Teatro 77, and Benilde Theater Arts present illustrator-playwright Carlo Vergara's newest play with songs, 'Indayugang Banal: Isang Superpowered Komedya.'
---