BWW Review: MAMMA MIA! International Tour Successfully Connects the Dots
Manila, Philippines--Jukebox musicals have been quite a trend lately. Owing its origin to Buddy - The Buddy Holly Story, which successfully ran on West End from 1989 to 2003, the genre's popularity has been boosted by many others that followed suit, such as Beautiful: The Carole King Musical, featuring the music and life of Carole King. Just recently, Manila had seen the staging of a tribute to one of the country's more enduring musical groups, The Apo Hiking Society, with the successful Eto na! Musikal nAPO! This mid-October, yet another jukebox musical, built around the iconic songs of major karaoke staples provider, Air Supply, beckons.
But not all jukebox musicals attain the same high level of success as that of Mamma Mia!, hailed as the "mother of all jukebox musicals," which opened on West End in 1999 and on Broadway in 2001. To date, it has been seen by over 60 million audiences worldwide and has raked in a staggering USD 2 billion in the box office.
On October 2 gala opening, Mamma Mia! had sent audiences at The Theatre at Solaire into a collective fit of frenzied singing and dancing, giving the Manila audience another chance to live out the magic of "the world's sunniest and exhilarating smash-hit musical."
Connecting the Dots
The challenges of a jukebox musical may be gleaned by looking at the obvious: it is constricted by the big hits, its narrative can be derailed by sloppy or shallow scriptwriting, and its elements looking and sounding contrived when put together. On some occasions, jukebox musicals are forced to dish themselves out in the service of a band's or celebrity's loyal fans, lest they earn their damning ire, thus, their eventual box office doom.
Another challenge is how to win new audiences--the generations after the Baby Boomers, as in the case of Mamma Mia!, who may not have heard of "Dancing Queen" or "Chiquitita" except at parties or karaoke joints hostaged by the super trouper titos and titas of Manila.
In Mamma Mia!, the challenge of connecting the dots between the songs and the storyline is personified by its lead character, Sophie Sheridan, who sets on a personal journey of finding her real dad, with nothing but the 'dots' on her mother's diary entries of romantic escapades as clues. Throw in some Greek taverna on a white sand beach, an impending wedding, a group of manic and interesting characters, a pinch of dramatic interlude, and a glass of margarita--looking for your dad has never been this crazy, and fun.
A Party of a Plot
Make no mistake about it, but Mamma Mia! is actually some unapologetic party disguising as a melodramatic story of a daughter-longing-for-her-father-with-a-loving-but-secretive-mother-who-has-basically-buried-herself-in-the-sand-and-roofs-of-her-taverna. Or, to that effect.
Sophie then sends out wedding invites to three men, one of whom can be his father, without the knowledge of her mother, Donna. Amidst the interspersing of ABBA's biggest and lesser-known hits, the story progresses and complicates with the arrival of Donna's three ex-men: Sam, Harry, and Bill. Donna's friends, Rosie and Tanya (former girl band members from their "Donna and The Dynamos" days), join the chaos, making things more complicated. Twists and turns to boot, Donna's watering hole becomes a messy maze of memories of unrequited love, flings, and some unfinished fatherhood. If you don't get dizzy with that, I don't know what will.
The big problem with the Mamma Mia! premise is that--it actually works! Soon as the overture plays and the first scene unfolds ("Honey, Honey"), audiences are made to swallow a happy pill, and there is no holding back after. ABBA hit after hit, the storyline flows in steady progressive crescendo, and one may find a bigger problem here--a respite from the overflowing euphoria for some well-deserved nostalgia, which the musical provides in light doses.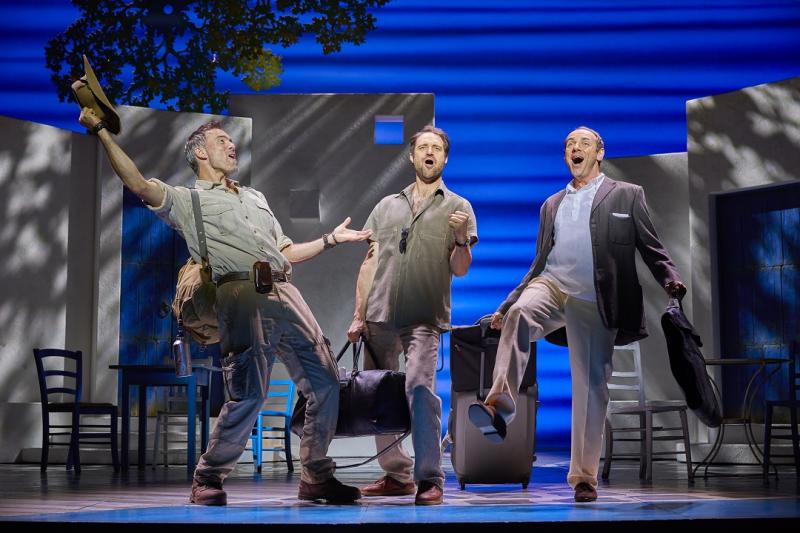 Laudable Ensemble and Cast
The strength of the musical could be blamed partly on its ensemble of talented young actors and dancers, who have the daunting task of physically connecting all the narrative elements. Together, in song and dance, they seamlessly assemble the production's mise-en-scene with pure energy and verve, proving to be one of the few strong and solid tour ensembles Manila has ever laid eyes on.
Another cause for celebration is the minor support cast. Matt Jordan-Pidgeon (Pepper) provides some unforgettable hot spice to the story with his agility as a dancer and flexibility as an actor; his flirtatious and acrobatic presence on stage will not escape your eye. Together with Michael Nelson (Eddie), Leisha Mollyneaux (Ali), Lottine Henshall (Lisa), and Matthew Ronchetti (Father Alexander), and the rest of the formidable ensemble, they rollick from scene to scene, their youthful vibes spilling out like Red Bull on a stressful day.
The triumvirate of Tamlyn Henderson (Sam Carmichael), Daniel Crowder (Harry Bright), and Matthew Rutherford (Bill Austin) has all the right comedic mix and vibes working, each playing their characters with unique characterization. Of the three, Rutherford's Bill comes off the strongest, laying some situational traps for the audience to get lost and confused in. Henderson, Crowder, and Rutherford bank on the confusion for the story to successfully reach its ultimate resolution: who is Sophie's real father? With these three delightful actors on stage, does it truly matter?
Lucy May Barker (Sophie Sheridan) and Phillip Ryan (Sky), who play the couple-to-be, exhibit enviable chemistry. Barker's vocal chops are a feast to the ear, while Ryan's energy and dancing prowess showcase his versatility. Their end scene ("I Have a Dream") is nothing short of dreamy.
But the musical's magical dynamos, literally, are Nicky Swift (Rosie), Helen Anker (Tanya), and Shona White (Donna Sheridan). Anker's sophisticated and witty concoction of Tanya will leave you guffawing shamelessly in your seat, while Swift's confident and funny blend of Rosie will leave you floored. The show, of course, rightfully belongs to White who shows her dexterity in both the comedic and dramatic, not to mention her textured singing ("The Winner Takes It All"), which gives her Donna our sympathy, and, our group hug. As "Donna and The Dynamos," this formidable trio of women suffuses talent and chutzpah to even out the musical's narrative with some nostalgic blasts from their past ("Money, Money, Money," "Chiquitita," "Super Trouper"). Their encore act ("Dancing Queen,") is one to watch for.
Rounding Up the Major Suspects
Catherine Johnson's book is a master class for writers who may be in the hunt for new artists to feature in yet another similar fare (watch for the Tina Turner and Cher musicals already generating huge buzz). Johnson has successfully interwoven Benny Andersson and Bjorn Ulvaeus's hits into the story without any glaring hole, giving the lyrics palpable contextual substance. Punchlines and songs connect without hitches as if the songs were written specifically for the musical itself, giving the storyline a solid grip and a natural push.
Phyllida Lloyd's direction leaves no happy stone unturned, if you may. Together with Mark Thompson (Production Design), Howard Harrison (Lighting Design), Andrew Bruce and Bobby Aitken (Sound Design), Martin Koch (Musical Supervision, Additional Material and Arrangement), and Anthony Van Laast (Choreography), Lloyd has rallied together smart production choices culminating in an impervious yet irresistible final product. Lloyd's direction balances hilarity with the right amount of melodrama, and by Act 2, it is perfectly clear that her eyes are set on one relentless, feel-great party. On the other hand, Laast's dynamic choreography is served in heavy doses, complementing Lloyd's vision, while Thompson's minimalist sets, with the help of Harrison's beautiful lighting, provide the perfect vehicle for smooth and energetic scene segues. Yes, less is more indeed.
Worth the special mention is the band who has resurrected the ABBA sound with those familiar synths and hooks, also making Mamma Mia! a genuine aural experience.
The Verdict: Mamma Mia! is both a production triumph and an audience delight.
Mamma Mia! plays at The Theatre at Solaire in Paranaque City now through October 21, 2018.
Get tickets (P1,550 to P7,000) from TicketWorld.com.ph.
Photos: Concertus Manila
Related Articles View More Philippines

Stories

Shows