BWW Review: LUNGS Tells A Relatable Story About Imperfect Love And Parenthood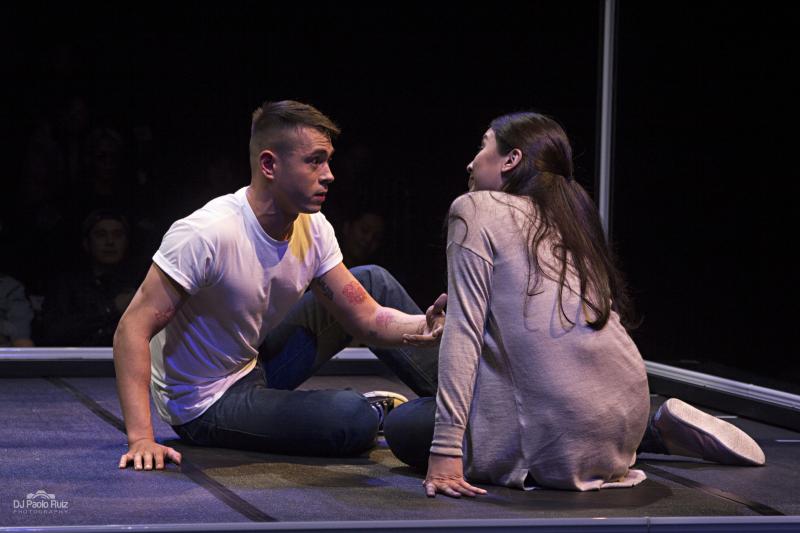 Manila, Philippines--Sab Jose (W) and Jake Cueca (M) are the only two actors in Duncan MacMillan's 90-minute play "Lungs"; they perform on a bare stage, without props, a set, or a costume change.
Produced by The Sandbox Collective and 9 Works Theatrical, MacMillan's drama follows the couple through their unconventional relationship.
This piece is perhaps one of the most challenging to be staged because it requires two equally good actors to be in their best elements at any given situation.
Favorably, Jose and Cuenca's pairing works quite well. They're able to create that key connection between them as W and M, respectively--a couple confronted by the thought of becoming parents (but only for the right reasons) amid a time of global anxiety, terrorism, erratic weather patterns, and political unrest.
Presented in a theater-in-the-round form, the unmistakable energy coming from the two actors onstage makes the audience empathize with the couple and the dynamics of their relationship on a deeper, more personal level.
Further, the audience is encouraged to break the walls down between the two actors. By eavesdropping on the couple's conversations, the audience is like being there--in real-time. One can laugh or weep with them when they go through an emotional roller coaster. Or probably, if one is too glued to the couple, who, by the way, don't stop talking with each other the whole time, it could even take one to another time and space.
The play blurs the line between reality and fantasy. The characters' own struggles and triumphs make for a relatable story, especially appealing to the millennial audience.
With a script that requires the viewers to be more attentive, the play's director, Andrei Nikolai Pamintuan, devises ways to effectively heighten the emotions, or emphasize a certain moment, or even transition one scene to another in a manner that only a careful listener can figure it out.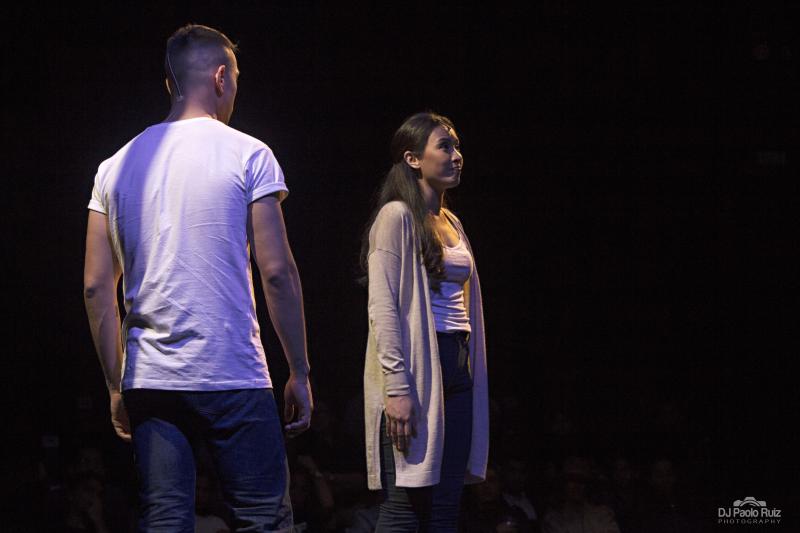 W says in the play, "10 thousand tons of carbon dioxide is the weight of the Eiffel Tower," that's how Jose, who has done more theater projects than Cuenca, manages to stay grounded and bring out the emotional sensitivity of her character, especially when she's having second thoughts about childbirth and motherhood.
Jose doesn't get winded onstage; she performs with "no breaks" (only punctuations and a few seconds pause from her lines). Her ability to easily shift from one emotion to another is a marvel to behold.
Known for his intense characters on TV soaps, Cuenca, in his professional stage debut, fully commits to his role of M, a father-to-be. Besides his magnetic charisma, Cuenca also endears himself to the audience and provides a complementing energy to Jose's character. Although his part is not the marrying type, he successfully wins the audience, probably more of the male viewers, to resonate with his own limitations and inhibitions.
Even if some of his lines were inaudible (during the press preview), Cuenca does a fine job as a first-time stage actor. His brand of anguish at some point in the play is filled with excruciating frustration and pain, which is widely felt by the people in the small venue.
Altogether, MacMillan's "Lungs" reflects on how parenting could be scary at times, especially at the moment. And even if Jose and Cuenca's characters go through so much trouble, this play is still able to point out that there's hope for the beleaguered pair.
M's words to W: "Yes it's not the perfect circumstance, but let's go into this with open arms. I love you. Okay? I always have. When I'm away from you, I forget how to enjoy anything and when I'm with you, I feel at home."
These are words of commitment that profess only unconditional love--come what may.
Duncan MacMillan's "Lungs," starring Sab Jose and Jake Cuenca, continues to play at the Power Mac Center Spotlight (Level 2 Circuit Lane, Circuit Makati) until October 7, 2018.
Buy tickets (P750-P1,200) from TicketWorld.com.ph.
Photos: Paolo Ruiz
Related Articles View More Philippines

Stories

Shows