BWW Review: CARRIE, A Bedeviled Material Given Every Ounce of Emotional Commitment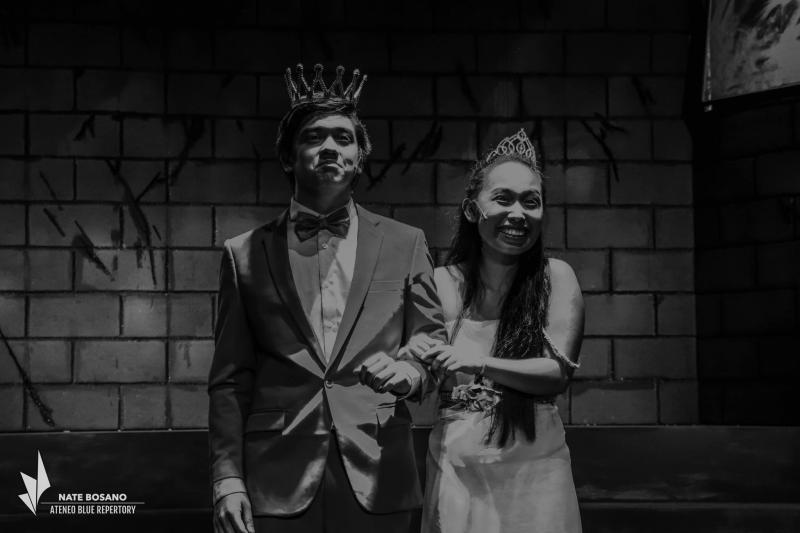 Manila, Philippines--Sneer if you must, but it seems "Carrie, The Musical" keeps finding an agreeable audience. The cult classic has endured all manner of critical rebuke and inspired a few vicious parodies along the way. But certain companies remain undaunted, hell-bent on resurrecting a departed and beleaguered heroine (who'd just as soon stay invisible if she had any choice in the matter).
The earnest folks at Ateneo Blue Repertory aren't the least bit burdened by the show's disastrous past: the original production closed after 16 previews and five performances in 1988. It had the unfortunate reputation as the biggest box-office flop at that point in Broadway history.
But a flop is hardly the case here. Despite an uneven cast of college amateurs, Blue Rep's "Carrie" turns out to be a decent show. What it lacks in technical training and artistic maturity, it more than compensates with a solid vocal ensemble and a genuinely committed performance.
We can ascribe a fair amount of that success to the revised edition of 2012, which saw many of the old songs replaced with a superior repertoire. And with a tweaked libretto, the show became an off-Broadway revival that fared much better than the original experiment. Blue Rep was smart to adopt the revision.
For that matter, "Carrie" will always find a home in college and high school campuses where thematic sentiments resonate and the music is catchy enough to take home.
Based on the novel by Stephen King and a subsequent film adaptation by Brian De Palma, this version features a book by Lawrence D. Cohen, lyrics by Dean Pitchford, and music by Michael Gore. The script employs a reluctant narrator in Sue Snell, Carrie's childhood friend, who recounts by way of an interview the harrowing journey of a girl who endures relentless bullying by her peers. Carrie lives with her single mother, Margaret--a crazed evangelical loner who wields enormous control over Carrie's adolescent years, which no doubt accounts for Carrie's acute lack of social skills, leaving her susceptible to ridicule.
Carrie has the rare gift of telekinesis that winds up being her own curse. At the night of her school prom that concludes in utter humiliation at the hands of her bullies, she unleashes her destructive mind, killing practically everyone in sight. When she returns home, where her mother awaits with deceptively welcoming arms, Carrie's mother stabs her in the back as a sacrificial rite to save her daughter's soul. Before her final breath, Carrie manages to end her mother's miserable life with the sheer power of her telekinetic mind.
We should all be inured to such formulaic tripe, but the musical version has a surprisingly humanizing feature that justifies the weary, macabre elements. Credit the songs with endearing melodies and poignant lyrics, which suspend adequate time for us to ponder and appreciate the inner workings of a troubled mind.
Its huge cast is comprised mostly of underclassmen and a few seniors with various college majors. That's impressive enough, considering their dynamic voices that blend with musical aplomb. The choreography needs some tweaking to hit specific musical buttons, and stage blocking in certain duets could afford an occasional shift or two for matching beat changes. Finally, the sound booth personnel should be advised to either bring the orchestration down or raise the singers' microphone levels considerably higher. It's a shame that their lovely voices should be compromised by an over-amplified canned music.
Director Jill Peña had her work cut out for her in staging a large ensemble with a scant theater background. To her credit, she draws out the requisite collective energy from her biggest numbers and inspires the credible relationships among her leads. Most notable moments are between Carrie and her mother, played by Nyla Festejo and Reg Claravall, respectively, with disturbing fierceness and angst. Thea Astley is sincere and vulnerable as Sue Snell (and she's more than a capable soloist). Last and certainly not least, Eunice Tanilon is convincing as the mean, entitled rich girl Chris Hargensen, Carrie's nemesis and instigator of hellish pranks.
It takes very little effort to ruin a play with an average, predictable plot. But it's a monumental task for a young company to prove naysayers wrong by giving a historically bedeviled material every ounce of emotional commitment.
We commend Blue Rep for its due diligence in the promotion and advocacy of theater immersion beyond the confines of department walls.
"Carrie" runs at the Rizal Mini Theater, Ateneo de Manila University, until November 25, 2018.
Get your tickets from bit.ly/CARRIE-Reservations.
Photos: Nate Bosano