BWW Interview: SPAMALOT's George Schulze Talks Life As An Actor
Seasoned actor George Schulze stars in Upstart Productions' restaging of the musical comedy "Monty Python's Spamalot," which plays the Globe Auditorium, Maybank Performing Arts Theater, BGC Arts Center, from April 13-22.
Manila, Philippines--He bears the countenance of an artist on a mission and speaks with the fluency of a refined gentleman. You might infer his self-assurance as a product of rigorous training, but George Schulze has been exuding cool confidence long before his introduction to the theater.
Take his natural sense of humor. Dare him with a pun and George is quick to the draw, dispensing his nimble wit like a sport. Conversely, he welcomes a good joke with unbridled mirth and a buoyant guffaw that simultaneously disarms and endears.
But there's no mistaking the actor's serious work: he's laser-focused in preparation and treats the process with unrivaled commitment. He has an impressive vocal range, a tenor who exhibits a disciplined self-care that's widely admired. In light of his recent success, you could say George's trajectory has the fortuitous wind at its back.
In a recent afternoon chat over coffee and dessert, George spoke of his work and the inspiration to create a niche in a highly specialized and competitive industry. I might add that he's a fluid conversationalist, a cordial feature that made for such an easy, organic interview.
An insight I've gleaned from George, which affirms my enduring conviction about personal development, is how invaluable fear and suffering can be in our quest for wholeness. His story says it all.
I thought you were excellent in HAIR. What was it like for you to have done it, and what was the best thing about playing Berger?
Yeah, Berger is one of the greatest roles I've ever had the pleasure of sinking my teeth into. You know the whole thing about HAIR is -- and I've read this from multiple testimonials -- it's one of those transformative shows where anyone who's ever done HAIR comes out of it a slightly different person. Everything you learn, the culture you absorb, just the way you accept the radical beliefs, you know.
Considering how much you got out of it, do you think audiences gained the same insights about the show? I mean, we're talking about vast cultural differences, where and when it happened, and so forth.
With every other production, it's all about the truth of the story. You know, communication. And we as a cast -- I know from the bottom of our hearts -- we wanted, as much as we could, to share what we had developed with our audience. And I stand firm in my belief that it was a very American show; the culture, the references (through no fault of the audience) were very hard to perceive. I mean, it was like the original GODSPELL. It was all these random excerpts of songs -- about racism, and about living under the oppression of the government and the Vietnam War. And these were things the Philippines really wasn't into. To be able to absorb that--I mean, it's a lot. The format of storytelling: I feel like in standard theater, the culture we have here is to follow a narrative, and HAIR has such a scrambled narrative that even the best directors here have told me that it's a hard show to do. Because how do you get the story across? People want to cling on to something, they want to cling on to the characters, they want to cling on to an arc. It's very hard to follow but I know for a fact that the people who did get it really loved it.
You had a 'raw' performance as Berger, really connected, and obviously, I'm not the only one who thinks that. Do you feel like you've come out of that experience with a better sense of yourself as an actor?
Oh yeah, a hundred percent. You know, as an actor -- and you know what it's like -- there's always a relationship that you, as a person, develop with a character. A lot of that relationship, the initial strengths of that character, can come from how similar you are to that character. Berger was one hundred percent my opposite. So from the get-go, it was a very slow process of allowing myself to be who he was. It took from me every day and I gave a little bit more of myself to him everyday. But by the end, there would be times when I would be on stage and come out [and] I wouldn't know what happened, because I just had to give all of myself to that character and be somebody else. His mannerisms, his habits, how he handles things, his diction, all these nuances that I tried my best to create.
But how is that different from the way you approach and prepare for other characters?
Well, there are so many different styles of acting, right? People appreciate a more studied method, that method of trying to really transform...I believe one of my strengths as an actor is my natural instinct. So normally to be able to instinctively bring out a performance of the character based on feeling what he would do or say, comes pretty easy in a preparation sense... Let's say SPAMALOT, right? Playing a British knight, the comedy of that. It's one thing to be able to give yourself to that, but to play something like Berger...he's like the embodiment of carnal desire.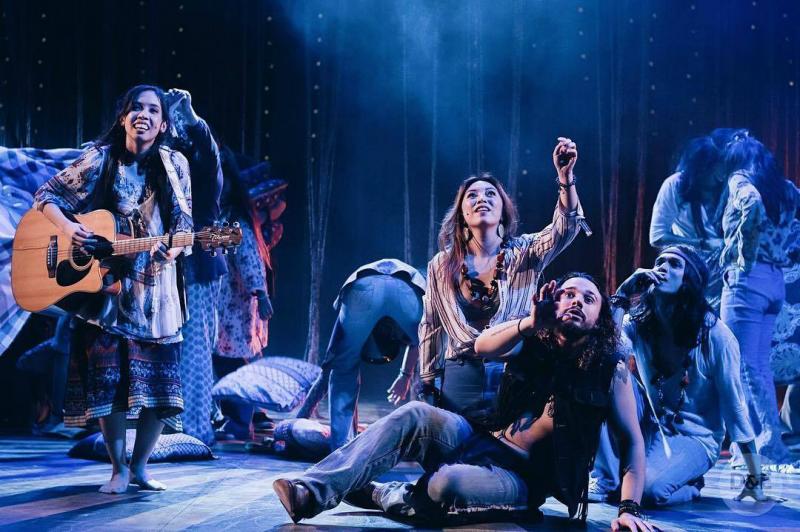 He's kind of the ideal iconoclast. 'Screw the system.'
Yeah, exactly, screw the system. So much powerful emotion. But it's just not what I am. I'm an introverted dude. I don't give my human emotion and touch very fast away to people. It takes a while for me to be able to trust. And Berger just holds and touches everything and everyone he wants to... That was actually the most draining part...it was so difficult. I'd go home and I'd just want to not see anything or anyone.
So you must really appreciate the time off before SPAMALOT, instead of plunging right back into another show like many of our friends in the business do these days.
Oh, definitely...oh my God, I went from BEAUTY AND THE BEAST to HAIR, you know. That was right at the same time. I'd be Berger on the weekend and the Beast and [alternate as] the Prince Charming in the weekdays. And I remember I had some distinct facial mannerisms for Berger -- he was always on drugs, he was a hippie. I created a very distinct, nuanced reaction of Berger that felt like him. And there was one time when I was playing the Prince and my Berger face came out. And I really had to catch myself because it's the same stage, man. You're standing in the same exact performance space. So yeah, the preparation is totally different but I wouldn't change it for anything. Berger is by far the role I've learned the most from, taken the most from, and I'm honored to have been able to have a shot at playing him.
What's another dream role that you could easily 'sink your teeth' into?
I don't think a dream role would ever coincide with "easy"...my dream roles would all be the ones that are meaty and would take a lot of effort. Jesus is one of those roles...I mean, of course on the surface level Jesus is the embodiment of good; but how "Jesus Christ Superstar" implies it, he's actually one of the most complex characters you could do, because there was no way to tell what he was thinking with what he was doing.
And there's the epic dichotomy of being 'perfect' but also human enough to feel all that pain.
THAT is complicated. Yeah, so "Jesus Christ Superstar" is one of my favorites.
So tell me how you got started. Tell me about your background, how the creative fire got kindled, so to speak.
Well, it's in my blood. I come from a family of artistas. My grandfather, back in the day, people knew him as Armando Goyena. He was a very popular movie star. He had a very popular family, like all of his daughters then took to the TV scene and that started the Revilla clan.
So you're a Revilla?
Yes, I'm a Revilla. But not Bong Revilla; he's actually a Bautista. He asked my grandfather if he could use Revilla, actually, as his name...So it's always been there, ever since I was a kid--I was a gold medalist in what they would call elocution competitions, which are performance speeches (you'd get a piece of poetry and you would perform and recite it). Everything really took off in my high school years when I met Michael Williams. I was doing plays and Menchu Lauchengco-Yulo (she was friends with my family)...when I was a kid she started suggesting workshops that I could attend, and she really took me under her wing. That's why she's like my first-ever theater mom. Eventually, in high school, she introduced me to Michael and then Michael trained me until I was about 18 or 19. And then I started working professionally from there. Now I'm 28.
So you've spent most, if not all, of these years performing, am I right? You haven't really worked at a so-called regular job.
Professionally, I would say no. I mean, I have a little business, but professionally I've just been performing. There's nothing that gives me greater joy.
Okay, I'd like to switch gears a little bit. Are you comfortable talking about cancer?
Yeah, yeah, of course. I make it a point, actually, because it shouldn't be a topic to be afraid of. It's a real thing and people really need to be open about it. Before, I was more diligent about it, but I've been so busy lately. Every year, I try to make it a point to give a talk in a school about it. Every year, I sing for cancer patients and perform for them... it's one of my favorite parts of the year.
How old were you when you discovered you had cancer?
I was diagnosed a few days after I turned 16.
How long was that battle?
Five years. How it works with leukemia is, you do three years of chemotherapy, and then after that, you are off it for the observation period. So they observe you for two years, see how your body responds, take bone marrow extractions and blood tests to monitor you, and if in two years nothing came back, you're declared cured...It's something I'm super comfortable talking about because I feel like it's my greatest gift, that I get to encourage and change the lives of younger boys and girls who feel like they're invincible, you know? Also to help people who have it at the age when I had it, to be able to talk to young kids who have it...to be able to influence how they feel, how scary it is, and [for them] to see that "hey, this guy had it, and look at him now."
I can imagine how that profound experience must also help you in your work as an artist. In scene acting, we always talk about understanding the highest stakes. Well, you can't possibly have a higher stake than--
Than death. Oh man, for about a month and a half, it was made very clear to me that I might not wake up when I went to sleep. I went to sleep every night knowing I could pass in my sleep.
What was that like?
It got so bad. When they caught it, if I hadn't gone to the hospital two days earlier--I mean, if I went to the hospital two days later, I wouldn't have made it. It was that bad, that close to a really critical situation. I was recovering from a really bad place.
I suppose the gift of that experience is the way it has shaped who you are today. It explains your confidence and your ability to stay present. It has also given you the tools to dig deep when you do end up with a role that requires it.
I believe that's very, very true. But at the same time, it's weird because it shot me forward in my maturity. It also held back other aspects of my maturity, because my teenage years were taken away from me. I didn't get to grow up and make all the mistakes that kids make and everything because immediately, as a 16-year-old, I was already like, "Well, you can't drink, you can't smoke for the rest of your life." it robbed me of all the mistakes I needed to make.
Which is also a gift, yes?
Yeah, it's a gift, but a lot of those mistakes you make can shape you, you know. And as much as I have a good head on my shoulders on a lot of aspects, there's a part of me that always feels like my kid was taken away from me.
In the acting parlance, there's your 'What if.'
Yeah. My inner kid is always gonna be there because I never got to experience it. So there's always gonna be a part of me that loves being a kid, that loves nerdy things, playing video games, enjoying the company of a younger crowd.
That's very insightful.
Yeah, that's definitely who I am as a person. I would say I'm a big kid at heart.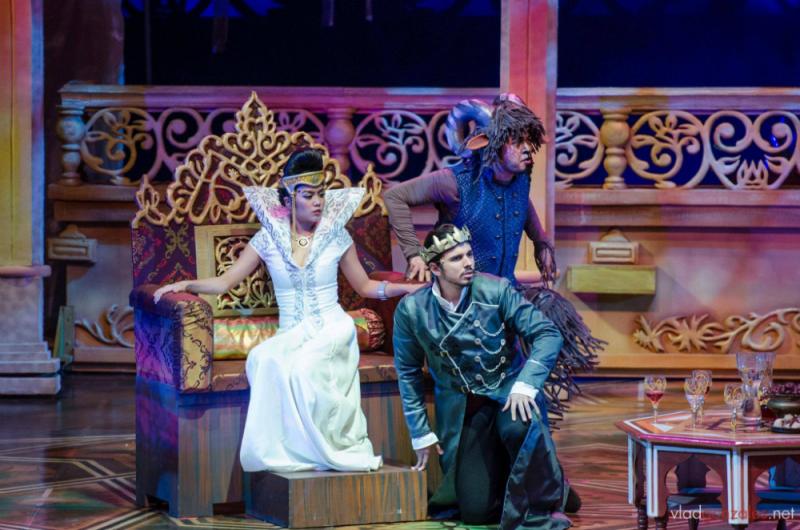 So there's a really vibrant theater scene in Manila, something I wouldn't have been able to say 30 years ago when I first got involved. How do you see yourself navigating that scene in the next, say, five years? What are your immediate or long-term goals?
Okay. Well, let's put my life arc in the next 3 to 5 years in perspective. At this point, like any actor, to be able to do any part, any show, whether it's ensemble or anything (there are no small roles, just small actors, as they say). At this point, my goal is to get as many notable character roles as I can that I can put on my resume so that I can apply with a stronger resume for an international visa...I may move to New York next year to study and see what I can do... You gotta dream big, so you gotta give it a shot.
You know, this always surprises me, because based on your looks and the way you speak English, I would have thought you were an American.
Yeah, you'd think. I was raised by American TV, man. My whole understanding of comedy comes from the show, FRIENDS. Seriously! I'm a '90s kid. I was literally born in 1990. When I was 10, 11, and 12, FRIENDS was heading into its last few seasons, so to be able to be a part of watching that as it happened was, you know...that's where I learned to speak the way I do. [For] my comedic instincts, I actually give that show credit to. The understanding of sarcasm and timing, sitcoms give you that... I'd say a lot of my sarcastic beats come from the character of Chandler, you know?
This question is a bit trite. But I want to ask who inspires you. As a musician, I think I have my own unique style, but when I break it down, it's really an amalgamation of various influences. Who would you consider to be your standard bearer as an actor?
Here's the thing, I actually never really wanted to be a theater actor growing up. I've always wanted to be a film/TV actor. International-standard film and TV. I respect the Industry here enough to know that it's difficult, but it is its own style and I don't jive with that style. I very much like the way shows are done internationally...so to answer your question, I think the epitome of the person I look up to, from an actor's standpoint, is -- and this is gonna sound cliche like the question is cliche -- Hugh Jackman. I feel like Hugh Jackman, as a whole, represents exactly what I want out of a career. He's done theater, he played one of the most amazing superhero characters on film for how many years now--maybe 11, 12 years--which is exactly the kind of movies I want to make because I love big character stuff. I'm a geek, I'm a nerd, I love the comic book stuff. I draw in my spare time, I always draw comic book characters. So he's done that, he's hosted the Oscars, he's done real roles in film. He actually had his own battle with skin cancer...and the way he presented himself off the screen; nobody would ever say Hugh Jackman is a bad person.
And he's one of those celebrities you don't ever see in tabloids.
No, never. He loves his high school sweetheart. The way he's handled his life going forward, on record, man, anyone would be lucky to even dream of coming close to emulating that. So if I was to say that I had somebody I looked up to, it's him.
Final question for you, which I hesitate to ask because there's already so much mileage on this topic. But because you're such an instinctive actor, I just have to go there: method versus technical acting. People still debate it as if it has to be either-or. Seems to me, at least, that you do whatever works to arrive at the truth, and that may mean using multiple resources. What are your thoughts on that?
You know, the reason why I can never say that one style of acting is better than another is that these different styles suit different personalities. Just in the sense that some of us are better learners through visual cues. Some of us are better learners through listening. Some of us are better learners through application. Everybody has their affinity and strength. So that's why I think the method style of acting definitely takes a very strong affinity towards being able to commit -- and commit yourself for the sake of a role. And for some people, it really works and it really pays off. In general, though, I do think it can be dangerous, if you attempt to do method acting with a dangerous character and you don't know the line...like anything you do, any sport you do, there's always a danger of something. There's always a danger of injury, a danger of overcommitting yourself. So if you're really a professional and you're on top of the way you approach it, and you're careful in your selection, I believe 'method' is simply an effective tool meant for certain people and not meant for others. It can be dangerous in the wrong hands and it can be productive in others.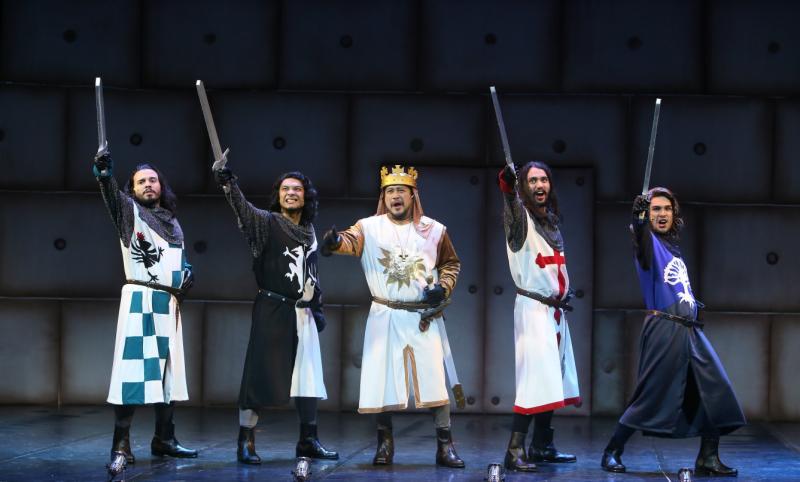 George, it's been real, man. Thanks for your time and for your candor. I can't wait to see you in SPAMALOT.
Yeah, Rob. Looking forward to seeing you there. I think you'll like the show.
Buy tickets to Upstart Productions' restaging "Monty Python's Spamalot" from TicketWorld.com.ph.
Photos: Pagulayan Photography, D&E Photography, Vlad Gonzales, Jory Rivera