Student Blog: What Academic Integrity Means to Me!
if you were to ask me how I maintain academic integrity, I would tell you 'I remind myself of my purpose.'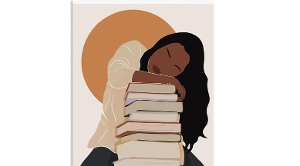 When you were in middle or high school, I am certain that at least one educator had claimed that the most pointless lesson they taught was certainly the most important lesson in the whole universe. It was also emphasized that the lesson will also help you get through college. I vividly remember internally telling myself "There is no way that a mathematical formula will help me conquer all my college adversities." Instead, my younger self thought "College will probably have its own set rules, so I have nothing to worry about!" Little did I know that I was going to take a leap of faith and pursue the career of my dreams. Pursuing a BFA in Musical Theatre was an experience I could never have imagined for myself by any means. Before starting undergrad, my academic experience predominantly relied on tests and quizzes that "prove" you are proficient. I never was allowed to explore my creativity, let alone form my own opinions. It was either that one concept or I would get a low grade.
When it was time to move to a different state and start my journey, I quickly had to unteach myself from the twelve years of standardized thinking that I was accustomed to. Instead, I had to come to terms with myself and realize how I, as an individual, can utilize my thoughts, words, actions, and voice to help advance human creativity and expression. It was not easy and still is something I am constantly exploring, however with learning the principle tools that our institution offered, I was able to form my personalized thoughts and prioritize what is important to me. Art has taught me how to become a better person and will forever continue to. I learned how to treat the work respectfully and voice my thoughts. I learned how to respect myself and others to cultivate safe practices that make exploration fun and worth doing. I learned that there is no "right or wrong" answer as long as you fully understand "how" it works and"why" feels successful to you. I learned that it is important to become vulnerable and be open to different concepts, beliefs, and approaches to help make sense of the work.
Therefore if you were to ask me how I maintain academic integrity, I would tell you "I remind myself of my purpose." I decided I wanted to choose a career that is meaningful not only to myself but to a wider audience. When you find something that sets your soul on fire, there is nothing that can pull you away from that instinct. It makes you want to give it your all. It makes you want to show up and do the work. It challenges you to become the best version of yourself so that tomorrow we can become leaders. School can become tolling and can feel like a constant roller coaster. Trust that if you take the time within it all to remind yourself of "Your Why" I can assure you that your inner child will welcome you. Your inner child is eager to meet you again with all the love and happiness you could ever wish for.
---
Join Team BroadwayWorld
Are you an avid theatergoer in Philadelphia? We're looking for people like you to share your thoughts and insights with our readers. Team BroadwayWorld members get access to shows to review, conduct interviews with artists, and the opportunity to meet and network with fellow theatre lovers and arts workers.
Interested? Learn more here.
---
Related Stories