Photo Flash: Pennsylvania Shakespeare Festival's THE IMPORTANCE OF BEING EARNEST, Now Through 8/4
Oscar Wilde's scintillating wit and romantic archetypes fill one of the most celebrated comedies of all time. The Importance of Being Earnest is now playing on the Pennsylvania Shakespeare Festival's main stage through August 4. The Importance of Being Earnest will play in repertory with Measure for Measure. Check out a first look below!
The Importance of Being Earnest offers a tale of two well-to-do gentlemen, John Worthing played by Blake Ellis and Algernon Moncrieff played by Zack Robidas, as they pursue countryside adventures, love, and identities - both real and invented. Gwendolen Fairfax captures John's heart and is performed by Alexie Gilmore, whose feature film credits include starring opposite Robin Williams in World's Greatest Dadand Matthew McConaughey in Surfer Dude. Cecily Cardew, played by PSF veteran Erin Partin, catches Algernon's eye.
Algernon and John's falsified identities prevail until the young gents cross paths with the indomitable Lady Bracknell, Wilde's symbol of Victorian ethics run amok. Director and PSF veteran Jim Helsinger plays Lady Bracknell, in the tradition of great male comedic actors in the role.
The cast includes Wayne S. Turney as Rev. Canon Chasuble, and Brad DePlanche as John Worthing's butler, Merriman. Playing Miss Prism, Cecily's governess is Suzanne O'Donnell, while Greg Wood takes on the role of Lane, Algernon's butler.
Tickets: $25-55. Discounts for students, seniors, subscribers and groups.
Box Office: 610.282.WILL [9455] Order online at: www.pashakespeare.org.
Photos by Lee A. Butz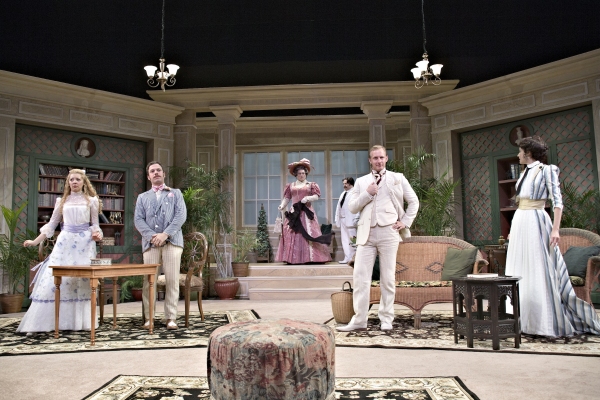 Erin Partin, Zack Robidas, Jim Helsinger, Brad DePlanche, Blake Ellis, Alexie Gilmore