LONG DAY'S JOURNEY INTO NIGHT, MY FAIR LADY, JULIUS CAESAR and More Set for Quintessence Theatre Group's Season VIII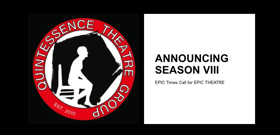 Quintessence Theatre Group, Philadelphia's classic repertory theatre, announces its eighth season of progressive classic productions.
Its most ambitious season to date, Season VIII presents the American classic LONG DAY'S JOURNEY INTO NIGHT in the fall followed by a holiday presentation of its first musical, MY FAIR LADY, a return to Beckett with a winter production of WAITING FOR GODOT, and a spring rotating repertory of JULIUS CAESAR and a new translation of THE WILD DUCK. Quintessence proudly introduces its new Family Classic Series with a September production of a world premiere adaptation of AESOP'S FABLES and a May-June production of THE PRINCE AND THE PAUPER.
Joining Founding Artistic Director Alexander Burns will be guest directors Ken Marini, Rebecca Wright, Lee Cortopassi, and Josh Carpenter.
Award-winning Quintessence Theatre Group has built a reputation as Philadelphia's home for America's next generation of classic theatre artists. Its ensemble of actors is recognized and celebrated throughout Philadelphia and beyond. Quintessence continues to bring epic works of drama and literature to the Contemporary Stage with its text-focused, thought-provoking, innovative productions.
---
Eugene O'Neill's
Long Day's Journey into Night
Directed by Alexander Burns
October 4-22, 2017 Opening Night: October 7
One fateful summer day, the Tyrone family gathers in New London, Connecticut, bound to a past they are unable to forgive or forget. James and Mary Tyrone and their two sons fight for the stability and survival of their family, but are caught in a hopeless cycle of love and resentment. As day turns to night and the family indulges in its vices, the truth unravels, leaving behind a quartet of ruined lives. An unashamedly autobiographical account of O'Neill's own life "written in tears and blood," Long Day's Journey into Night is considered one of the most powerful American plays of the 20th century. The production will star Barrymore Award Winner E. Ashley Izard as Mary Tyrone.
Lerner and Loewe's
My Fair Lady
November 15-December 17, 2017 Opening Night: November 18
Henry Higgins, a celebrated professor of phonetics, makes a bet that he can pass off a lower-class flower girl from Covent Garden as a duchess at the Embassy Ball. By dressing her in expensive clothing, improving her manners, and teaching her how to speak correctly, Higgins transforms Eliza Doolittle into a lady. Following the Greek myth of Pygmalion, Higgins becomes enamored with his creation, now the most eligible lady in London. Adapted from George Bernard Shaw's Pygmalion, with songs by Lerner and Loewe, Quintessence presents "the perfect musical" and will explore what remains of the rigid 20th century class system and how important appearances are in empowering a woman today.
Waiting for Godot
Directed by Ken Marini
January 31-February 18, 2018 Opening Night: February 3
Two road-weary men arrive at a tree in the middle of nowhere to await the arrival of Godot. They cannot agree on when they were to meet him, or exactly where or why, but both know they cannot leave until they meet Godot. As unexpected visitors pass by, the men wonder how long they have been waiting and whether Godot will ever come. A tragicomedy in two acts, this humorous, disturbing, thrilling existential and absurdist masterpiece by Samuel Beckett is noted by the National Theatre in England as "the most significant English language play of the 20th century." A People's Light Founding Artist and one of Philadelphia's great theatre directors, Ken Marini makes his Quintessence debut.
Julius Caesar
Directed by Alexander Burns
March 21-April 28, 2018 Opening Night: March 24
A great empire teeters on the edge of civil war. Caesar is triumphant on the battlefield, but in the halls of government his consolidated power is feared. Lest Rome's Republic becomes another dictatorship, a group of conspirators assassinate Caesar, and Rome descends into chaos. Shakespeare's epic and thrilling tragedy demonstrates the challenges of sustaining a republic, the timeless nature of propaganda, and the power of self-interest and betrayal to turn a government against its people and politics into a brutal blood sport.
The Wild Duck
Directed by Rebecca Wright
April 4-29, 2018 Opening Night: April 7
The idealistic son of a wealthy businessman seeks to destroy his philandering father's reputation by exposing an ancient extramarital affair. He also seeks, by means of this revelation, to free his childhood friend from the delusions and lies on which his happy marriage is based. Meanwhile, an ambitious young inventor spends so much of his time and energy trying to devise an invention which will make him rich that he is unaware of the true richness of his daily life. Does truth or money set us free, and should it be pursued whatever the cost? Or is it better to enjoy life's simple joys and to allow the past and its secrets to remain buried. Following her celebrated productions of The Metamorphosis and Saint Joan, Rebecca Wright returns to direct this new translation of Ibsen's classic.
Family Classic Series:
Aesop's Fables
Adapted and directed by Lee Cortopassi
September 6-17, 2017 Opening Night: September 9
Quintessence's Lee Cortopassi creates a modern adaption of Aesop's Fables, a collection of short morality tales for children that have been told since 600 BC. Keeping the delightful anthropomorphic animals of the original stories, this world-premiere adaptation uses contemporary language and situations to re-imagine these timeless tales of friendship, trust, honor, common sense, and morality for the whole family.
The Prince and the Pauper
Directed by Josh Carpenter
May 16-June 3, 2018 Opening Night: May 19
A young pauper named Tom Canty is beaten by the palace guards for standing too close to the palace gate. Seeing this, Prince Edward stops the guards and invites Tom into the palace for food. Surprised that they look so much alike and share the same birthday, the young boys are eager to experience how the other lives and decide to switch places temporarily. Meanwhile King Henry VIII of England dies and the court prepares to crown Tom as the new king. Mark Twain's classic tale of mistaken identity is full of wild adventures for both boys as they risk all to find out who they are, what they are worth, and what friendship really is.
---
The Sedgwick Theater is readily accessible via SEPTA Regional Rail to either the Allen Lane Station (Chestnut Hill West) or Sedgwick Station (Chestnut Hill East). The SEPTA 23 Bus also services the Sedgwick Theater, connecting South Philadelphia to Chestnut Hill. Free parking is available behind the theatre and in the municipal parking lot across Germantown Avenue.
Tickets: Preview tickets are $25. General Admission tickets are $40. Student tickets (21 and under) are $15. Active military are $20. Seniors receive $5 off the ticket price. Opening night tickets are $50. Individual tickets go on sale August 29 and will be available via box office, website, or phone.
A variety of subscription packages are on sale now. Subscribers save up to 35% on the cost of tickets, may exchange tickets up to 24 hours before the performance, receive free tickets to the Elemental Recitations series and discounts at local Mt. Airy restaurants and businesses. To purchase a subscription visit www.QTGrep.org/subscribe or call 215.987.4450, Ext. 1.
For only $50 you can become a member of Quintessence Theatre Group. Membership privileges include 50% off five individual tickets and access to all subscriber benefits. For information, or to become a QTG member, visit www.QTGrep.org/membership or call 215.987.4450, Ext 1.
MILLENNIALS: For only $85 patrons aged 21-29 receive five tickets to Season VIII and have the opportunity to socialize with other young people. For information, or to take advantage of our Millennial Flex Pass, visit www.QTGrep.org/flexpass or call 215.987.4450, Ext 1.
Group rates and special weekday student matinees are available. For information on group sales call 215.987.4450, Ext. 5 or email Quintessence at BoxOffice@QuintessenceTheatre.org.
RUSH TICKETS: $10 rush tickets for industry professionals and students with ID are available at the box office one hour before performances pending availability.
PAY WHAT YOU CAN: The first preview for each Quintessence production is a Pay What You Can (PWYC) performance and is open to the general public. The Season VIII PWYC performances are: Long Day's Journey into Night (October 4), My Fair Lady (November 15), Waiting for Godot (January 31), Julius Caesar (March 21), The Wild Duck (April 4), Aesop's Fables (September 7), and The Prince and the Pauper (May 14).
ELEMENTAL RECITATIONS: In Season VIII Quintessence will continue to enhance and expand its Elemental Recitations, a series of rehearsed public readings of rarely performed classic plays and poems. Bringing together Quintessence ensemble members and Philadelphia's best actors, Quintessence will present a series of classic texts in concert with our main stage productions. The 2017 - 2018 recitation series will be announced later this summer. Tickets to Elemental Recitation readings are $10, and are free to Quintessence subscribers.
QUINTESSENCE THEATRE GROUP is a professional theatre dedicated to the performance and adaptation of works of classic literature and drama for the Contemporary Stage. Founded in 2009, it takes its name from Shakespeare's Hamlet: "What a piece of work is a man.... And yet to me, what is this quintessence of dust?" Quintessence aspires to the Elizabethan understanding of the word: the fifth element (the element of the heavens and the soul) and the purest essence of a substance.
Quintessence's home is the historic Sedgwick Theater, an Art Deco movie palace designed in 1928 by William Lee and located in the Mt. Airy neighborhood of Philadelphia. The company's residency at the Sedgwick has played an important role in the renaissance of the Mt. Airy section of Germantown Avenue.
Related Articles View More Philadelphia

Stories

Shows
More Hot Stories For You