BWW Review: SPRING SERIES 2019 at Wilma Theater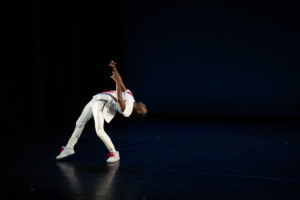 Off the Canvas is a piece by BalletX's choreographic fellow Katarzyna Skarpetowska inspired by artist Cy Twombly's series "Bacchus". At first one doesn't read the movement as homage to an artist's work, it reads as something with a pulse and flow reminiscent of blood vessels pumping through the body; expanding and contracting seamlessly changing pace as well as flow with a wonderful balance of ominous and hopeful music. The sounds and movements create an over tone of organized chaos that alludes to solitude as well as unity, syncing seamlessly between graceful classic flow and intentional mechanical modern motions. Although I read this visually as something with more of a biological feel, the movements did seem to recreate Twombly's work and that is what helped me understand to subject matter, therefore I find it to be a very successful piece of work.
Express is a work by up and coming choreographer Lil' Buck with such claims to fame such as appearances on The Ellen Degeneres show and co-choreographing Janelle Monae's music video for "Tightrope". This piece was originally commissioned by Damian Woetzel for the Vail Dance Festival. Express was much less rigid by style and design creating a fun atmosphere that tells a story of love, connection, loss, and recovery. The piece paid successful homage to various dance styles that included swing, hip hop, and jazz style steps. The flow and acrobatics by soloist Stanly Glover were incredibly impressive. I was blown away by his comfort with the material. It all seemed so natural. Honestly, the fact that I could tell how much fun the dancers were having made the work all the more enjoyable. Critically speaking, the only negative I would speak of is that it was easy to tell that the female dancers had a much for difficult time relinquishing the control that is attributed to classic ballet training. But despite that all the dancers were very expressive, particularly with their facial expressions. They were clearly having a lot of fun.
Steep Drop, Euphoric is Nicolo Fonte's 3rd collaboration with BalletX following "Beautiful Decay" and "Beasts" .Steep Drop, Euphoric impressively takes fluid costume design and stark backdrop visuals and successfully intertwines them into the choreography itself, creating striking imagery that is difficult to not be impressed by! The movements tell a strong story of conflict and hope. Unrolling the backdrop seemed to create a metaphor for forging a path despite struggle, but exhausting yourself to near extinction. There is a feeling of visual balance and the costume design feels very gender fluid, which feeds into the message of balance and unity.
Ultimately Balletx has created another beautiful series with Spring Series 2019. These pieces successfully cover a lot of bases when it comes to movement and style as well as create a well done contradiction between classic and modern. I can't wait to see what the next series brings to Philadelphia.