BWW Review: BOB: A LIFE IN FIVE ACTS at Azuka Theatre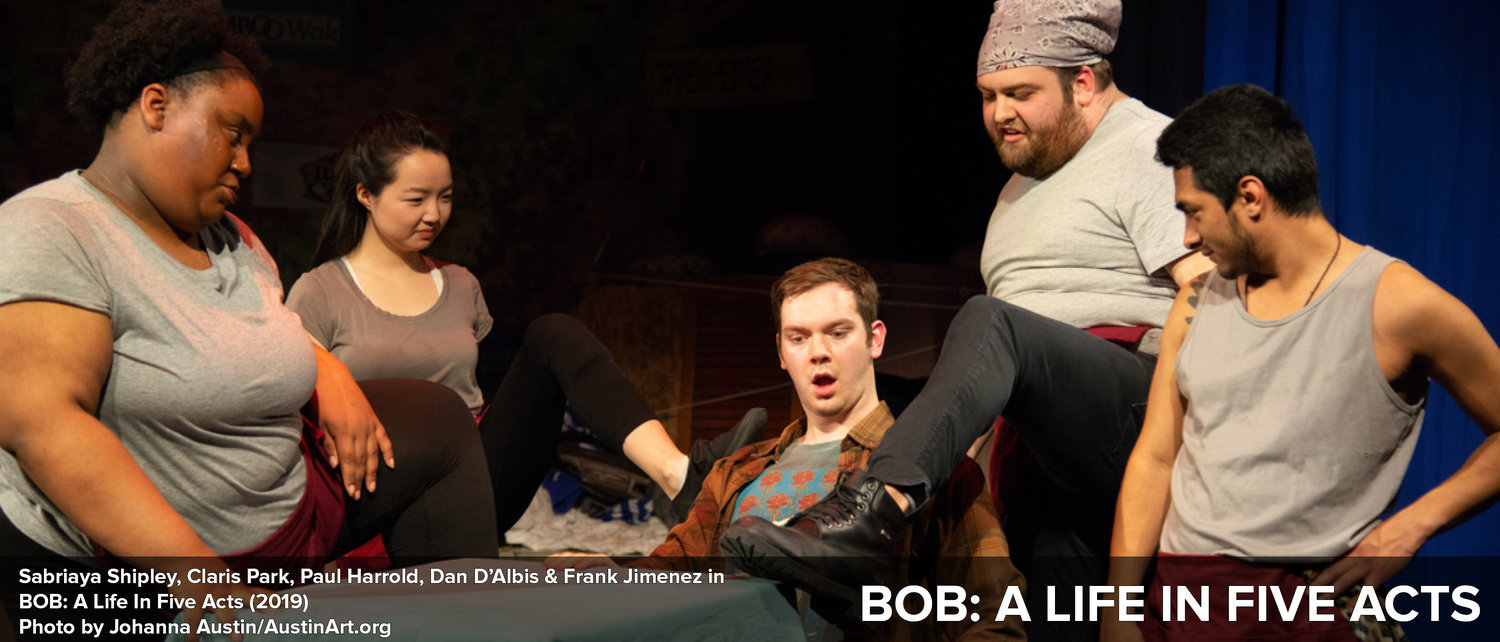 Grab a glass of the house wine from the bar, sit back, relax, and enjoy Bob: A Life in Five Acts.
The show follows, you guessed it, Bob (Paul Harold), who is a boy born in a White Castle and, according to a fortune cookie, destined for greatness. Through his life, he finds love, meets some characters almost more interesting than he is, and searches for his purpose.
The show, although quirky and a little border-crossing at times, is a true diamond in the rough. There were only about fifteen audience members, but there should have been more. As the production went on, we became a community, laughing together and experiencing Bob's life as if it were our own.
It's a hilarious look at what "achieving greatness" in a life means. It's artfully populated with a cast and production team of young people as a part of Azuka Theatre's "young professionals" series, which gives college students and recent graduates an ability to show their talent on a professional stage. The young energy plays well into Bob and shows how dreams can come true, even in a way that the dreamer may not have originally imagined.
The Chorus plays several different people Bob meets through his life, from a mother to a lover, and an unexpected father to a Bob's butler. No matter the character, each young member of the cast gives every part they play their all, and immediately captures the audience's adoration. Bob is not necessarily the star of his titular story, as every member of the cast performs their best and is funny and loveable while doing it.
The sets and costumes, designed by Dustin L. Pettegrew and Gina Colacci, respectively, are beautiful, and never feel as if they've been put together by rookies. The sets and costumes blew me away. They are kitschy but stylist, and filled with nuance that are hints to bits of the script.
Azuka Theatre also has a "go for your dreams" vibe on its own. The company allows audience members to pay what they wish at the end of the show, and attracts theater-goers young and old, while collecting comments with payments after the curtain goes down. This creates a world where students, seasoned Philly theater pros, and the company itself can continue to learn and grow.
Bob: A Life in Five Acts is fun, gripping, and teaching in its two-hour glory. Reserve your tickets as soon as possible to watch these young artists grow on stage and maybe you'll grow with them.

The show runs until March 17, and reservations can be made HERE.
Related Articles View More Philadelphia

Stories

Shows