BWW Interview: Alan Cumming and Ari Shapiro Talk OCH & OY! A CONSIDERED CABARET
Witness stories, songs, and more when The Kimmel Cultural Campus presents Alan Cumming and Ari Shapiro on its Merriam Theater stage on October 17, 2021, at 8:00 PM.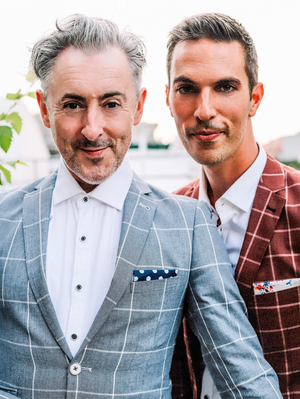 Tony Award winner Alan Cumming (Cabaret on Broadway, CBS' The Good Wife) and renowned journalist and singer Ari Shapiro (NPR's All Things Considered, Pink Martini band) are the dazzling stage duo the world has been waiting for. With unstoppable chemistry, endless charm, and talent for eons, the pair will be bringing their show Och & Oy! A Considered Cabaret to stages across the country.
Witness stories, songs, and more when The Kimmel Cultural Campus presents Alan Cumming and Ari Shapiro on its Merriam Theater stage on Sunday, October 17, 2021, at 8:00 p.m.
Thw show features musical direction by Henry Koperski.
For more information CLICK HERE!
We spoke with Cumming and Shapiro about their onstage and off-stage camaraderie, how OCH & OY! A CONSIDERED CABARET came to be, what audience members can expect to see, and more!
---
First of all, thank you both so much for hopping on the phone with me, it's so awesome to talk to you!
Ari: I will take any opportunity to jump on a phone call with Alan!
Alan: Ari, are you flirting with me?
Ari: Always!
I love this dynamic. Let's jump in, how did you two meet and when did you decide you were going to put together a show with each other?
Ari: I just looked up these dates! We met in 2014, and we decided to put a show together in 2019.
Alan: Yes, we met when Ari came backstage at Cabaret, when I was doing that on Broadway.
Ari: My good friend from college, named Ben, was in Cabaret on Broadway with Alan, and brought me backstage to meet Alan after I saw the show in 2014. And then the years after that, Alan and I did a variety of events together. I interviewed him live on stage about one of his books, he joined me to sing a song during a solo stage show that I did in New York. After one of those such events in Washington DC in 2019, Alan said, "We've got such a good rapport together onstage, why don't we make a show?" And I said, "Don't joke about that because I will absolutely take you up on it." And Alan said, "I don't joke about those kinds of things, let's do it."
Alan: And so, the next morning I had to text him, it was like a 'will you still respect me in the morning?' sort of thing, and say, "I still mean it, Ari!"
Ari: Then, it literally came together in just two weekends. I came up to New York for one weekend, and Alan came down to DC for one weekend. And then, we saw each other on opening night!
Alan: It sounds terrifying when you say it like that.
Ari: It was terrifying!
Alan: Then, we had the big COVID gap, so this summer we had a little tryout in Kennebunkport, and that was us getting back together again after a year. We'd only done it, like, four times, and then we had a two year gap.
Ari: We had to remember what the show was!
That's wild, to have that big of a break. Two years ago, when you put it together, how did you decide what you wanted it to be and what you wanted to perform? What was the process like?
Alan: The thing that makes it interesting, is that we're very different, we've got very different public personas. And yet, we're actually quite similar. And we play on that a little bit. This odd couple sort of thing. We worked from that, and then we went with songs we wanted to sing, and songs we wanted to sing together.
Ari: We realized that even though we operate in very different contexts, I in journalism, Alan in show biz, we both have the same values and goals. Which is that we're both storytellers, we both try to connect with an audience, we both try to help people better understand the world, and each other. And so, using that as a Touchstone/">Touchstone, we weave together these various moments that ideally have the kind of thoughtful conversations that you would hear on public radio, and the kinds of entertaining song and dance number you would expect in an Alan Cumming show!
It's a perfect marriage.
Ari: Don't tell our husbands!
What can audience members expect to see? Can you give a tease of any songs we might hear or stories you might tell?
Alan: Well, we talk about our marriages, we talk about how this all came about. We sing old standards as well as some new things.
Ari: There's a mix of Broadway, and there's a number I do with Pink Martini, where I sing with them. Some contemporary songs. A little bit of choreography, some Bob Fosse!
Alan: When we first did the show on Fire Island, Chita Rivera came on as a special guest!
Ari: She actually showed us the choreography that Bob Fosse Himself/">Himself taught her. And we just have a great time. We generally follow the same arc, but it's never exactly the same from night to night. And so, we entertain and surprise each other, and hopefully the audience as well.
Alan: Yes, exactly.
You mentioned the two-year break, how does it feel getting back on stage together after all this time? What was it like jumping back into that?
Alan: It was kind of terrifying! I'd just been in Australia, and we all landed in Kennebunkport, and we had a day with Henry [Koperski] our musical director. It feels like how the show is, just two old friends riffing and having a laugh. That's what makes it so nice.
Ari: I was recently listening to a podcast where somebody described the loss of eros during the pandemic, and she said she didn't mean eros as in sexuality, she meant eros as in newness, and creativity, and unexpectedness, and interactions that are surprising and fresh. And during the pandemic when so many of us were caught in the same loops over and over again, to reunite with Alan, and to get onstage in front of an audience, and to not be sure exactly what was going to happen, was so satisfying and refreshing and gratifying. It was what I had been missing for more than a year.
Alan: It was such fun.
What is your favorite part about performing with one another?
Alan: I really enjoy the characters we have, where I'm sort of the naughty one, and Ari is sort of the buttoned-up one, which is so not true, it's actually hilarious. I love the playing with our public personas.
Ari: For me, performing with Alan is such a delight because I know if I jump, he'll catch me. I know if the show is going off the rails, he'll get it back on track. Friends have asked if it's intimidating to share a stage with somebody as accomplished as Alan, and the opposite is true, because he is so skilled and good at what he does that I can just relax and enjoy.
Alan: I feel that same way, Ari. I actually feel like I am a bit of a hot mess and you keep things together.
Ari: We balance each other out.
Alan: Yes, it's a good Yin and Yang.
That's perfect. What's next for this show? Where are you taking it?
Ari: Steven Spielberg is directing the film version.
Alan: That would be hilarious.
Ari: I'll speak these things into the universe if we want them to happen, Al! We're doing an east coast tour that's DC, Boston, Philadelphia, Maine. And then, we have some other shows in January where we're in Los Angeles area, and more dates here and there. But they've sprinkled them out because both of us have day jobs as well.
Alan: The other night I saw Renee Fleming at the opera, and I said, "Oh, hi Renee!" And she said, "Thank you so much for being one of my VOICES!" Because we're doing Renee Fleming's VOICES in DC at the Kennedy Center.
Ari: So, we have a series we're doing at the Kennedy Center as part of Renee Fleming VOICES.
You two have the best energy, I love talking to you both. Do you have anything else you'd like to share with future audience members?
Alan: It's got smell-o-vision as well, this show.
Ari: If you're prone to motion sickness, it's not recommended.
Alan: Do not enter while the auditorium is in motion.
Ari: But I think you're getting a sense of the rapport that Alan and I have together, and that's what audiences can expect from this show as well. It's a bit like eavesdropping on the two of us just having a drink together some evening, except then we also sing songs.