David Williamson's LET THE SUNSHINE Comes to Limelight Theatre Next Month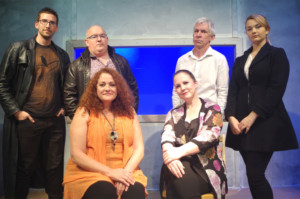 What happens when people of widely different political views are forced to co-exist?
It's a question posed in Let The Sunshine, a play from Australia's most respected contemporary playwright, showing at Limelight Theatre this August.
Written by David Williamson and directed by Tim Riessen, it's a satirical comedy about 50-something sea-changers and their children.
When Toby, a hard-hitting documentary-maker, flees Sydney with his wife after a blow up with the media, he arrives at his old childhood haven.
But the simple town has been transformed into a playground for the wealthy and his old friend has become married to a wealthy property developer.
Thrown into the mix is the couple's two incompatible offspring, a struggling musician and a ruthless corporate lawyer, and the scene is set for a vintage Williamson comedy.
Williamson is known for his extensive range of work including Don's Party, The Club, Travelling North, Brilliant Lies and Money and Friends and the screenplays Gallipoli, The Year of Living Dangerously, Phar Lap and Balibo.
"In Let The Sunshine, Williamson breaks each act in many smaller scenes," Riessen said.
"Maintaining the flow of the narrative through these many scenes changes is a big undertaking.
"Given there are also some big jumps in time, having the actors develop and show the changes in relationship that must inevitably happen is also a challenge."
Originally performing as a teenager, Riessen has returned to the stage in recent years, appearing in Jesus Christ Superstar and an end-of-year pantomime with the Albany Light Opera and Theatre Company and The Phantom of the Opera, Pride and Prejudice, Anything Goes, Speaking in Tongues and The Darling Buds of May with Limelight Theatre.
He has also performed in You Can't Have One at Stirling Theatre.
"I've been fortunate to be in a number of productions in the past four years," Riessen said. "Each one comes to life via the vision of the director.
"I wanted to bring my vision of a play to life - and, specifically, an Australian play.
"David Williamson is well-known as the quintessential Australian playwright with witty dialogue and an insight into the Aussie psyche.
"To bring that to life was a big part of what I wanted to do."
Let The Sunshine plays at 8pm August 17, 18, 19, 23, 24, 25 and 26 with a 2pm matinee August 20. Tickets are $21, $18 concession - book at www.limelighttheatre.com.au
or on 0499 954 016 between 9am and midday, Monday to Friday.
Limelight Theatre is located on Civic Drive, Wanneroo.