Bart DeLorenzo Directs West Coast Premiere of Nicky Silver's TOO MUCH SUN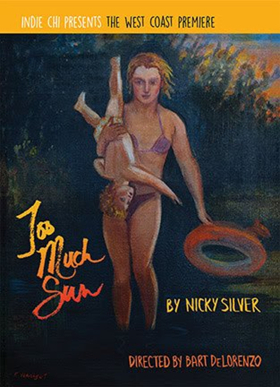 "People surprise you all the time. Just when you think you have them all figured out." Bart DeLorenzo directs the West Coast premiere of the acclaimed off-Broadway hit Too Much Sun by Nicky Silver (Broadway's The Lyons), presented by Indie Chi Productions in a guest production at the Odyssey Theatre. Previews take place on Feb. 28 and March 1, with opening night set for March 2 and performances continuing through April 21.

In Too Much Sun, celebrated actress Audrey Langham reaches her breaking point while rehearsing Medea in Chicago - walking off the stage, out of the production, and into her married daughter's summer house in Cape Cod, where her unexpected and unwelcome arrival sets off a chain of events alternately hilarious and harrowing.

"This is a play about how you can remake your life," says DeLorenzo. "It starts out with one character making a dramatic change, and by the end, every single character has made a huge transformation, for better or for worse."

Too Much Sun premiered at off-Broadway's Vineyard Theater in 2014. In his New York Times"Critic's Pick" review, Ben Brantley called it "an unconditional treat," writing that "Mr. Silver is a dramatist with an original and thoroughly sustained tragicomic worldview. He gives the cast the generous gift of speaking beautifully, in epigrams and winged barbs and poetic soliloquies that cascade like a Schubert impromptu."

Theater scholar David Savran locates Silver's work in the tradition of dark farce created by playwrights such as Oscar Wilde, Joe Orton and Christopher Durang.

The Indie Chi production stars Diane Cary (The Snake Can and Dinner At Home Between Deaths at the Odyssey, NBC mini-series V, recurring roles on Ugly Betty and Misfits of Science)in the role of theater diva Audrey Langham, and Autumn Reeser (Fox's The O.C., HBO's Entourage, ABC's No Ordinary Family and numerous Hallmark romantic comedies) as her daughter, Kitty. Kitty has been summering in relative peace with her husband, Dennis (Bryan Langlitz, seen on Broadway in Memphis and in the national tour of Million Dollar Quartet) - until her hurricane of a mother blows in. Also in the cast: Bailey Edwards (lead role in upcoming film Mothers of Monsters with Edward Asner and Melinda Page Hamilton) as Lucas, their young, gay, dope-dealing neighbor; Clint Jordan (Independent Spirit Award nominee for title role in the Atlanta Film Festival Grand Jury Prize-winning film Virgil Bliss) as Lucas' father, whom Audrey just might have in her sights for husband number six; and Joe Gillette (Coney Island Christmas at the Geffen) as Audrey's powerful Broadway agent's young assistant - who would really rather become a rabbi.

Set design for Too Much Sun is by Alex Calle; lighting design is by Rose Malone; sound design is by Christopher Moscatiello; costume design is by Michael Mullen; graphic design is by Kiff Scholl; and casting is by Kendra Clark and Helen Geier. The production stage manager is Michelle Hanzelova, and Andrew Carlberg produces.

Indie Chi Productions is an independent company focused on producing new and original material for the stage and screen. Previous theater productions in Los Angeles include the world premiere of Dinner At Home Between Deaths, a pitch-black comedy by Andrea Lepcio; the world premiere of The Snake Can, directed by Steven Robman and starring Jane Kaczmarek; the world premiere of von Lutz, directed by Jon Lawrence Rivera; the West Coast premiere of Win/Lose/Draw, directed by Dorothy Lyman; and a revival of Love and Whispers directed by Anthony Caldarelli. Indie Chi has produced two festival short films, Good and Grounded, as well as the feature film Kantemir.

Performances of Too Much Sun take place on Thursdays, Fridays and Saturdays at 8 p.m.and Sundays at 2 p.m., March 2 through April 21. There will be two preview performances on Thursday, Feb. 28 and Friday, March 1, both at 8 p.m. Tickets range from $32-$37 (reserved seating) except previews, which are $15. Additional discounts for seniors, students and patrons under 30 are available at select performances; call theater for details. The Odyssey Theatre is located at 2055 S. Sepulveda Blvd., West Los Angeles, 90025. For reservations and information, call (310) 477-2055 x2 or www.OdysseyTheatre.com.