Latest News on John MacKay
Stage Credits
  [Broadway]
1990
Anselme
Harpagon (Understudy)
  [Broadway]
1970
Prison Governor
The Inspector
Emigration Official (Understudy)
Governor of Borstal (Understudy)
Mr. Whitbread (Understudy) [Replacement]
Warder O'Shea (Understudy)
  [Broadway]
1962
Dr. Barcet
Thomas Loring
Charles Christian Wertenbaker (Standby)
  [Broadway]
1960
A Cab Driver
  [Broadway]
1956
Knight Escavalon
John MacKay News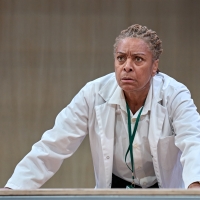 New Under 30's Offer Announced For THE DOCTOR at the Duke Of York's Theatre
by Stephi Wild - Nov 2, 2022
For those aged 30 and under, there will be exclusive £20 and £30 tickets in the stalls and dress circle available for every Sunday matinee as part of The Doctor's commitment to audience development.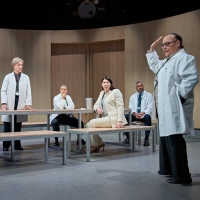 Award-Winning, Bestselling Author Adam Kay Joins Post-Show Q&A For THE DOCTOR
by A.A. Cristi - Oct 13, 2022
Adam Kay, the multi award-winning writer of the bestselling book This is Going to Hurt, which was recently adapted for the BBC starring Ben Whishaw, will be part of a post-show Q&A, following a performance of the critically acclaimed play, The Doctor.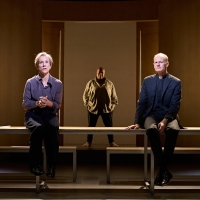 Review: THE DOCTOR, Duke of York's Theatre
by Mert Dilek - Oct 9, 2022
There is a kettle on stage for much of Robert Icke's The Doctor. It is one of the few props in this loose adaptation of Arthur Schnitzler's 1912 play Professor Bernhardi, which was first staged at the Almeida Theatre in 2019 and now receives its delayed revival in the West End. And the kettle's conspicuousness is not for nothing: like the water boiling in it, Icke's medical ethics drama gradually increases in heat and reaches a point of scorching intensity, leaving no one unscathed.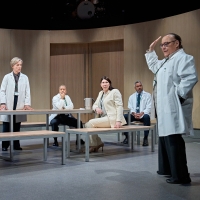 Photos: First Look at Juliet Stevenson & More in THE DOCTOR in the West End
by Chloe Rabinowitz - Oct 3, 2022
The Doctor, by Robert Icke, very freely adapted from Professor Bernhardi by Arthur Schnitzler, opened at the Almeida in August 2019, with Juliet Stevenson in the title role. This is their third collaboration together to transfer to the West End. Get a first look at photos here!
Photos: Inside Rehearsal for THE DOCTOR, Starring Juliet Stevenson
by A.A. Cristi - Aug 31, 2022
Go inside rehearsals for The Doctor  starring Juliet Stevenson, coming to Theatre Royal Brighton on September 10. See photos from inside the rehearsal room!
Photos: Inside Rehearsal For THE DOCTOR, On Tour Beginning in September
by Stephi Wild - Aug 25, 2022
All new rehearsal photos have been released for The Doctor, opening at Brighton Theatre Royal  next month.
Full Cast Announced For the Almeida Theatre Production of Robert Icke's THE DOCTOR
by Stephi Wild - Aug 11, 2022
Joining the previously announced, Juliet Stevenson, and returning to the production are Christopher Osikanlu Colquhoun (The Lion King), Mariah Louca (Best Of Enemies), Daniel Rabin(King Lear), Naomi Wirthner (An Evening At The Talkhouse) and Hannah Ledwidge on drums.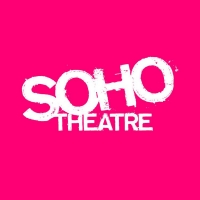 Soho Theatre Announces Upcoming November Programming
by Chloe Rabinowitz - Nov 19, 2021
Soho Theatre has announced their upcoming November programming featuring MUM, SESSIONS, MAKROOH and more. 
AN EVENING WITHOUT KATE BUSH Will Be Performed at Liverpool Theatre Festival
by Stephi Wild - Aug 9, 2021
Acclaimed performer Sarah-Louise Young has teamed up with theatremaker Russell Lucas to explore the music and mythology of one of the most influential voices in British music. The show is produced by John Mackay.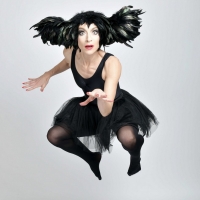 AN EVENING WITHOUT KATE BUSH to Tour the UK and Transfer to Soho Theatre
by Chloe Rabinowitz - Jul 30, 2021
After its smash-hit sold-out Edinburgh run, critically acclaimed chaotic cabaret cult 'An Evening Without Kate Bush', made by Sarah-Louise Young and Russell Lucas, is to transfer to Soho Theatre, London from 7 - 26 February, 2022.
John MacKay Frequently Asked Questions
How many Broadway shows has John MacKay been in?
John MacKay has appeared on Broadway in 5 shows.
How many West End shows has John MacKay been in?
John MacKay has not appeared in the West End