Make A Stardate With Theatre 29's BAKERS DOZEN For A Wild And Unpredictable Star Trek Themed Night Of Improv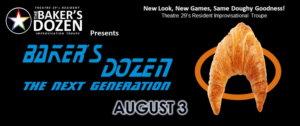 Theatre 29's resident improv troupe, "The Baker's Dozen" has a Star-Trek-themed night of comedy planned. Some of the Next Generation of actors from Theatre 29's Summer Youth Theatre Program will be joining the usual suspects, the cast of quick-witted and hilarious comics, for a show that's sure to be out of this universe.
Improvisation, or improv, is a form of live theater in which the plot, characters, and dialogue of a game, scene or story are made up at the moment. Now in its third year, the multi-talented ensemble, with the help of the audience, creates a hilarious and completely original show every performance.
The young performers will experience that Improv is more than just going up on stage and being funny. It's about working together, listening to each other, and creating a story together. It's about making choices, not being afraid to take the lead, and knowing when it's your turn to follow.
Trekkies and improv aficionados alike need to mark their calendars to beam up to Theatre 29 Saturday, August 3 at 7 p.m. for "The Next Generation", a Star-Trek-themed night of laughs at Theatre 29. Watch the improv troupe as they mind-meld with the young actors from the Summer Youth Theatre Program as guest performers. Make a stardate with a friend or two, brush up on your Klingon and make it so.
Tickets for "The Next Generation" improv show are $7.00 to $10.00 and are available at the door, by visiting theatre29.org or by calling the Theatre 29 Box Office at 760-361-4151.
Related Articles View More Palm Springs

Stories

Shows