BWW Review: WHITE at CV Rep Theater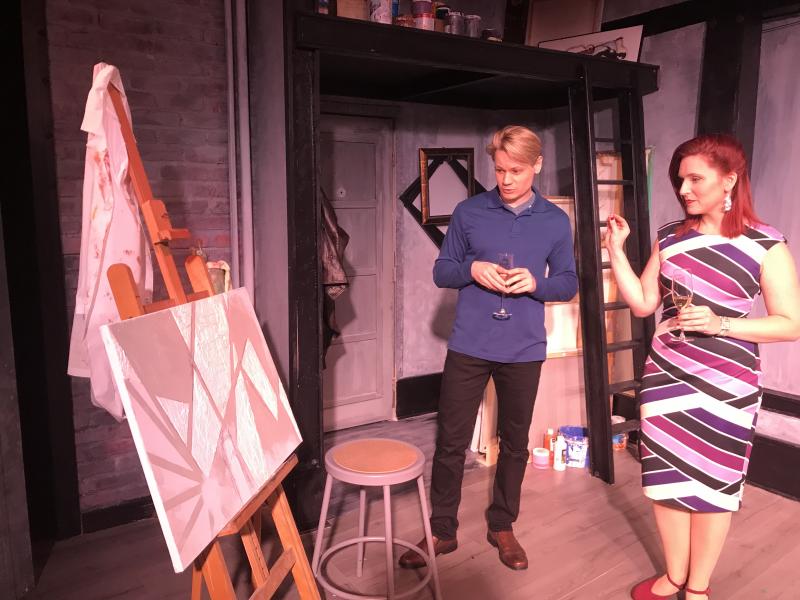 Here's the tale: artist Gus (Paul David Story) is a "White dude" whose latest artwork is, well, white on white. Jane (Charlotte Munson) is Gus' best friend from grad school and she's just landed her dream job as senior curator at the Parnell Museum. Gus wants to be in her first show, which she is calling "New America" but there's a problem; Gus has all that "White dude" stuff going on with his face, and to be honest, with his life. He is handsome, has great hair, lives with his equally handsome, kind and understanding Asian boyfriend, Tanner (Anthony Saludares), add to that, Gus doesn't seem to have a day gig which leaves him plenty of time to overthink things.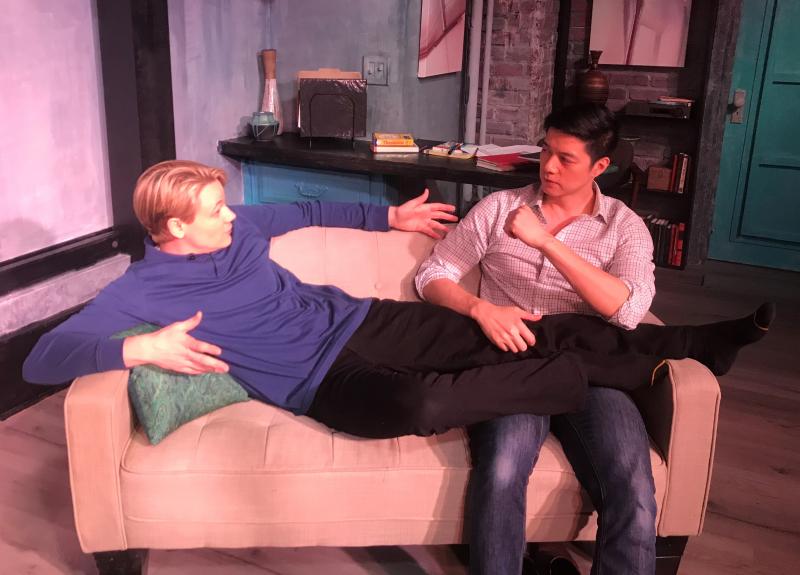 He has his panties all in a bunch because he feels marginalized, which is kinda true, but to anyone who is not a White male, it's pretty eye-rolling. Gus plays his last card, "I'm gay, doesn't that count for something?" Jane laughs. It doesn't.
Gus becomes obsessed with the idea that his white maleness is closing doors. Art is art and should exist as such without putting a gender or a color on it. He ain't wrong, but on the other hand, people of color and women have been dealing with this for centuries. That he is only incensed because it affects him seems justly unjust.
In an inspirational, or psychotic moment (that involves "Diana Ross") Gus gets the idea to create an alternate persona to be the artist of his work and present both to Jane. He enlists a Black actress, Vanessa (Franceli Chapman) and together they construct Balkonaé Townsend based on, as Gus puts it, "the black diva that lives in all gay men." Wow. Gus is mighty clueless but Vanessa seems to forgive all of Gus' cultural faux pas and misappropriations and settles into the role they are creating.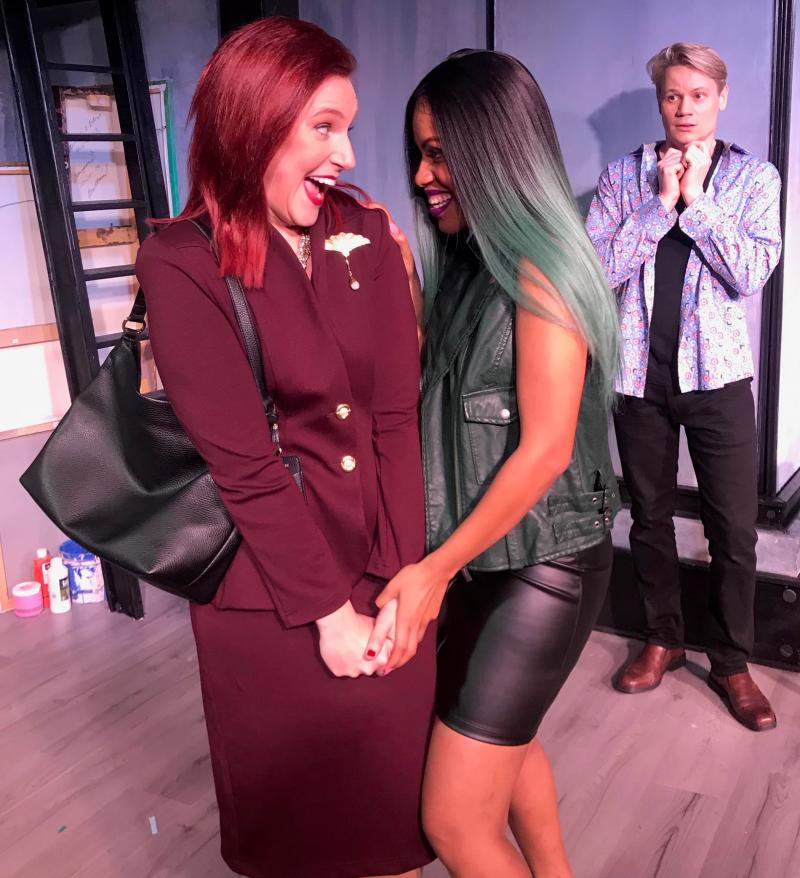 White will squeeze your brain with its dark and biting humor. Just when you think it couldn't possibly get any more twisted, it does. The best moments are with Gus and Vanessa/Balkonaé as they are hashing out her backstory. Chapman's ability to rapid fire into different characters before she becomes full-on Balkonaé is hilarious. It takes an excellent actor to pull off what Chapman seems to effortlessly offer us.
The misguided Gus doesn't leave much room for likeability. After all, he's mad because his White privilege didn't get him in a particular door, and he's trying to pull one over on his best friend from grad school at her new dream job. He thinks he is making a point, but really he's just making an ass out of himself. While Gus' dialogue could come off as whiny, Story is not. He and Chapman are electric, keeping the play firing on all cylinders.
Munson's Jane is delightfully full of herself. She hits all the right notes, she's smart and she's determined, but when she meets Balkonaé you'd think that she discovered the New World.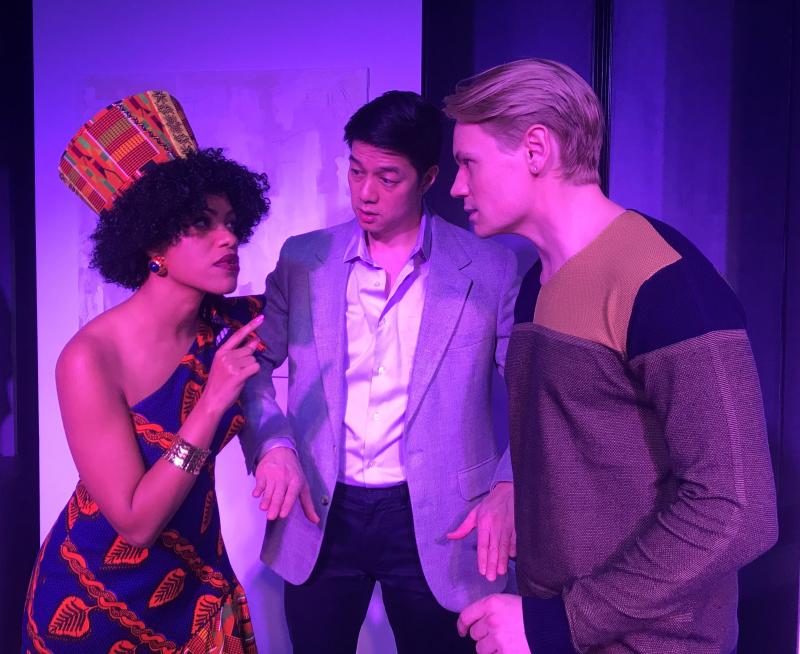 Saludares does a good turn as the long-suffering boyfriend, Tanner. His patience with Gus eventually reaches its limits about the same time ours does.
Director Ron Celona knows how to pace a comedy. There is never a dull moment, he keeps his actors moving at a good clip, and we are laughing right up to the rather confounding ending. Ijames employs a conceit at the penultimate moment that's just damn hard to pull off. It may leave you scratching your head, but you'll still be entertained.
Production values, as always, are outstanding. From Jimmy Cuomo's set, to Moira Wilke Whitaker's lighting design. And two big thumbs up to the terrific wardrobes by Aalsa Lee, and Kate Fechtig's catchy and engaging sound design.
White runs through Feb. 17 at CV Rep. For tickets, visit www.cvrep.org or call the box office at 760-296-2966. All photos are courtesy of CV Rep.
Side note: this play is based on a true story, although surely not as hilarious as Ijames's take on it. Google Joe Scanlan and Donelle Woolford and then, just for kicks, read the article by Ryan Wong (don't get pulled in, it's a satire). Fascinating stuff.