BWW Review: BRIGHTON BEACH MEMOIRS at Desert Theatreworks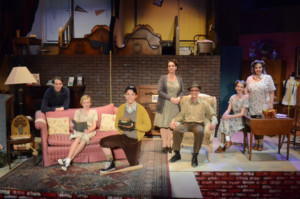 Indio's Desert Theatreworks has scored another bullseye with their current production of Neil Simon's Brighton Beach Memoirs. Simon's semi-autobiographical memory piece about his early teenage years in a crowded Brooklyn tenement is delivered in a finely-nuanced performance by a dream cast in the capable hands of director Rebecca Havely. As a result, the tale of a young teen's personal growth and exploration, set against a house full of family conflict and financial strife, takes the audience on a ride which they all seemed to greatly enjoy on the evening I viewed the show.
Brighton Beach Memoirs is the first in the semi-autobiographical "Eugene Trilogy" Simon wrote in the 80's. Biloxi Blues and Broadway Bound continue the tale. Simon's alter-ego, 14-ish Eugene Jerome, is the first character we meet, and he owns the show as he never leaves the stage. He frequently breaks the fourth wall, speaking directly to the audience as he explains or reacts to onstage developments, so we feel we have been taken into his confidence. The role is strongly and stylishly delivered by young stage veteran Angus Feath. I first saw Feath in another Simon play at DTW, Lost in Yonkers, where at 13 he delivered a performance that left many adults in the dust. His skills have continued to grow, and this production is a tour-de-force for him.
Brighton Beach Memoirs is a story about family - what is more important to a 14-year-old? Eugene shares a cramped room with his older brother, Stanley, played by Lee Padick. Padick deftly balances the bravado of an 18-year-old whose income helps the Depression-afflicted family, with the vulnerability of a youngster dealing with adult crises. The interaction between the two brothers feels especially honest.
Eugene's mom is played by Daniela Ryan, one of the valley's leading lights. As a "mostly homemaker," she is constantly trying to make peace between the various family members, and to put some semblance of a meal on the table each evening, even when finances say otherwise. Her husband, Jack, is capably delivered by Stephen Blackwell. In a role that could have been a constant sledge hammer, Blackwell finds moments of relative tenderness.
The mother's sister, the widowed Aunt Blanche, and her two daughters also share the house, adding to the internal pressure. It seems that Blanche's only role in life was being a wife and mother, and with her husband deceased, she is lost. She tries to date, tries to make a living, tries to move out, but she's just not capable. Leanna Rodgers brings a strong believability and vulnerability to the character. This is her first show with DTW, though her skills have already been recognized by several other valley theatres. Blanche's two daughters are played by Bella Oden and Cameron Trubee. The older one at 16 is discovering her femininity, and Oden hits that balance between dutiful sister/daughter, and young woman sneaking out of the house late nights. The younger daughter is a thankless role of a girl whose "condition" prohibits her from doing almost anything, so we don't get to see much action from Trubee.
I want to take a moment to comment on two characteristics of Desert Theatreworks which I strongly admire. First, they have produced a Neil Simon script every year they have been in operation (since 2013), generally opting for some of the lesser-known works. They have thereby enabled their regular audiences to experience in depth one of our country's finest playwrights, a Pulitzer Prize winner with over thirty produced plays. Second, Angus is joined onstage by his real-life mother, Danela Ryan, as his onstage mother. She also shared the stage with him in Lost in Yonkers, and sister/daughter Violet Feath has appeared in numerous DTW productions. All three of them also serve backstage. Similarly, young actress Bella Oden in the current production shares the same last name as the stage manager, Tresa Oden - her mother. How many community activities can parents and children share on such an equal basis? Hats off to DTW for encouraging family participation!
One of the most delightful components of the evening is the set design by company Artistic Director, Lance Phillips-Martinez. The stage literally looks like a large dollhouse with two bedrooms upstairs, the living room and parlor on the ground floor, and a stoop just outside the front door. It actually looks like the outer wall was whisked away from a Brooklyn tenement. The result is that while the downstairs living room is lit and action is going on there, we can see that Eugene and his brother are quietly chatting in their room, and perhaps one of the sisters is combing her hair in her upstairs room. The totality of life in the house adds to the realism of the evening.
Strong technical support was provided by Phil Murphy's lighting design, Miguel Abrallo's sound design, Michelle Mendoza's props and costumes, and Art Healy's hair and makeup. Operating staff included Maddox Martinez, Laura Martinez, and Kaylyn Bernal.
Next up at Desert Theatreworks is Some Enchanted Evening, a celebration of the immortal music of Rogers and Hammerstein, playing February 8 - 17. Tickets and further information are available at www.dtworks.org .
Photo Credit: Paul Hayashi
Related Articles View More Palm Springs

Stories

Shows