Riverside Theatre Stages Classic MY FAIR LADY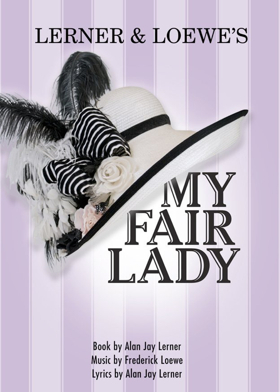 Riverside Theatre, led by Producing Artistic Director/CEO Allen D. Cornell and Managing Director/COO Jon R. Moses, present one of Broadway's great musicals and the Lerner and Loewe classic, My Fair Lady. Sponsored by Bill & Laura Frick and Riverside Theatre's Patron Producers Group, My Fair Lady performs on the Stark Stage from March 12-31, 2019
One of the most successful and award-winning musicals in Broadway history, My Fair Lady is an endearing tale that charms audiences with its warmth and vivid characters. Professor Henry Higgins loves language and Cockney flower girl Eliza Doolittle desires to speak like a lady. Embarking on a social experiment, sparks fly in the most unexpected places in this clash of cultures. With witty dialogue and jubilant songs including "I Could Have Danced All Night," "On the Street Where You Live," "The Rain in Spain," and "I've Grown Accustomed to Her Face," My Fair Lady is frequently called, "the perfect musical."
My Fair Lady is the musical adaptation of George Bernard Shaw's play, Pygmalion. First performed in 1913, Pygmalion and the subsequent 1938 film version ended with Professor Higgins and Eliza Doolittle parting ways. It was simply unimaginable to have a romance between two people whose social classes were so far apart.
Shaw sold the rights for a film version in 1938, but refused to consider a musical adaptation. After Shaw's death in 1950, Rodgers & Hammerstein tried and failed to write a musical. Lerner & Loewe also tried and gave up, but two years later, when they heard that MGM was interested in the film rights, they worked laboriously and finally won the rights to the play.
My Fair Lady opened on Broadway in 1956 and ran for a then record 2,717 performances. Rex Harrison won great acclaim playing Henry Higgins, and little known actress, Julie Andrews, became a major star playing Eliza Doolittle. The show won seven Tony Awards® in 1957 including: Best Musical, Best Actor in a Musical (Harrison), Best Actress in a Musical (Andrews) and Best Director of a Musical (Moss Hart). The original cast recording became the best-selling album in the US in 1956. In 1958, Harrison and Andrews reprised their roles for the London production.
The story begins in Covent Garden outside the Royal Opera House. Professor Henry Higgins and his friend Colonel Pickering encounter a Cockney flower girl, Eliza, with an unintelligible accent. She arrives at Henry's house a few days later and asks him to teach her how to speak like a lady. Eliza works hard, and a young nobleman, Freddy, meets her and falls in love. Despite a few mishaps, Eliza ends up impressing the queen of Transylvania and dancing with a prince at the Embassy Ball.
Professor Higgins continues to treat her like a servant, but Eliza says she plans to marry Freddy because he appreciates her. Dejectedly, Higgins returns home, to be overjoyed when Eliza shows up for a reconciliation.
musical has enjoyed revivals around the world during every decade since the original production, with the most recent 2018 Broadway version receiving multiple Tony Award® nominations.
Riverside Theatre's production of My Fair Lady is directed and choreographed by James Brennan and stars Kristen Beth Williams (Top Hat, Pippin) as Eliza Doolittle, James Ludwig (Spamalot, Little Shop of Horrors) as Professor Henry Higgins, Tom Souhrada (Mary Poppins, Kinky Boots) as Alfred Doolittle, Kathleen Huber (Gigi, Tamara) as Mrs. Higgins, Ed Dixon (Anything Goes, Sunday in the Park with George) as Colonel Pickering, John Donovan Wilson as Freddy Eynsford-Hill, Karen Murphy as Mrs. Pearce, James Beaman as Zoltan Karpathy, and Robin Lounsbury as Mrs. Eynsford-Hill.
cast also includes: Denali Bennett, Theo Blumstein, Taylor Broadard, Ronald L. Brown, Michael Peter Deeb, Michael J. Farina, Elizabeth Flanagan, Chloe Fox, Chris Kotera, Brady Miller, Patrick John Moran, Sophie Morris, Jennifer Seifter, Madison Tinder, and Lily Warner.
The production crew includes: Anne Shuttlesworth (Music Director), Paul Tate DePoo III (Scenic Designer), Kurt Alger (Costume & Wig Designer), Julie Duro (Lighting Designer), Craig Beyrooti (Sound Designer), Mark Johnson (Production Stage Manager) and Amy Bertacini (Assistant Stage Manager). Casting was done in New York by Wojcik/Seay Casting.
My Fair Lady performs March 12-31, 2019 on the Stark Stage at Riverside Theatre. Tickets start at $35. Tickets can be purchased by calling the Box Office at 772-231-6990 or online at www.riversidetheatre.com.
Related Articles View More Orlando

Stories

Shows
More Hot Stories For You