Photo Flash: CALLBACKS is Coming to Orlando
Orlando Fringe Veteran Thom Mesrobian is bringing his latest effort "Callbacks" to the City Beautiful. Fresh off its world premiere at the first Tampa International Fringe Festival, where it was heralded as one of the Best of the Fest by Creative Loafing magazine, "Callbacks" will play for a three night run August 25th, 26th and 27th 2017 at the brand new Theatre South Playhouse in the Dr. Phillips Marketplace located at 7601 Della Drive Suite #15. Curtain is at 8 pm each night and tickets are $15 in advance through brownpapertickets.com
"Callbacks" tells the story of Mike Rossi and Terry Stein. Two aging actors whose careers lead them into the small world of theme park acting. Over the course of years performing the same show over and over, they find the value of friendship and learn that life doesn't have to end in a theme park dressing room, if they're lucky.
Based on over 11 years of experience as a theme park performer, writer Thom Mesrobian has crafted a knowing and hilarious valentine to actors and anyone who's every wondered what goes on behind the castle doors. Filled with heart, humor and romance, "Callbacks" delivers an inside look at the people who make theme parks some of the happiest places on Earth.
Thom Mesrobian is well known for his work at the Orlando Fringe Festival having produced and co-written the critically acclaimed "FrankenChrist: The Musical" in 2014 as well as the 2016 Best Musical winner and box office smash "Simpleton: The Legend of President Trump", a parody of "Hamilton".
The cast includes Thom Mesrobian as Terry Stein, Danny Baynard, as Mike Rossi, and Sarah Lockard as Catie Walsh.
The show is directed by Mark Hartfield, former show director at Universal Orlando, and co-director of "FrankenChrist: The Musical" and "Simpleton" at the Orlando Fringe Festival.
"Callbacks" features original incidental music composed by Ben Shepler. Costumes are by Cristina Hartfield and the Production Manager is Tonya Mesrobian. Stage manager is Sarah Moening.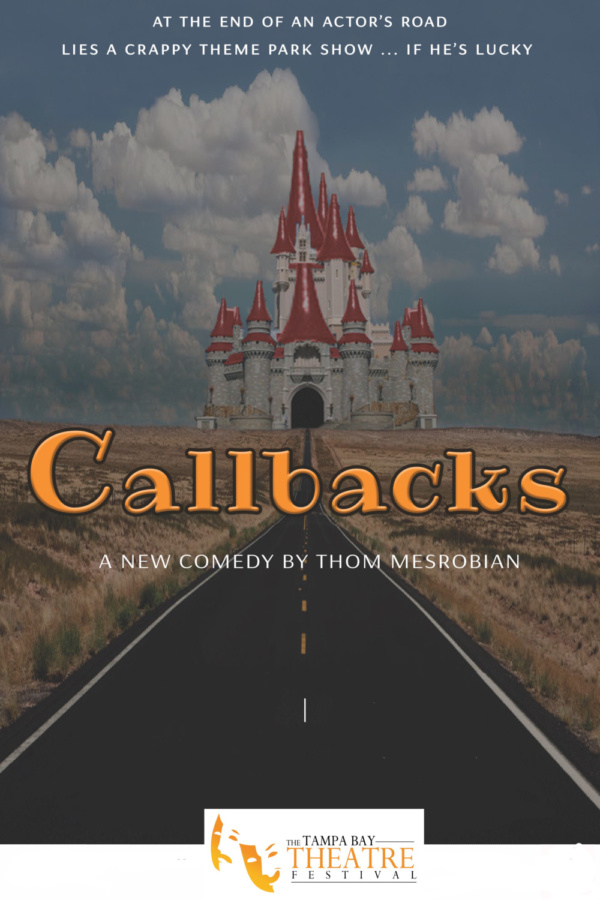 Before competing in the Tampa Bay Theatre Festival, Callbacks will have a three night limited run in Orlando. Aug 25, 26 and 27 at 8pm in the brand new Theatre South Playhouse in the Dr. Phillips Marketplace

Mike Rossi (Danny Baynard) and Terry Stein (Author: Thom Mesrobian) are two actors who have found gainful, if not bizarre, employment in a theme park

Catie Walsh (Sarah Lockard) adds to the mix as she joins the cast and changes everything.