BWW Review: Garden Theatre's Exceptional BONNIE & CLYDE Cast Makes the Most of Mediocre Material
There is much to love about the Garden Theatre's production of Frank Wildhorn's musical BONNIE & CLYDE; the cast is breathtakingly talented, the set, lighting, and costume designs are gorgeous, and the live (unseen) band is pitch perfect. Unfortunately, there is one major thing not to love about this production of Frank Wildhorn's musical BONNIE & CLYDE, and that is Frank Wildhorn's musical BONNIE & CLYDE itself.
Despite the show, which features cliché lyrics by Don Black and a paint-by-numbers book by Ivan Menchell, arriving on Broadway with two leads on the verge of becoming theatrical superstars, BONNIE & CLYDE was met with negative reviews, mustering only 36 official performances.
However, since its closing in late 2011, the musical has become a bit of a cult hit, aided by the devoted fans of original stars Tony-nominees Laura Osnes and Jeremy Jordan. This unexpected rise in reputation has made it a popular property for regional theatres looking to take a risk, and in many ways, the Garden Theatre's risk paid off.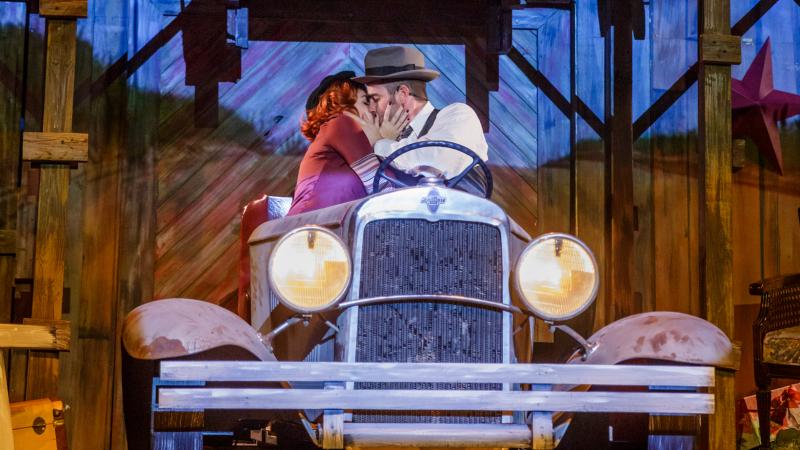 Led by Tay Anderson and Preston Ellis as the doomed title couple, the musical tells the infamous story of two Texas outlaws during the height of the Great Depression who abandon their tired, ordinary lives for the danger and passion of ones spent on the run from the law. Spoiler alert: it doesn't end well for them.
Both Anderson and Ellis possess extremely impressive voices, but while Ellis is a bit vocally sloppy with a lack of diction and a few too many riffs, Anderson's crystal clear tone adds an extra layer of depth and honesty to her portrayal of Bonnie Parker that cuts through the hackneyed book.
The two are at their individual and collective bests when they are alone together on stage, and their characters' young, foolish love sweeps them away from whatever dusty confines they are holed up in at the moment. It's in these all too brief instances that the excitement and romance of what a Bonnie and Clyde musical could have been is almost realized, had the material been better.
Frankly speaking, Anderson and Ellis make an extremely hot couple, and not just because they are both objectively gorgeous, but because there is an intense passion between them that emanates through every aspect of their shared stage time. Though the material that they are given is shoddy at best, these two talented, charismatic performers make the most of it.
Fortunately, the show's appealing central couple is surrounded by a stellar supporting cast led by Lauren Culver and Jake Rura as Blanche and Buck Barrow, Clyde's sister-in-law and brother. While it would be a stretch to call the couple comic relief, their pure, comparatively innocent love brings a lightness and sweetness to the otherwise dark show. And, while they are both in very fine voice, Culver has more opportunities to show that off, whether it is singing a fun harmony with three other ladies in "You're Goin' Back to Jail," or in her haunting ballad "That's What you Call a Dream."
The production is also buoyed by standout performances by Alyson Johnson as Bonnie's mother Emma, Sarah Isola as Young Bonnie, and David Kotary as Ted Hinton, a deputy who harbors long unrequited feelings for Bonnie.
Despite a score overrun by ballads that inevitably bring all forward momentum to a grinding halt, director Rob Winn Anderson is able to keep the show moving briskly enough that the show's action sweeps you up far more often than it otherwise ever could. He also delivers an exceptionally compelling scenic design that is evocative of the dirty, desperate trappings of West Dallas that Bonnie and Clyde are fighting so ferociously to escape.
Additionally, this production boasts the most fully realized design that I've ever seen at the Garden Theatre. In addition to the scenic design, the costumes by A.J. Garcia (who also appears in the show's ensemble) are beautiful, and Erin Miner's lighting is subtly powerful. Josh Seyna also deserves kudos for his sound design in making Music Director Chris Endsley's five piece band sound perfectly present, but never overwhelming, despite being tucked away on the set's second level.
Rob Winn Anderson also finds effective ways to integrate creative projections by Amber Larkin of Nth Degree Design & Visual FX.
While I won't belabor the point that I have already touched upon multiple times, it must be said that this Bonnie and Clyde musical is in every imaginable way a missed opportunity.
Wildhorn, who had a career as a pop composer for artists like Whitney Houston, Natalie Cole, Patti LaBelle, Trisha Yearwood, and more, has spent the past two decades cranking out unremarkable musicals at an alarming pace. Since 1997, he has had six shows make it to Broadway (in addition to one that has already been revived) yet none of them have been able to turn a profit.
While his first two shows, JEKYLL & HYDE and THE SCARLETT PIMPERNEL, had deservedly longer runs than the rest, they all have succumbed to similar issues; boring books, unimaginative lyrics, and bland, repetitive scores that feature only the smallest handful of hummable tunes that show the promise of what a good Wildhorn show could be.
In BONNIE & CLYDE, the underwhelming, genre-jumping clunker of a score features pastiche period folk songs, out of place jazz tunes, and, of course, more than a fair share of the now infamous Wildhorn power ballads.
If you don't go into the theater knowing the songs to the BONNIE & CLYDE score, chances are good that you won't know them when you leave, either.
And, that is most unfortunate, because Rob Winn Anderson and the Garden Theatre have assembled a special group of artists who have painstakingly created a production that deserves to be seen and appreciated. I just wish that the show's creators had given this group material commensurate with their talent.
To purchase tickets to BONNIE & CLYDE at the Garden Theatre, visit their website or call 407-877-GRDN (4736).
---
Did you make the trip to West Dallas? Am I being too hard on Wildhorn's show? Let me know on Twitter @BWWMatt. And, "Like" and follow BWW Orlando on Facebook and Twitter using the buttons below.
Banner Image: Tay Anderson and Preston Ellis | Photo Credit: Steven Miller Photography