Photos: ShelterSkelter XIV At The Shelterbelt Theatre
Be afraid, be very afraid! Visit the Shelterbelt Theatre if you dare, where Shelterskelter returns with 10 short tales of horror, murder, mystery and the macabre.
The show opens October 8 and runs Thursday through Sunday until Halloween, October 31. Shows start at 8:00 p.m., Thursday through Saturday, and at 6:00 p.m. on Sundays. Extra showing on Wed. Oct. 28 at 8 pm.Regular admission is $15, or $12 for students, seniors, and TAG members.  TAG Night Out on Oct. 8 - donations taken for TAG scholarships and for Lara Marsh transplant fund.  2 for $15, and 1 for $8 admission Oct. 9-11.  $10 admission on Oct. 15, 22, and 28.  $20 all seats for the Oct. 31 showing - drink specials, and costume party afterward!
Tickets will be on sale soon. Contact the Shelterbelt at 341-2757 or visit www.shelterbelt.org
SCRIPT SUMMARIESGeorgie Gets a Facelift, by Daniel Guyton - motherly love and murder make for an uncomfortable match
Old Friends, by Tom Deiker - the sins of the past intersect with the sins of the present
Never Wear a Dead Man's Shoes, by Judd Lear Silverman - a comic look at whether old wives' tales can be true
One Danger of Routine, by Matthew S. Vodicka - predictability can be deadly…
Anniversary, by Josh McIlvain - two couples meet in the park, and reminiscing turns into something else
Hemo Phobia, by Pat Bourgeois - a timeless story of love, life and death, set in a cemetery
The Inciting Incident, by Mark Cornell - delve into the mind of a distressed and disturbed neighbor
Damn Spot, by Alex Dremann - what would you do if your floor was haunted?
Safe, by Deborah Finkelstein - sometimes abusive actions require retaliation
Fortnight of the Living Dead, by Dus
Ty Wilson
- zombies love our brains, but can they also steal our hearts? The cast includes Deb Gerke, Trude Grosenbach, Brandy Leggett, Allison Moore, Liz Mulhern,
Maddie Radcliff
, Eric Grant-Leanna, Jay Huse, Michael Juarez and Andy Niess.
Production Staff
Directors - Adam Nathan, Demian Ryder, Derrick Crawford, Gary Planck, Jonathan Wilhoft
Stage Manager - JoAnn Goodhew
Lighting Design - Tom Reardon
Sound Design - Dave Podendorf
Set Design - Adam Nathan
Costume Design – Megan Whitaker
Producer - Craig Bond
Box Office - Shelterbelt Staff
Poster and Graphic Design - Craig Bond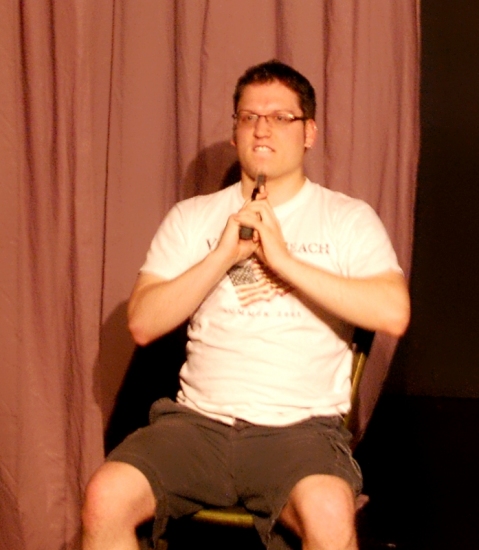 Eric Grant-Leanna

Eric Grant-Leanna

Jay Huse and Maddie Radcliff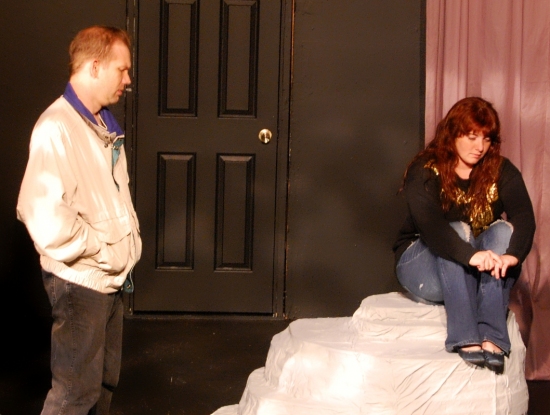 Jay Huse and Maddie Radcliff

Jay Huse, Andy Niess and Brandy Leggett

Brandy Leggett, Maddie Radcliff, Andy Niess and Jay Huse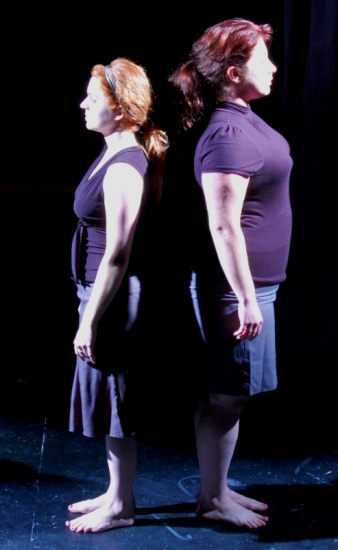 Trude Grosenbach and Maddie Radcliff

Michael Juarez

Maddie Radcliff, Deb Gerke and Michael Juarez

Maddie Radcliff and Michael Juarez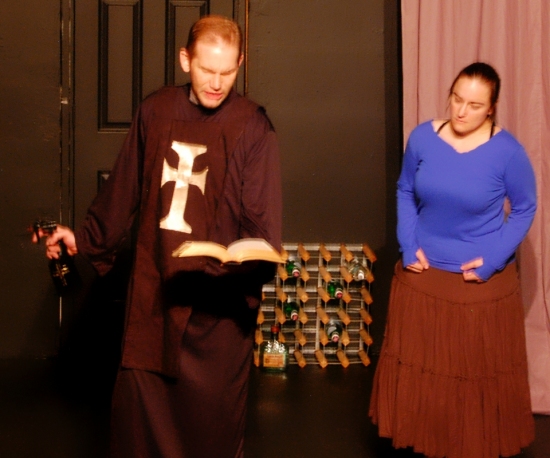 Jay Huse and Liz Mulhern

Eric Grant-Leanna and Allison Moore