Photo Flash: Meet the Stars of LOST BOY FOUND IN WHOLE FOODS at Omaha Community Playhouse
LOST BOY FOUND IN WHOLE FOODS, running May 6 - June 5, 2016 in the Howard Drew Theatre at the Omaha Community Playhouse, tells the story of Gabriel, one of the Lost Boys of Sudan, who has started a new life in America. Get a sneak peek at the stars in the photos below!
While working in Whole Foods, he meets Christine, a middle-aged, single mother. Christine is drawn to the positivity that Gabriel radiates and his unbreakable spirit. On her eye-opening quest to help Gabriel, Christine finds a broken system and many unanswered questions. LOST BOY FOUND IN WHOLE FOODS is an impactful and heartbreaking play that spotlights social responsibility and compassion for humanity.
The story of Gabriel is similar to so many "Lost Boys," or refugees from Sudan who fled their homeland in the midst of war. The civil war in Sudan in the early 1990s destroyed villages, causing an exodus of boys who trekked more than 800 miles across Africa until making it to refugee camps in Kenya. Life in the refugee camps was rough; the "Lost Boys" lived on a bowl of grain per day for many years. Approximately two million Sudanese died from the war and results from the war, such as starvation, disease and wild animals. In addition to those who died, approximately 4.7 million refugees have fled Sudan. The "Lost Boys" who came to America had to start over with their lives. Their goal, apart from safety, was to come to America, acquire an education and move back to Sudan to help their people. Sudanese refugee populations were high in New York City, Atlanta, Houston, Seattle, San Diego, Pittsburgh - where the story of LOST BOY FOUND IN WHOLE FOODS takes place - and right here in Omaha. Today, the Sudanese population in Omaha remains high, just over 10,000. Several American corporations are advocates for hiring refugees, including Whole Foods.
In Omaha, Lutheran Family Services provides programs to the Sudanese population to help them establish self-sufficiency through employment. Refugees receive job counseling and placement, assistance with childcare and school enrollment for children, as well as classes to learn English as a second language. Additionally, Lutheran Family Services orients refugees into a new community and culture by securing housing, furniture, food, medical care and other basic needs.
Omaha Community Playhouse has partnered with Lutheran Family Services, in conjunction with LOST BOY FOUND IN WHOLE FOODS, for a joint fundraiser to be held on Friday, May 6, 2016 - opening night of the play in the Howard Drew Theatre. Patrons will enjoy Sudanese-inspired hors d'oeuvres and cocktails in the boardroom at OCP, see the show and hear from playwright Tammy Ryan, who will be in Omaha for opening weekend. All proceeds from this fundraiser will jointly benefit programming at the Omaha Community Playhouse and Lutheran Family Services. Following the May 6 performance, patrons will hear a survivor testimony from a local Lost Boy, Dhieu Jok. Tickets to this special event are available for $125 by calling 402-553-4890 ext. 145.
On Saturday, May 7, playwright Tammy Ryan will offer a one-hour free writing workshop for local aspiring playwrights. This will take place in the boardroom at OCP from 1:00 p.m. to 2:00 p.m. Pre-registration is encouraged for this free event. For more information, visit OmahaPlayhouse.com.
Photo Credit: Colin Conces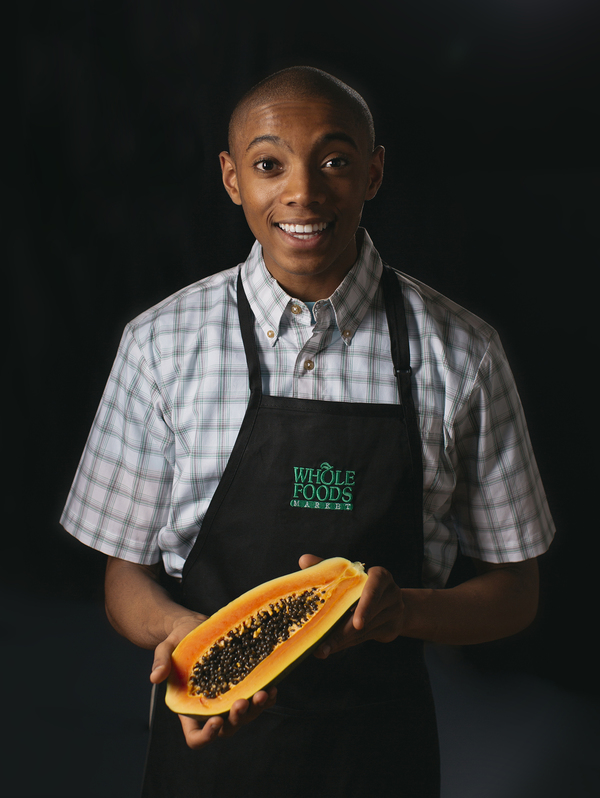 Justice Jamal Jones as Gabriel, the 'lost boy' refugee from Sudan

Julie Fitzgerald Ryan as Christine and Justice Jamal Jones as Gabriel

Julie Fitzgerald Ryan as Christine