Omaha Fashion Week Recaps VIP Runway Finale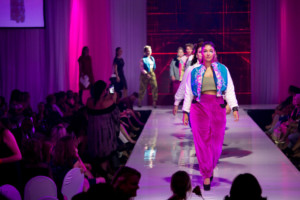 The most glamorous red-carpet event of the year, Omaha Fashion Week presented by SAC Federal Credit Union's VIP Runway Finale wrapped up the 10 Year Anniversary celebration last night at the Omaha Design Center. The sold out show was a hit, featuring the work of 14 designers. Before the show, Finest Hour serenaded fans.
Headline designer Toxic Sadie caught the crowds attention with an impeccable collection of swimsuits. The first half closed with a surprise runway showing of Borris Powell's stunning collection of green tailored pieces and vivid evening gowns. Reopening the show post-intermission was the brand new collection, Multiverse, by Dan Richters which was featured in an Exclusive Show Thursday evening in The Downtown Club as well. Closing the evening was ready-to-wear Project Runway star and Nebraska Native, Amanda Valentine.
Ten designers competed for two separate prize packages courtesy of SAC Federal Credit Union. To receive their spot in the VIP Runway Finale, designers presented at Rack Check and were selected by the Featured and Emerging Designer Selection Panels for the coveted placement. Five Emerging Designers competed; Crystal Brakhage Designs, Re'ChaunStyles, Makenzie Lesiak, Zaftig Kitty, and Miranda Hanson Designs. Additionally, five Featured Designers were selected to show on the runway last night; Christopher Di Giorgio, Buf Reynolds, Amanda Casarez, Nuevintage, and SuShe by J. Tracey featuring Nathan Gurnon.
A Celebrity Selection Panel was invited to choose designers who would best use the prize packages. Fern Mallis, creator of New York Fashion Week and designers Michael Drummond and Amanda Valentine were seated on the panel. The winning Emerging Designer will receive $1000 cash and various opportunities to assist in increasing technical knowledge and building their portfolio. Selected by the Celebrity Selection Panel for this package was Zaftig Kitty by Korinne Zimmerman. The Featured Designer winner will receive $2000 cash and a variety of opportunities and tools to aid them in launching the brand and making a profit on their collection and future works. Selected by the Celebrity Selection Panel for this package was SuShe by J. Tracey featuring Nathan Gurnon. Winners of the Develop Model Management Model Contest, Guess the Dress, and nightly $500 designer cash prizes will be announced Monday August 28 on Omaha Fashion Week Social Media.
Immediately following the show fashion fans relocated to The Great Room at Marriott Downtown at the Capitol District for the Official OFW Afterparty with DJ Super Paul.
SUNDAY: Shop The Runway Sunday at Omaha Design Center 11am-2pm. Meet the designers and see the clothing that walked the runway up close and personal. Try on and take home your favorites while enjoying mimosas, bloody marys and donuts!
Stay tuned to OFW social media for tonight's Borsheims Red Carpet photos, runway photos by Heather & Jameson, and behind-the-scenes photos from Kathy Rae. And if you want to reminisce on the last ten years, revisit KETV's Chronicle story or Omaha World Herald's feature on Omaha Fashion Week!
About Omaha Fashion Week
On the inside, Omaha Fashion Week is a talent incubator that seamlessly connects designers, stylists, photographers, artists and models through nurturing platforms and engaging opportunities. On the outside, Omaha Fashion Week is Midwest's premier fashion event, spotlighting fashion innovations and celebrating creative excellence. Omaha Fashion Week is celebrating 10 years in 2017! During that time we've grown to be the nation's fifth largest fashion event, supporting more independent designers than any other organization in the region. Omaha Fashion Week is a glamorous red carpet event for a good cause. We nuture the youngest of fashion designers by providing mentoring, education opportunites, and a professional platform to showcase their work.
Related Articles View More Omaha

Stories

Shows
More Hot Stories For You