BWW Review: MAMMA MIA! Wins it All at Nebraska Wesleyan University Theatre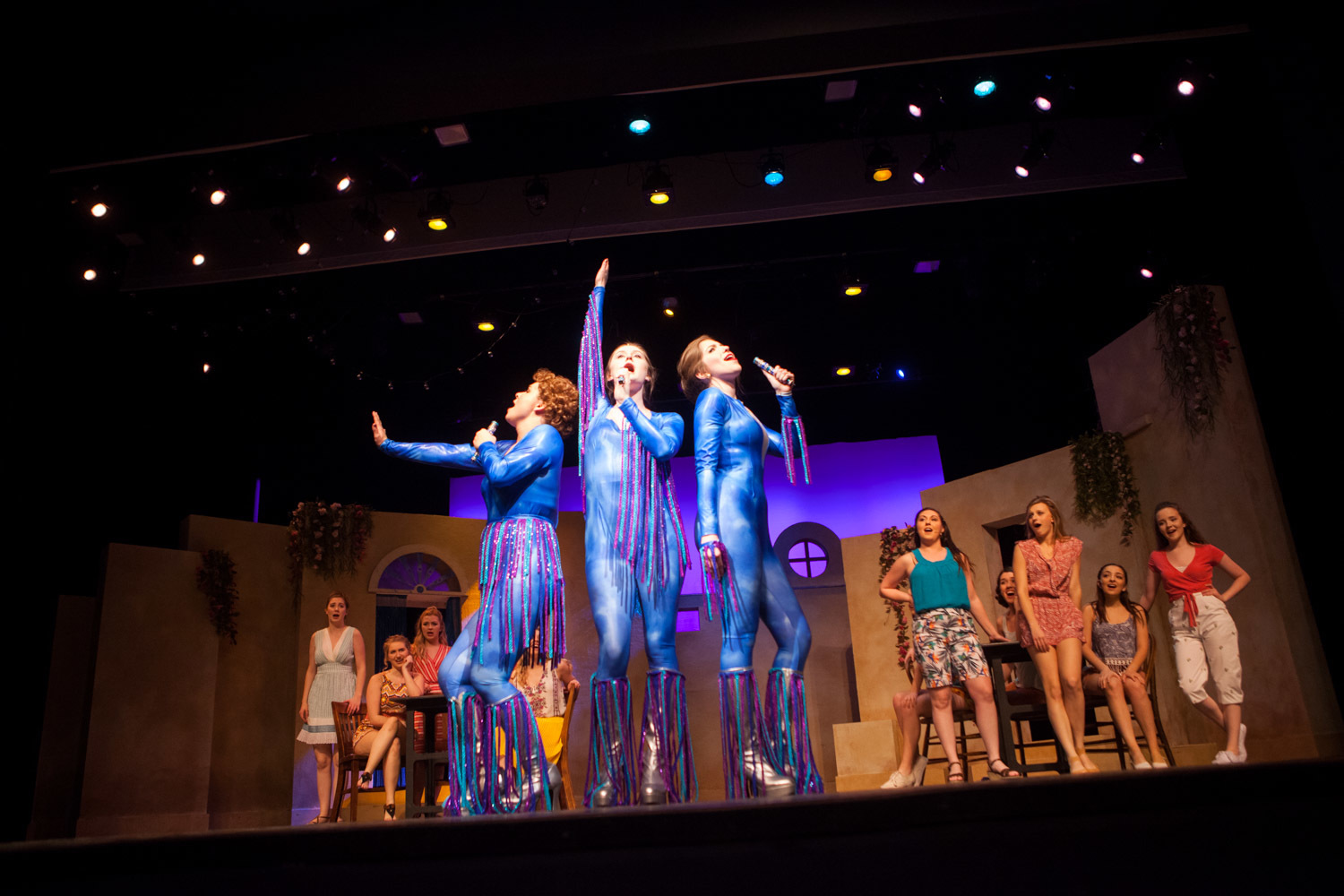 Thursday night's opening of MAMMA MIA! at Nebraska Wesleyan's McDonald Theatre was a party in the Greek Isles. The extremely enthusiastic crowd of mostly college aged people vociferously approved this romp through ABBA's memorable music. Chest booming laughter, screams, and hoots resounded through the house. But it was all good... because it is all good.
MAMMA MIA! is loosely based on the songs made famous by the Swedish pop band ABBA in the '70s. Producer Judy Craymer saw potential for the music as a jukebox musical. She commissioned British playwright Catherine Johnson to write the book for stage. Two of the original band members, Benny Andersson and Bjorn Ulvaeus, along with Stig Anderson wrote the music and lyrics. MAMMA MIA! opened in the West End in 1999 and played in Toronto for five years before moving to Broadway in 2001 after a preliminary run in San Francisco. It is credited as the longest running jukebox musical on Broadway. Since closing in 2015, MAMMA MIA! has been released for local theatrical performances.
The story line of MAMMA MIA! is entertaining fluff. Twenty year old Sophie has never known her father. She lives on a Greek island at the taverna her mother Donna has built. She finds Donna's diary from 1979 and discovers that her dad could be any one of three men. She secretly invites them to her upcoming wedding to Sky. All three accept her invitation and arrive to Donna's unhappy surprise. The rest of the story plays with the possibility of fatherhood and the institution of marriage. It is highlighted by the reappearance of Donna's former members of her band, Donna and the Dynamos.
I was thrilled when I saw that actress Hollie Howard had returned to choreograph this show. Howard had done NWU's recent production of ALL SHOOK UP, and has a flair for great choreography. I wasn't disappointed. The dance numbers are wonderfully satisfying with some standout dancers. Incidentally, Howard performed in the original Broadway production of MAMMA MIA! (!)
Opening with the overture, five musicians dressed in garish costume add flavor to the pit which is split between two sides of the stage floor. Mitch Raferty, resident music director for White Apron Productions and the Children's Acting Academy in Manhattan, returns to Nebraska to play keyboard with Mollie Manner. Guitarists Thomas Gosford and Garret Weskamp jump up on stage to join the ensemble. Drummer Jaxon Barkhaus keeps up the driving momentum. This is an unusually entertaining pit band with more than just vibrant sound.
Leading a fine cast, Jessica Hrbek imbues Sophie Sheridan with an unaffected sweetness. Madeline Lacey is a young smart Donna with wonderful stage presence. Donna's friends Rosie (Aly Faber) and Tanya (Adelaide Daniel) and skirt-chasing Pepper (Rico Santana) crack up the crowd with their antics. Their quirky comedic portrayals make them clear crowd favorites. Santana, with Sophie's girlfriends, Ali (Lizzy Fleissner) and Lisa (Maddie Wurth) pull out all the smooth dance moves and are fun to watch. Sophie's beau Sky (Justin Minchow), pal Eddie (Noah Jeffrey), and dad candidates Bill (Jon Kava) and Harry (Dalton Polivka) are great choices for their roles, nailing their characters' personalities. Sam (James Booker III) is a personal favorite of mine because of his strong vocal and acting skills.
Big dance numbers are F.U.N. "Does Your Mother Know" with Daniel and Santana, "Dancing Queen," and the big ensemble number "Voulez-Vouz" get us moving to the music. Lacey's and Hrbek's mother-daughter duet in "Slipping Through My Fingers" is heartfelt, and "The Winner Takes It All" will always be the showstopper.
Director Joan Korte with assistance from Jack Parkhurst have put together another winner for NWU. Set designer Michael Reese has built a visually impressive grouping of Greek style buildings that move easily with the help of ensemble members. Costumes by Simon Brett and Rebecca Armstrong are colorful and pleasing. Musical direction by Talea Bloch and sound design by Joshua Brauer are commendable. Overall, this show will sell out. It's too fun to miss.
Nebraska Wesleyan University Theatre show times: November 29, 30, December 1, 6-8 at 7:30 pm. December 2 and 9 at 2:00.
Photo Credit: Dan Luedert
Related Articles View More Omaha

Stories

Shows