BWW Review: National Tour of BEAUTIFUL Enchants Audiences at OKC Broadway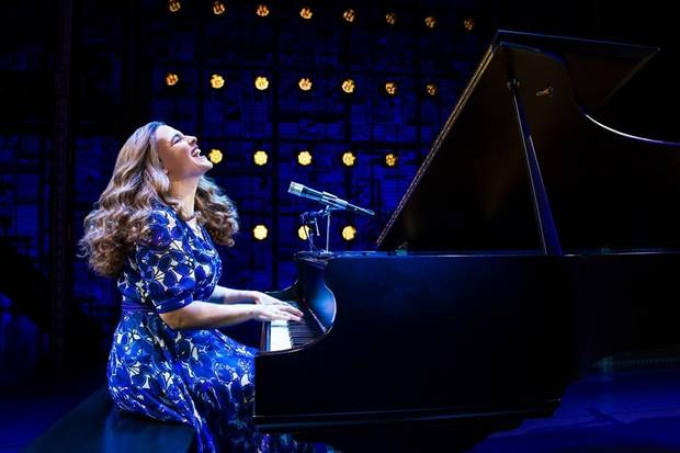 BEAUTIFUL: THE Carole King MUSICAL is one of the increasingly common type of shows - the jukebox musical - yet, BEAUTIFUL raises the expectations of what a jukebox musical can be. Because the story revolves around a songwriter, most of the songs don't necessarily advance the plot as a character's thoughts, but instead serve as performance pieces. This paradigm serves this particular story well, and we don't have to contend with a problematic script that often occurs in these kinds of shows where the book-writer is forced to make strange adjustments to fit pre-written songs. Douglas McGrath's script for BEAUTIFUL is clean, concise, and poignant.
The story revolves around Carole King, whom Sarah Bockel portrays to gawky, effervescent perfection. Transitioning easily from nervous 16-year-old to established, celebrated (yet still nervous) musical icon, Bockel brings out the nuances and smoky colors of Ms. King's voice without ever resorting to careless parody. Her performances of King's signature songs "So Far Away", "One Fine Day", and "A Natural Woman" illuminate the inner pain and passion of Ms. King's fraught emotional life, yet do so in such an appealing and beguiling manner that the audience can't help but fall in love with Carole...and with Sarah Bockel in the process. I personally didn't know that Ms. King was responsible for so many hit songs of that era. My lack of knowledge is a sad commentary on the lack of respect that women received (and often still continue to lack) in the music industry. Ms. King is responsible for creating the soundtrack of a generation, and BEAUTIFUL finally gives credit where credit is due.
Less well-known, but equally influential were King's co-writers and friends Gerry Goffin, Cynthia Weil, and Barry Mann. The ins-and-outs of 1960s romantic entanglements ensue throughout the course of the evening, but the love and friendship of these gifted individuals continually shines through. Sarah Goeke's performance as Cynthia Weil shows off her vocal chops (with her Bachelors in vocal performance) and acting prowess (with her Masters in acting) with equal aplomb. While the script often needs to skim over details in order to get through the entire story in a reasonable amount of time, Goeke manages to create a fully realized human being in Cynthia Weil out of just a few snippets of scenes, and brings down the house with her powerhouse vocals, especially on "Happy Days Are Here Again."
Weil is provided the perfect partner in Barry Mann, portrayed here by Jacob Heimer. A neurotic, hypochondriacal ball of nerves, yet with all the charm and vocal chops of a young Bob Dylan, Heimer is truly dazzling in his performance of "We Gotta Get Out Of This Place." But it is his subtle and underplayed comedic timing that truly enveloped me in his performance.
The biggest surprise of the evening for me is Andrew Brewer's performance of Carole's husband Gerry Goffin. Goffin is responsible for most of the lyrics of Ms. King's early hits, yet sadly most of the pain behind her debut album Tapestry. The dapper and magnetic Brewer makes it easy to see why Carole was initially attracted to Gerry, but it is Brewer's deep well of emotion and ardent expressivity that reveals why Carole could not let Gerry go. Gerry was not simply a hunky, self-indulgent cad but a troubled and complicated artist, and Brewer illuminates each crevice of Gerry's psyche with relaxed dexterity.
James Clow (as Don Kirshner, the record exec who gave Carole her first big break) and Suzanne Grodner (as Carole's wonderfully Brooklyn-Jewish mother) each stand out on their own, enlivening the show with moments of comedy. The ensemble get their chance to shine as various 1950s-60s pop music stars - including The Drifters and The Shirelles - and each chorus member never disappoints as they make the most of their moment in the spotlight.
The set by Derek McLane focuses most of its attention on the simple spinnet piano at centerstage, putting the focus where it belongs...on the music. Yet the moving panels and multiple levels make clever use of the space. Peter Kaczorowski's lighting design is equally adept in quiet, intimate scenes or raucous rock 'n roll concert atmosphere, and Alejo Vietti's costumes easily bridge the gap from appropriately dowdy housewife to superstar musical icon, providing each actor the tools to fully bring their character to life.
BEAUTIFUL: THE Carole King MUSICAL continues OKC Broadway's reputation of bringing in top-notch performances to Oklahoma City. Running September 26th - October 1st, 2017, tickets for this show (and future shows) can be purchased HERE or by calling 877-737-BWAY (2929).
Photo provided.

Related Articles View More Oklahoma

Stories

Shows
Ronn Burton splits his time between NYC and OKC working as an actor, director, filmmaker, and teacher. Selected credits… ACTOR: Off-Broadway/New York Theatre: Carnegie Hall (read more...)