Write Act and Back Table ink. Announce THE SCARLET SAVIOR and THE GREAT CAT MASSACRE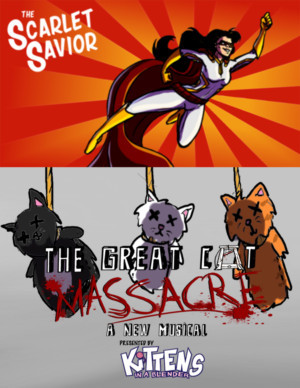 Write Act and Back Table ink. are proud to announce the inaugural season of Popsical Festival: Original Pop Culture Musicals. This brand new festival will feature four new musicals by promising, emerging writers and focusing on pop-culture fixtures from the past and current topography. The festival will be presented in two parts.
Performances are Sundays from February 10 - March 31 from 7:30pm-10:30pm
includes The Scarlet Savior / The Great Cat Massacre
The Scarlet Savior: A Comic Book Musical by Lily Dwoskin and Austin Nuckols
In The Scarlet Savior, Maggie Sullivan, a small town superhero, gets hired by Superhero Inc. to take over as New York City's first female superhero in the wake of the famous Powerfist's murder by New York's villain, The Siren. But life isn't a comic book and Maggie soon learns that the lines between heroes and villains aren't so clearly drawn.
The creative team is led by Lori Steinberg as director, is choreographed by Tara Forseth, and music directed by Austin Nuckols. The show features lighting design by Charlotte Seelig, costume design by Jennifer Anderson, and will be stage managed by Ellie Handel.
The talented cast includes (in alphabetical order): Cori Jaskier, Hailey Aviva, Josh Shapiro, Kaitlyn Baldwin, Katie Rodgers, Patrick Martini, Sam Streich, and William Vaughn.
The Great Cat Massacre by Greg Moss & Casey O'Neil
The Great Cat Massacre is a rollicking trunk show in which the status quo will be turned upside down as cats are turned inside out. Using the barest stage elements, a talented troupe of traveling players depicts the single largest act of felicide in the history of France.
Nina Kauffman directs the cast, which includes, in alphabetical order, Lauren Baez, Lily Lester, Eli Lacroix, Shelley Lynn Walsh, Adam Muñoz, Javi Fox, and William Vaughn.
The creative team includes choreography by Josh Israel, costume design by Elivia Bovenzi and Chanel Morehead, lighting design by Charlotte Seelig, stage management by Chloe Madison, and music direction by Austin Nuckols.
Tickets for The Great Cat Massacre and The Scarlet Savior are available through Telecharge, which you can reach at 212-239-6200 or online at: https://www.telecharge.com/Off-Broadway/Popsical-Festival-Original-PopCulture-Musicals/Overview. Tickets will also be available at St. Luke's Theatre prior to performance. Tickets are $39.50-$59.00. St. Luke's Theatre is located at 308 West 46th Street, New York, NY 10036. For more information, please visit www.stlukestheatre.com or call 212-246-8140.