Turn to Flesh Productions Celebrates Five Years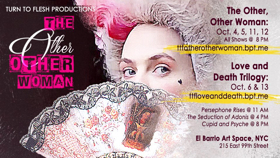 To celebrate their five year anniversary, TURN TO FLESH PRODUCTIONS (TTF) is celebrating with FOUR new verse plays this October: a developmental production of The Other, Other Woman, and a staged reading of the entire Love and Death Trilogy: Persephone Rises, The Seduction of Adonis and Cupid and Psyche, all written and directed by foundress and playwright, Emily C. A. Snyder. Tickets are available now, including VIP seats with an open bar and pre-show salon for The Other, Other Woman, and an all-day picnic with the gods for The Love and Death Trilogy. Package deals are available.
The Other, Other Woman performs Thursday & Friday, October 4, 5, 11, 12 @ 8 PM at the Blackbox Theatre in El Barrio Art Space (215 E 99th Street NY, NY 10029). In a small town near Paris, Princess Geneviève (Abby Wilde, Zooey 101) has come with a word of divine enlightenment: no more shall mistresses be tolerated. All marriages must be monogamous. However, when she meets Monsieur Valentine (Keith Caram, Percy Jackson), an unhappily married man who yearns to love, all bets are off in this French farce in rhyming couplets, about broken people struggling to be made whole.
The Love & Death Trilogy performs Saturdays, October 6 & 13 at the Blackbox Theatre in El Barrio Art Space (215 E 99th Street NY, NY 10029). Persephone Rises @ 12 PM, The Seduction of Adonis @ 4 PM, Cupid and Psyche @ 8 PM. Featuring Justy Kosek as Cupid, Laura Iris Hill as Aphrodite, Regina Renée Russell as Persephone, Sigmond Varga as Hades, and Chris Rivera as Adonis. From the dawn of the world 'til its end, the Love and Death Trilogy weaves together the mythology of Persephone's fall into the Underworld, Orpheus and Eurydice's ill-fated romance, the war between the gods over the mortal man Adonis, and the marriage of Passion and the Soul in Cupid and Psyche. Filled with glorious blank verse to rival Shakespeare's star-crossed lovers, novelist Kelly Laurel Zekas wrote that Snyder creates: "Soul restoring, gorgeous plays." Content warning: Discussion and depictions of rape and sexual assault. Recommended for ages 13+.
Both casts are also joined by Laurel Andersen, Jordan Cobb, Emily Sarah Cohn, Joe Raik, Bridget Randolph and Amanda Roberts. Emily C. A. Snyder writes and directs. Produced by Turn to Flesh Productions.
Emily C. A. Snyder is a published and internationally produced playwright and novelist, whose work has been performed from Christchurch, New Zealand to Dublin, Ireland. A NYC-based verse coach and director, she is the premiere international scholar on writing and performing new verse drama. Her Cupid and Psyche was named a semi-finalist with the American Shakespeare Center (ASC) and also received commendation from the Princess Grace Awards. Her feminist responses to Shakespeare's works, The Merry Widows of Windsor was selected for performance at the Sheen Center Theater Festival, while A Comedy of Heirors, also a semi-finalist with the ASC, was named one of the Top 15 NYC Shows of 2017 by A Work Unfinishing. She is currently in talks with several major theatre companies about the development of her Arthurian duology, The Table Round and The Siege Perilous. For the past 25+ years, she has directed the major works of Shakespeare's canon (including Lear with What Dreams May Co. and Richard II with Hamlet Isn't Dead). She studied in London and Stratford-upon-Avon with members of the RSC, where her performance of Rosalind from As You Like It was compared with a young Maggie Smith. She is the Artistic Director and Co-Founder of TURN TO FLESH PRODUCTIONS, a NYC theatre company which develops "new Shakespeare plays" with vibrant roles for women, on-stage and off.
Learn more at turntoflesh.org