Photo Flash: The Flea Launches Color Brave Season with SCRAPS
The Flea Theater presents the World Premiere of SCRAPS written by Geraldine Inoa, a writer on The Walking Dead and the inaugural recipient of The Shonda Rhimes Unsung Voices Playwriting Commission. It is directed by Flea Artistic Director Niegel Smith. Now in previews, opening night is slated for Thursday, August 30.
SCRAPS kicks off The Flea's Color Brave 2018-19 season, exploring the immediate anger, residual grief and inherited trauma of four black teenagers whose friend is shot by a white police officer. "As artists, we must be unafraid to tackle the most difficult subjects. And in today's climate the subject of race and color afflicts and then divides us all. Our season this year and this production will be color brave," says The Flea's Artistic Director, Niegel Smith, "and will tackle the subject of race and color head on." Adds Carol Ostrow, Producing Director of The Flea, "We are not color blind and we must go beyond color conscious. Color brave is the defining characteristic of the plays The Flea has chosen to produce this season."
SCRAPS features The Bats, the resident acting company at The Flea, including Kieron J. Anthony, Andrew Baldwin, Alana Raquel Bowers, Bryn Carter, Ure Egbuho, Christopher Garofalo, Roland Lane, Michael Oloyede, Tanyamaria and Camille Upshaw. The creative team includes Ao Li (Set Designer), Andy Jean (Costume Designer), Kate McGee (Lighting Designer), Megan Deets Culley (Sound Designer), Michael G. Chin (Violence Choreographer), Dina Vovsi (Assistant Director), Danielle Clark (Assistant Costume Designer), Taylor Poer (Stage Manager) and Chloé Hayat (Assistant to the Playwright).
Geraldine Inoa is a writer living in Los Angeles. She currently writes for AMC's The Walking Dead. She is an alumnus of The Public Theater's Emerging Writers Group and the inaugural recipient of The Rhimes Unsung Voices Playwriting Commission. Her plays have been developed at the Atlantic Theater Company and the LAByrinth Theater Company. Her play Scrapswas a finalist for the L. Arnold Weissberger New Play Award, a semifinalist for the P73 Playwriting Fellowship, and a semifinalist for the O'Neill National Playwrights Conference. Geraldine is a proud member of the Writers Guild of America. She holds a BA from NYU's Gallatin School of Individualized Study. This production marks her playwriting professional debut.
Niegel Smith is a theater director and performance artist who sculpts social spaces into unique communal environments where we make new rituals, excavate our pasts and imagine future narratives. Directing credits include Father Comes Home From the Wars (Parts 1, 2 & 3) (Goodman Theatre, 2018), Syncing Ink (Alley Theater, 2017; The Flea, 2017), Take Care(The Flea, 2015-2016), Hir (Magic Theatre, 2014; Mixed Blood, 2015; Playwrights Horizons, 2015), A 24 Decade History of Popular Music... (New York Live Arts, et al., 2015), The Perils of Obedience (Abrons Arts Center, 2013-ongoing), and Neighbors (The Public Theater, 2010). His participatory performances have been produced by American Realness, Dartmouth College, The New Museum, Prelude Festival, PS 122, and the Van Alen Institute, among others. He is the Artistic Director of The Flea Theater in lower Manhattan; Associate Artistic Director of Elastic City; and ringleader of Willing Participant - an artistic activist organization that whips up urgent poetic responses to crazy stuff that happens. www.niegelsmith.com
The Bats are the resident acting company members of The Flea Theater. Each season, over a thousand actors audition for a place in this unique company. The Bats perform in extended runs of challenging classics, as well world premieres of new plays. They are the lifeblood of The Flea.
The Flea Theater, under Artistic Director Niegel Smith and Producing Director Carol Ostrow, is one of New York's leading Off-Off-Broadway companies. Winner of several Obie Awards, a Special Drama Desk Award for outstanding achievement and an Otto Award for political theater, The Flea has presented over 100 theatrical, musical and dance performances since its inception in 1996. Past productions include premieres by Steven Banks, Thomas Bradshaw, Erin Courtney, Bathsheba Doran, Will Eno, Karen Finley, Amy Freed, Sarah Gancher, Sean Graney, A.R. Gurney, Jennifer Haley, Hamish Linklater, Enrique Gutiérrez Ortiz Monasterio, Itamar Moses, Anne Nelson, Qui Nguyen, Adam Rapp, Jonathan Reynolds, Kate Robbins, Roger Rosenblatt, Elizabeth Swados, and Mac Wellman. Successes include Drama Desk nominated She Kills Monsters, These Seven Sicknesses, Restoration Comedy, The Mysteries and ten World Premiere productions by A.R. Gurney, including the WSJ Best New Play of 2013, Family Furniture.
SCRAPS runs through September 24, Thursday-Monday at 7pm, with Sunday matinees at 3pm. Tickets start at $15 with the lowest priced tickets available on a first-come, first-served basis. The Flea Theater is located at 20 Thomas Street between Church and Broadway, three blocks north of Chambers, close to the A/C/E, N/Q/R/W, 4/5/6, J/M/Z and 1/2/3 subway lines. Purchase tickets by calling 212-352-3101 or online at www.theflea.org.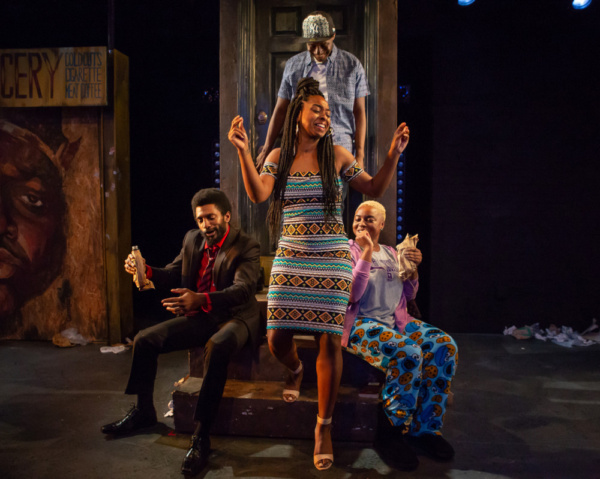 Roland Lane, Alana Raquel Bowers, Michael Oloyede and Tanyamaria in SCRAPS. Photo by Hunter Canning.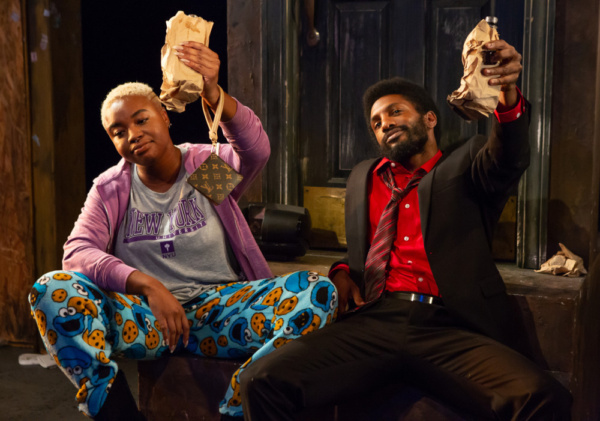 Tanyamaria and Roland Lane in SCRAPS. Photo by Hunter Canning.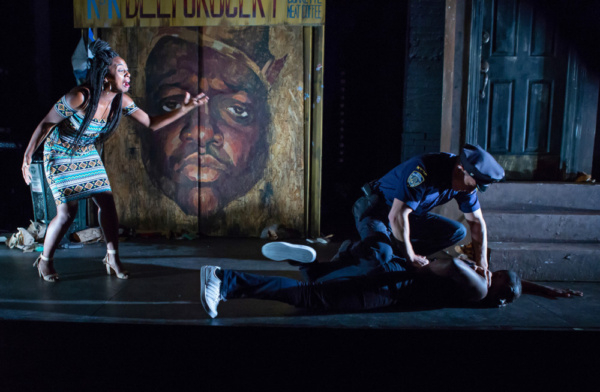 Alana Raquel Bowers, Andrew Baldwin and Michael Oloyede in SCRAPS. Photo by Hunter Canning.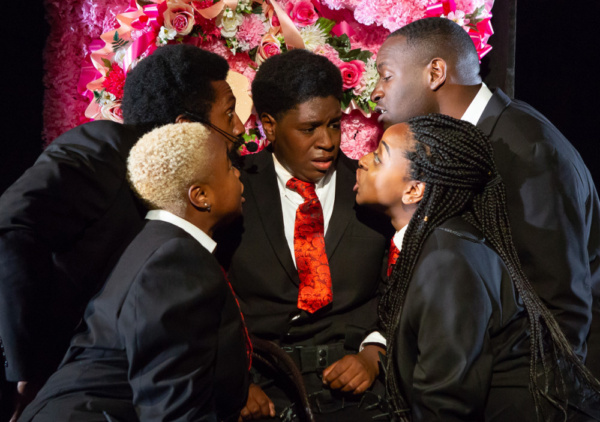 Roland Lane, Tanyamaria, Bryn Carter, Michael Oloyede and Alana Raquel Bowers in SCRAPS. Photo by Hunter Canning.