Photo Flash: In The Wings Productions' ANYTHING GOES Opens this Friday
In The Wings Productions, under the leadership of Artistic Director Tanya Glassman and Executive Producer Adam Glassman, sets sail with Cole Porter's musical comedy Anything Goes, with performances from July 21 - 30 at the historic Snug Harbor Music Hall. Check out photos from the show below!
Directed and music directed by Michael J. Pinto, Anything Goes features choreography by Tanya Glassman.
"I am thrilled to be directing and musically directing not only one of my favorite musicals, but also the first show I performed in community theatre," said Director Michael Pinto. "The script is so crisp and hilarious, and what can you say about the music? No one created lyrics like Cole Porter. Anything Goes is two hours of madcap zaniness- pure musical comedy. It's the perfect show to sit back, forget your troubles, and just laugh."

This tap-happy classic finds a brassy nightclub singer, a starry-eyed stowaway and Public Enemy No. 13 booked on a transatlantic luxury liner bound for romance and madcap hilarity. When the S.S. American heads out to sea, etiquette and convention get tossed out the portholes. Topping off the fun is Cole Porter's delightful, delicious, "De-Lovely" first-class score that includes some of musical theatre's greatest hits, including "I Get A Kick Out Of You," "You're The Top," and of course, "Anything Goes." Anything Goes features music and lyrics by Cole Porter with original book by Guy Bolton, P.G. Wodehouse, Howard Lindsay, and Russel Crouse and new book by Timothy Crouse and John Weidman.
The cast of 41 features Tanya Glassman as Reno Sweeney, Billy Piscopo as Billy Crocker, Joey Lento as Moonface Martin, Noa Miranda as Hope Harcourt, Craig Kwasnicki as Lord Evelyn Oakleigh, and Gianna Mingino as Erma. Also featured in the production are Mimi McMann as Evangeline Harcourt, Charles Sullivan Elisha Whitney, and Tony Verilli as the Captain.

The ensemble features Gary Carr, Ryan Cobb, Daniel Cesare, Christie Chahwan, Clara Chahwan, Alexandra Crocitto, Kristen Dalto, Melissa Daniels, Helene DuBois, Tatiana Eriksen, Lisa Fiore, Fiona Gannon, Kellan Gaughan, Nicholas Gerrity, Kieran Graulich, Maryanna Guenther, Kenny Harvey, Jillian Jackman, Cian Kneeshaw, Marianne Lynch, Tom Lynskey, Kayla McBratney, George Marage, Victoria Navarino, Danielle Oliveira, John Patrick, Barbara Weir, Bill Wetherbee, Michael Whelan, Darragh Whalen, and Kerrin Woll.

The production is designed by Curtis Kwasnicki (sets), Scaramouche (costumes), Danielle Garritt (lights), and Adam Chatfield (sound). Analise Scarpaci is Dance Captain. Victoria Rametta is production stage manager.
Originally written as a vehicle for Broadway's famous belter Ethel Merman, Anything Goes opened at Broadway's Alvin Theater (now Neil Simon) at the height of the Depression in November 1934, where it ran 420 performances. In 1962, an Off-Broadway revival led by Eileen Rodgers and Hal Linden played the Orpheum Theater for 239 performances. In The Wings is using the script created for the 1987 Broadway revival that starred Patti LuPone, which features much of the 1934 score. Anything Goes has been revived on Broadway to popular acclaim and the Tony Award for Best Musical Revival in 1987 and 2011 (with Sutton Foster).
Performances dates are July 21-30, Thursday, Friday and Saturday at 8:00pm, and Sunday matinees at 2:00pm. Single tickets from $25-$33. For more information call (646) 780-WING or online at
www.sishows.com
. The Snug Harbor Music Hall, located at 1000 Richmond Terrace, on the grounds of Snug Harbor Cultural Center and Botanical Garden.
Photo credit: Nicholas Buchholz


Director/Music Director Michael Pinto, Choreographer Tanya Glassman, Dance Captain Analise Scarpaci, and Assistant Director Michael Sekzer

Choreographer Tanya Glassman and Director/Music Director Michael Pinto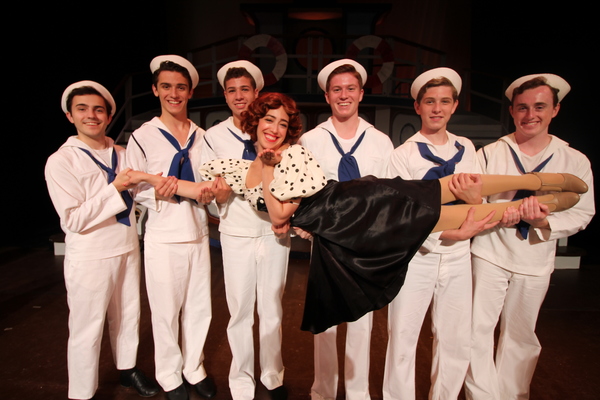 Gianna Mingino (center) with William Wetherbee, Kenny Harvey, Thomas Lynskey, Kellen Gaughan, Nicholas Gerrity, and Cian Kneeshaw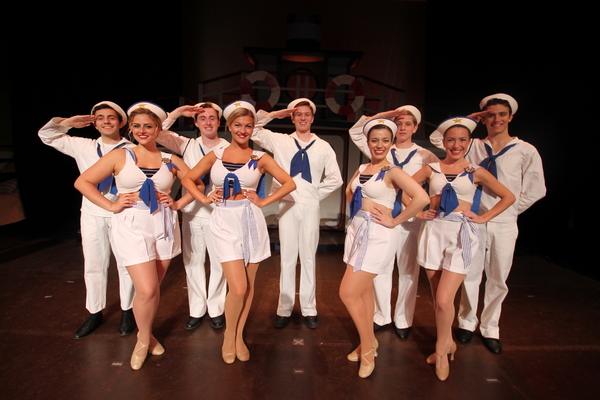 Back row (left to right): William Wetherbee, Cian Kneeshaw, Kellen Gaughan, Nicholas Gerrity, Kenny Harvey. Front row (left to right): Tatiana Ericksen, Kerrin Woll, Kristen Dalto, Fiona Gannon

Tanya Glassman and Billy Piscopo