Photo Flash: Elisa Monte Dance
This 27th Anniversary Season, Elisa Monte Dance returns to The Joyce Theater from January 21st - 25th. Season to include: "Audentity," "Slope of Enlightenment," the New York premiere of "Zydeco, Zaré," and the world premiere of "Arrow's Path."
The internationally acclaimed
Elisa Monte
Dance will present another exciting season of dance featuring the New York premiere of "Zydeco, Zaré," the world premiere of "Arrow's Path," a romantic duet featuring renowned modern composer, Kevin Keller, as well as revivals of "Audentity" and last year's Joyce commissioned piece, "Slope of Enlightenment," when the company returns to New York City's Joyce Theater (175 Eighth Avenue) January 21st through January 25th. Celebrating 27 years of rich history,
Elisa Monte
continues to illustrate her intimate connection with many of the century's greatest masters such as
Martha Graham
,
Alvin Ailey
and Agnes deMille, while maintaining a fresh, vitality to her work that is widely respected for its emotional, sensual style and intricate technique. The season showcases Ms. Monte's commitment to creative collaboration by introducing composers to the dance world through the use of their work and commissioning new music for contemporary dance. The engagement's debut work "Zydeco, Zaré," a journey through the Louisiana landscape and its rich culture is an eclectic and innovative new work which was inspired by the style of folk music originating from African American and Creoworldprem11300.htmle descendants of slaves in Southern Louisiana in the late 1800s. Featuring music by a six-piece Zydeco band along with Jeffery Broussard & The Creole Cowboys, 'Zydeco, Zaré' incorporates the syncopated sounds that are found in Zydeco, along with Monte's uniquely patterned and fast paced choreography. Zydeco is a derivative of Creole culture - a term referring to French-speaking African Americans - and is a cousin of Cajun music. Jonno Frishberg, Cajun and Zydeco musician based in New Orleans, will serve as composer/arranger with Sam Broussard as musical director. The program was made possible by a commissioning grant awarded to
Elisa Monte
Dance by the Performing Arts Society of Acadiana. PASA Executive Director Jacqueline Lyle recently said, "modern dance is a way to bring zydeco to new audiences, both in our community and outside of our region. It's also a way to attract people who had never been to see modern dance." Also premiering this season is "Arrow's Path," an intimate quintet in three sections, featuring music by renowned modern composer Kevin Keller. With an intertwining and juxtaposition of emotional and physical relationships, 'Arrow's Path' is a romantic tour of the one's interior self. The program continues with the revival of "Audentity" (1984-85), inspired by a composite word describing identity through sound. A unity of body, soul, and mind, 'Audentity' visually interprets the music's rhythm and flow, weaving the unexpected. Music is composed by Klaus Schultze. This production of 'Audentity' was made possible in part by the National Endowment for the Arts. Featuring music by composer
Richard Bennett
, "Slope of Enlightenment" (2007), was inspired by and is a tribute to the life and artistry of long-time company member Fabrice Lamego. Told through sweeping extensions, powerful lifts and deep lunges, the piece follows the transformation of one's self through unpredictable situations and captures the emotional agility that is required to survive. 'Slope of Enlightenment' was commissioned by
The Joyce Theater
's Stephen and Cathy Weinroth Fund for New Work. The company will feature India Bolds, Joe Celej, Rachel Holmes, Werner Figar, Clement Mensah, Tiffany Rea,
Maya Taylor
and Daquan Thompson. Lighting designed by
Clifton Taylor
. Costumes designed by
Karen Young
. Supporters of
Elisa Monte
Dance include The Harkness Foundation for Dance, the Hayes Foundation, the Klingenstein Foundation, the National Endowment for the Arts, the Shubert Foundation, the Lila Acheson Wallace Theater Fund and The New York State Council on the Arts. The performance schedule in New York, at
The Joyce Theater
(175 Eighth Avenue at 19th Street) is: Wednesday, January 21st at 7:30PM; Thursday, January 22nd and Friday, January 23rd at 8PM; Saturday, January 24th at 2PM & 8PM and Sunday, January 25th at 2pm & 7:30PM. Free post-performance 'Humanities' dialogue following the Thursday, January 22 performance. Tickets are $49, $35 and $19. For additional information and to purchase tickets, call JoyceCharge at (212) 242-0800 or online:
www.joyce.org
.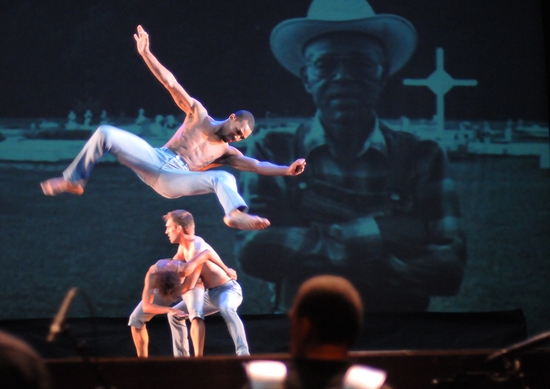 Daquan Thompson and Wemer Figar in 'ZYDECO, ZARE'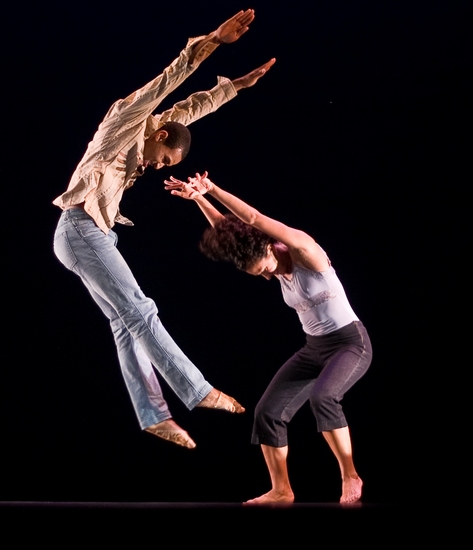 Daquan Thompson and Maya Taylor

Maya Taylor, Tiffany Rea and Cast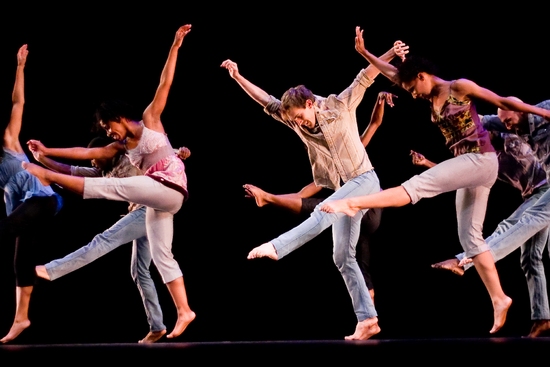 Tiffany Rea, Wemer Figar, India Bolds, and Rachel Holmes in 'ZYDECO, ZERE'