Orion Pictures and Audible Will Present One Night Only Performance of WOMEN TALKING at The Minetta Lane Theatre
The performance will be recorded and available later in January on Audible.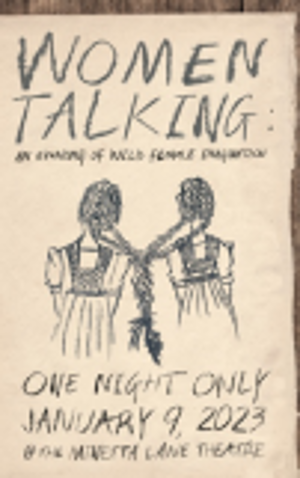 MGM's Orion Pictures and Audible will present a one night only performance, Women Talking: An Evening of Wild Female Imagination, at Audible's off-Broadway Minetta Lane Theatre on Monday evening, January 9th. The performance will be recorded and available later in January on Audible.
The evening brings together Women Talking's screenwriter/director Sarah Polley with cast members Jessie Buckley, Sheila McCarthy, Michelle McLeod, August Winter, Liv McNeil and Kate Hallett, to perform three new short plays from emerging playwrights Sandra Delgado, ruth tang and Brittany Allen. The event performances are inspired by the film and its themes, especially the choice the main characters of Women Talking need to make as a community: Do nothing. Stay and fight. Leave.
Joining Sarah and the cast will be Tony Award nominee and Pulitzer Prize-finalist Heidi Schreck (What the Constitution Means to Me) for a conversation with Polley and the evening's playwrights. Zoe Chao (Long Weekend, Search Party) will perform, and two-time Tony Award nominee Eva Noblezada (Hadestown, Miss Saigon) will round out the evening's cast with a performance of Billie Eilish's "my future." The production is directed by Kimberly Senior and conceived and produced by Seth Fradkoff for Orion Pictures Kate Navin for Audible Theater. Baseline Theatrical will be co-producing the evening.
Kate Navin, Head of Audible Theater, said: "Together with the team behind this powerful film, Audible is honored to elevate emerging playwrights - empowering the next generation of writers to see their work brought to life by acclaimed performers. Our theater initiative enables audiences to both gather together for live performances and to experience plays through an immersive listening experience. The complex themes in Women Talking demand that we engage thoughtfully, and then reexamine our understanding, so we jumped at the opportunity to bring this work to the Minetta Lane Theatre and to Audible listeners globally."
Women Talking screenwriter and director Sarah Polley says, "There is something very communal about our film Women Talking. It asks audiences many questions and strives for discussion. As a director, it was wonderful to get to work with the cast through an elongated rehearsal process, and primarily in one location which made us all feel a bit like working on the stage. It is exciting to be able to celebrate this film with a one night only stage production and to be able to give voice to Sandra Delgado, Brittany Allen and ruth tang to create pieces based on the themes of the film is thrilling. More than anything, these pieces look toward a hopeful and essential future."
Women Talking is written and directed by Sarah Polley, based upon the book by Miriam Toews. The film is produced by Dede Gardner, p.g.a, Jeremy Kleiner, p.g.a. and Frances McDormand, p.g.a. It is in select movie theaters now and will be expanding through January.