National Yiddish Theatre Folksbiene Presents A Yiddish Purim Simkhe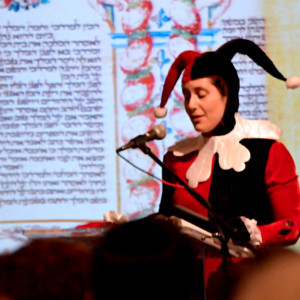 The National Yiddish Theatre Folksbiene (NYTF) offers a unique opportunity to experience the festival of Purim in truly theatrical style, during its Purim Simkheon Wednesday, March 20 at 7 pm, presented at the Museum of Jewish Heritage - A Living Memorial to the Holocaust, Edmond J. Safra Plaza, 36 Battery Place, NYC. The audience is invited to come in costume and bring their graggers!
Fresh from the unqualified success of Fiddler on the Roof in Yiddish (Fidler Afn Dakh) and the world premiere of the jazz opera Dear Erich, NYTF is taking the Purim party to a new level. There will be a traditional reading of the Megiles Ester in Yiddish translation by the poet Yehoash with English translation subtitles. The reading will be followed by fun, food, libations and an everybody-is-invited-to-participate klezmer music-fueled dance party featuring the Brooklyn-based klezmer band, Tsibele. In Geveb described their music as being "accessible and exciting, simultaneously paying homage to musical traditions and connecting it to contemporary listeners." Leading the dancing will be the acclaimed teacher, choreographer and performer of Jewish dance Steven Lee Weintraub. Often called the "Pied Piper of Yiddish Dance," Steven's years of experience leading and researching Yiddish dance allow him to weave dancers and music together in astonishing ways.
Partygoers will enjoy hamantashen, courtesy of LOX. A cash bar will open at 6:30 p.m.
"National Yiddish Theatre Folksbiene's mission is to preserve the rich cultural heritage of Yiddish theater while creating new, contemporary work that resonates with a diverse audience. Our Purim Simkhe bows to a traditional celebration combined with exciting, new ways to enjoy it. If you have had the pleasure of hearing our superb musicians or enjoying our events, you know what a treat it is," said National Yiddish Theatre Folksbiene Artistic Director Zalmen Mlotek.
Tickets to Purim Simkhe are $25. For tickets, call 212-213-2120 Ext. 100 or visit www.NYTF.org. For groups and membership call 212-213-2120 Ext. 204.
Upcoming events with NYTF include a concert exploring Yiddish theatre's golden age with From the Yiddish Rialto to the Silver Screen on Sunday, March 10 at 2 pm. This concert features familiar songs performed alongside newly rediscovered hits with restored orchestrations, rescued jewels of the Yiddish musical repertory.
Also scheduled this season is a dramatic reading of H. Leivick's 1921 retelling of The Golem, the classic story of the Golem of Prague, which delves in the world of mysticism as a mediation on the effect of violence on the Jewish soul. It will be performed at Sunday, April 28 at 2 pm. Tickets are free.
Tickets are also on sale for a new, award-winning work, When Blood Ran Red, chronicling the darkest era in the Soviet Union, when former wartime heroes of the Jewish Anti-Fascist Committee were persecuted as enemies of the state for daring to report on the truth of the Holocaust in the German-occupied East. When Blood Ran Red is a winner of the NYTF David and Clare Rosen Memorial Play contest. This production-in-development will be performed in English. Performances are on Sunday, June 16 at 2 pm and 6 pm. Tickets are $25.
Now celebrating its 104th season, Tony Award-nominated and Drama Desk Award-winning National Yiddish Theatre Folksbiene (NYTF) is the longest consecutively producing theatre in the US and the world's oldest continuously operating Yiddish theatre company. Under the artistic direction of Zalmen Mlotek, NYTF is dedicated to creating a living legacy through the arts, connecting generations and bridging communities. NYTF aims to bring history to life by reviving and restoring lost and forgotten work, commissioning new work, and adapting pre-existing work for the 21st Century. Serving a diverse audience comprised of performing arts patrons, cultural enthusiasts, Yiddish-language aficionados and the general public, the company presents plays, musicals, concerts, lectures, interactive educational workshops and community-building activities in English and Yiddish, with English and Russian supertitles accompanying performances. NYTF provides access to a century-old cultural legacy and inspires the imaginations of the next generation to contribute to this valuable body of work.
More information can be found at www.NYTF.org.
More Hot Stories For You