Melanie-Maria Goodreaux's Sci Fi Story With Soul Gets Second Run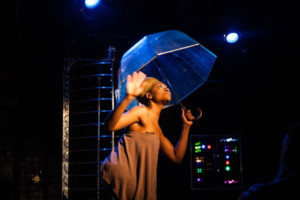 After debuting at Theater for the New City, Enough Vo5 For the Universe, Melanie-Maria Goodreaux's post Afro-futuristic Apocalyptic story, is back for an encore run.
The play, set in the United States in 2097, follows three Black women in a monastic order called the "Solution," where they put to test W.E. Dubois' methods of the Talented Tenth by eliminating most of the rest of the world.
What follows is a frequently comic, sometimes dramatic, plot with twists and turns as Theater for the New City's Cabaret Theater is transformed into not just a stage, but an entire universe.
The world of the play transforms the Cabaret Theater into a landscape complete with bridges, futuristic devices and people struggling to survive when so many of the trappings of ordinary life are literally history.
Tickets are available for $18 or $15 for seniors and students at Theater for the New City, 155 First Ave., New York, NY, or online by clicking the Tix. link for the March 29 to April 1 extension of the show, following its original run.
"It's Mona's birthday, and the last Black man on Earth has disappeared from the Preservation Chamber in her living room," Goodreaux said. "And now they are in a death-dealing battle over his mysterious whereabouts."
The show, a combination of sci-fi settings and characters struggling to survive, is a cautionary tale of reverse racism that deals with themes of loneliness, grief, feminism, and the afro-future.
Written and directed by Goodreaux, the play features Aixa Kendrick, Tiffany Terrell, Linda Greene, Jonathan Duran, Sean Labbe, Anthony Harper and Malik Yoba as God, here described as "Oprah-Obama-Omama."
The production literally takes audiences on a voyage into a different time with creative staging and situations, showing characters moving through a futuristic universe.
While Black Panther makes its mark on movies, Goodreaux shows us a futuristic world where comedy and compassion rule.
And she does it with style, giving the show a singular sound, look and feel that makes the show a memorable production.
Douglas Turner Ward, founder of the Negro Ensemble Theater Company, says Goodreaux "writes with enormous energy and poetic sensibility."
The show ranges from poetic interludes to comedy and drama, presenting a sci fi story with soul. "Her inventiveness, humor, pathos, lyrical imagery, satirical riffs and social observations abound," Turner Ward wrote.
Author Sheila Maldonado says "outrageous Black joy defines this play" that has been winning over audiences at TNC.
Enough Vo5 for the Universe, Theater for the New City, 155 1st Ave (btw E9th and E10th) March 22nd-April 1st. Thursday-Sat at 8 p.m. and Sunday matinees at 3 p.m. (212) 254-1109, www.theaterforthenewcity.net

Related Articles View More Off-Off-Broadway

Stories

Shows
More Hot Stories For You