Exquisite Corpse Company Returns To Governors Island with WATER, WATER, EVERYWHERE...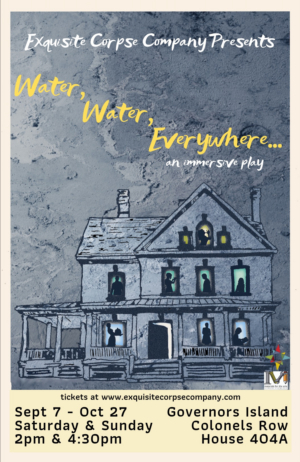 In Exquisite Corpse Company's performative exhibition, Water, Water, Everywhere... step into the lives of people from the past, present, and future. Four overlapping storylines unfold in an immersive, interdisciplinary experience inspired by Governors Island's past inside a historic house that was once a home. Inspired by our current water crisis and last year's installation house, Memory House, the Exquisite Corpse Company has spent the last year crafting this immersive show that will delight the audience as well as educate. Water, Water, Everywhere... begins its Fall run on September 7 on Governors Island in house 404A on Colonels Row.
Water, Water Everywhere... is an intimate immersive performance that takes the audience on a whirlwind of time, space, and environment. The show invites visitors to explore the exhumation of memory, what makes a home and delivers a show that brings our global water crisis home. A small audience is divided into three tracks that run simultaneously throughout the house allowing each visitor to experience the work intimately and to walk away with a unique perspective on the piece. In the multiple worlds of this play, Exquisite Corpse Company has recreated the past, reimagined the present, and hopes to find the future. You will meet twins from the 1800s, a Latinx family in both 1996 and 2019, a girl from the not-so-far-away future and a questionable house spirit who doesn't live in any one particular time at all!
Created by Artistic Director Tess Howsam and building the work in true Exquisite Corpse fashion, Water, Water, Everywhere... blends original score, installations, text, and projections to tell a poignant story of water rights and history. Directed by Tara Elliott and Tess Howsam and composed by Leah Barker, Blake Bishton, Emily Krause, and Elinor T Vanderburg, Water, Water, Everywhere... showcases the work of a diverse group of artists and collaborators all local to the NYC area. A team of designers with mixed experience and mediums (29Rooms, experimental installations, 2D painter, etc.) come together to each work on all the rooms in the house. The team is comprised of Eamon Boylan, Andrea Caldarise, Lee Collins, Tess Howsam, Rachel Jones, Amity Jones, Alexis Perez, and Rebecca Travis. Through innovative storytelling and a touch of magic, Water, Water, Everywhere... expertly finds the balance between performance art and installation art.
Water, Water, Everywhere...features performances by Varak Baronian, Ignacio Garcia-Bustelo, Jorge Sanches-Diaz, Megan Ermilio, Anya Krawcheck, Vanessa Lynah, Josanna Vaz, and Stephanie Orta-Vazquez. Technical direction is by Andrew Dobbie, lighting design is by Ariella Axelbank, sound design is by Jesse Vance, and costume design is by Matsy Stinson. The production's stage manager, casting director, and producer is Holly M Wright, Blaire O'Leary, and Liz Frost respectively.
Water, Water, Everywhere... runs September 7th - October 27th. Performances are on Saturdays and Sundays at 2 & 4:30pm at Governors Island, Colonels Row, House 404A.
For more info visit https://www.exquisitecorpsecompany.com/waterwatereverywhere
For tickets: https://www.eventbrite.com/e/water-water-everywhere-tickets-66270012391
More Hot Stories For You