CHARLIE'S WAITING By Melisa Annis Starring Tony Nominee Xanthe Elbrick Opens At TheaterLab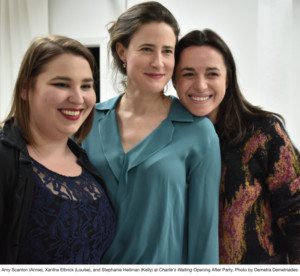 Parity Productions, the New York based theatre company dedicated to producing new work and filling at least 50% of the creative positions (playwrights, directors, and designers) with women and/or trans and gender nonconforming (TCNG) artists, opened Charlie's Waiting by Inaugural Parity Commission Winner Mêlisa Annis on March 31 at Theaterlab (357 W 36th St, New York, NY 10018) hosted by TLab Shares. Charlie's Waiting is playing an extended run of 21 performances now through April 20. The cast is led by Tony nominee Xanthe Elbrick (Broadway: Coram Boy, Candida), and features Stephanie Heitman (A Snowfall in Berlin), and Amy Scanlon (Balladeers Play to the Moon) and is directed by Parity Productions Artistic Director, Ludovica Villar Hauser.
Click here to purchase tickets. $27.50 General Admission. $15.00 Student/Senior/Rush/Military/All Unions. $50 VIP. $100 Closing Night Performance and After Party. Closing Tickets are partially tax deductible and help to support Parity's crucial mission and advocacy programs for the industry.
Charlie's Waiting, a world premiere by 2017 Parity Commission winner Mêlisa Annis, follows two women the night before their wedding. A pregnant Louise is busy with all the planning while her fiancée Kelly busies herself feeding the goats. Everything is going to plan, that is until Louise is forced to confront questions of trust and intimacy, and she discovers how quickly plans can get derailed. "We are thrilled by how well received the production was this Opening Weekend, and look forward to the rest of the run," says Parity's Founder and Artistic Director, Ludovica Villar-Hauser. "This is a very special play. Mêlisa can make us laugh and make us uncomfortable, all while keeping us on the edge of our seats."
"It is a wonderful thing when a dazzling talent announces itself and better yet when it is seen and acknowledged... The world need your plays, now more than ever, Mêlisa." Award Winning Playwright, Theresa Rebeck
"Mêlisa doesn't write one kind of play. She won't put herself in a box. She has infinite interests and she is not afraid to write about them. Her curiosity takes her to dangerous places. She is brave. And also a lot of fun." -Emmy Nominee, Cusi Cram
Charlie's Waiting features production design (set, costume, and props) by Meganne George (Broadway: A Wonderful Life), lighting design by Miriam Nilofa Crowe (Teenage Dick), and sound design by Caroline Kittredge Faustine (Single Rider).
The production is Assistant Directed by Judith Binus, with Dramaturgy by Jennifer Kranz, Stage Managed by Jenna Ng Lowry, Assistant Stage Managed by George Weinhouse, M.D., General Managed by Isabella Schiller, and Additional Casting by Jamibeth Margolis, C.S.A.
Xanthe Elbrick (Louise): Broadway: Coram Boy (Tony Award, Drama Desk Nom, Theatre World Award Winner) Off-Broadway: Candida (Drama Desk Award), Beebo Brinker Chronicles, Leaves of Glass, The Alice Complex, Peter and the Starcatcher (original workshop cast). Sith Inquisitor: STAR WARS The Old Republic, Body Of Lies (dir. Ridley Scott), Igraine The Brave (Parents' Choice Award). Trained Royal Academy of Dramatic Art, Actors Studio MFA.
Stephanie Heitman (Kelly) was trained at The American Academy of Dramatic Arts, Shakespeare & Company, and UCB. Select Theatre Credits: A Snowfall in Berlin (Teatro Latea), The Cutthroat Series: Grand Guignol (Flea Theatre), The Trial (Edinburgh Festival). Upcoming: What is Life Worth? opposite Stanley Tucci, and Maria/Antonio in Twelfth Night with Venture Shakespeare. www.stephanieheitman.com
Amy Scanlon (Annie) is thrilled to be joining Parity Productions for Charlie's Waiting. Training includes: Film and Theatre BA, Musical Theatre RADA, The American Academy of Dramatic Arts. Theatre credits include: One Flew Over the Cuckoo's Nest, It Runs in the Family, A Midsummer Night's Dream, Blithe Spirit (Gallery Players), For Now (NYFringe), The Rental (The Secret Theatre), Scenes of a Sexual Nature (Water People Theatre), Balladeers Play to the Moon (Joe's Pub). www.amy-scanlon.com
Meganne George (Production Design) Broadway: A Wonderful Life (Actor's Fund Benefit). Off-Broadway: She Calls Me Firefly, The Brightness of Heaven (Cherry Lane) For Mabou Mines: Glass Guignol (CS 122 inaugural production), Medea, Finn (NYSCA commission grant) DollHouse (2012 Elliot Norton Nomination-Design); Red Beads, Cara Lucia (ATW Hewes Nomination, Best Design 1stIrish Fest 2011); Superpowers, Orpheus and Eurydice, Children of Ararat, Hurray for Iceboy. John Goldfarb Please Come Home (FringeNY Best Costume Design 2007) Regional/International: For Heaven's Sake(Buffalo), Grey Gardens, As Bees in Honey Drown, No Way to Treat A Lady, Radio Gals, Choeophorae (Patras), Lucia's Chapters and A Prelude to a Death in Venice (Kilkenney Arts Festival), Jihad, Peola's Passing and God Don't Exist for Girls from Brooklyn, Code Blue and Sublet (NPTC at Sala Seki Sano, Bogota) Bronx Opera (14 seasons) Film/Industrial: Mabou Mines' Dollhouse ( Arte, France); Don't Nobody Love the Game (PBS Independent Lens); Sesame Street Celebration Parade (Beaches Resorts).
Miriam Nilofa Crowe (Lighting Design) Recently in New York: Kennedy (St. Clements Church), Teenage Dick (Ma Yi + The Public), Hurricane Party (The Collective NY), SeagullMachine and home/sick (The Assembly), This is Modern Art and Platonov (Blessed Unrest), Anna (Dusan Tynek), PS 160 (Gabrielle Mertz), 6 Characters . . . (Theodora Skipitares), 2Hymnvb (Anneke Hansen), The Penalty (The Apothetae), Medea (Bryan Davidson Blue), and Symphony for the Dance Floor (BAM). She is a founding member of Wingspace Theatrical Design and has an MFA from Yale. www.wingspace.com/miriam
Caroline Kittredge Faustine (Sound Design) is a transsexual theater designer, director, and musician. She is a founding member of the Brooklyn arts incubator Undiscovered Countries, and with them has developed award-winning performances presented in New York City, Maine, and Chicago. As a sound designer and engineer she's worked on new musicals (Single Rider), religious epics (inHEIRitance) and piles of trash (Trash the Patriarchy). She plays bass for transgender rustic electropunk band Gandor Chorale, whose fourth album ALL TOGETHER NO is now available.
Mêlisa Annis' work has been seen at or developed by Rattlestick Playwrights Theater, The Lark with Dorset Theatre Festival at the Theresa Rebeck Writers Colony, The New School, Primary Stages, ESPA*Drills, Tangent Theater, AboutFace Theater (Ireland), RAL Productions, and her play United Front was a finalist for the Lark's Playwrights Week. She won the Margaret Lamb Creative Writing Prize, and was the recipient of the Fordham Summer Fellowship while studying for her MFA in playwriting at Fordham/Primary Stages. Mêlisa has written for new children's show Jessy and Nessy for Amazon Studios, and is currently working with Conde Nast on creative content for an upcoming puppet-driven campaign. Mêlisa's play Aberfan was published in Clockhouse Literary Magazine (Goddard University) and her play Fit for a King was illustrated and published in Fourth Wall Magazine. Mêlisa has also worked as a dramaturg for Primary Stages (A Walk With Heifetz) and loves working with new writers to help develop their work. As a director Mêlisa has worked at The Ambassador Theatre Group (2019), The Arcola Theater (UK), Colorado Springs Fine Arts Center, Shadowland Stages, and Primary Stages to name a few select theater companies. Mêlisa is a frequent contributor to BBC Wales factual programming, and has written personal essays for The Western Mail (UK) and BBC Online. Mêlisa also teaches at the Dramatic Writing department at NYU.
Ludovica Villar-Hauser is the Founder and Artistic Director or Parity Productions. Her credits include Off-Broadway premiere of Final Analysis by Otho Eskin at the Signature Theatre (Outstanding Direction at Midtown International Theatre Festival); the premiere of Gregory Murphy's The Countess, which ran for 634 performances Off-Broadway before moving to London's West End; the Off-Broadway premiere of Leaves of Glass by English playwright Philip Ridley; As It Is In Heaven by Arlene Hutton at The Cherry Lane; Bold Girls by Rona Munro at 29th Street Rep; and the NY premieres of A Dozen Perfect Moments, The Brightness of Heaven, Living Arrangements by Laura Pedersen; and, most recently, She Calls Me Firefly by Teresa Lotz at SoHo Playhouse. Previous to her many credits in New York, Villar-Hauser was the youngest woman ever to simultaneously produce and direct in London's West End. Her Long Day's Journey Into Night transferred after its initial run to a larger West End venue. She is a recipient of NYWA's Galaxy Award, and has served on the Board of the League of Professional Theatre Women since 2009.
Parity Productions is a formidable producer of new work that ensures that they fill at least 50% of the creative positions (playwrights, directors, and designers) on their productions with women and/or TGNC artists. In addition to producing their own work, they actively promote other theatre companies that follow their 50% hiring standard. Artistically, they develop and produce compelling new plays that give voice to individuals who rebel against their marginalized place in society. In concert with Parity's mission to see more women and trans and gender nonconforming (TGNC) artists employed in the theatre, Parity Productions awards two commissions per year to women and TGNC playwrights who have demonstrated a singular talent for storytelling. The selected playwrights receive $2,500 each and a developmental deal.
Parity Productions is a 501(c)(3) not-for-profit theatre company formed in 2016 by international award-winning director Ludovica Villar-Hauser with its roots in two other previous not-for-profits founded by Villar-Hauser: VH Theatrical Development Foundation and Works by Women.
| | | |
| --- | --- | --- |
| | Donations | Arts Orgs |
Related Articles View More Off-Off-Broadway

Stories

Shows
More Hot Stories For You