BWW Review: THE WEREWOLF OF WASHINGTON HEIGHTS at Kraine Theater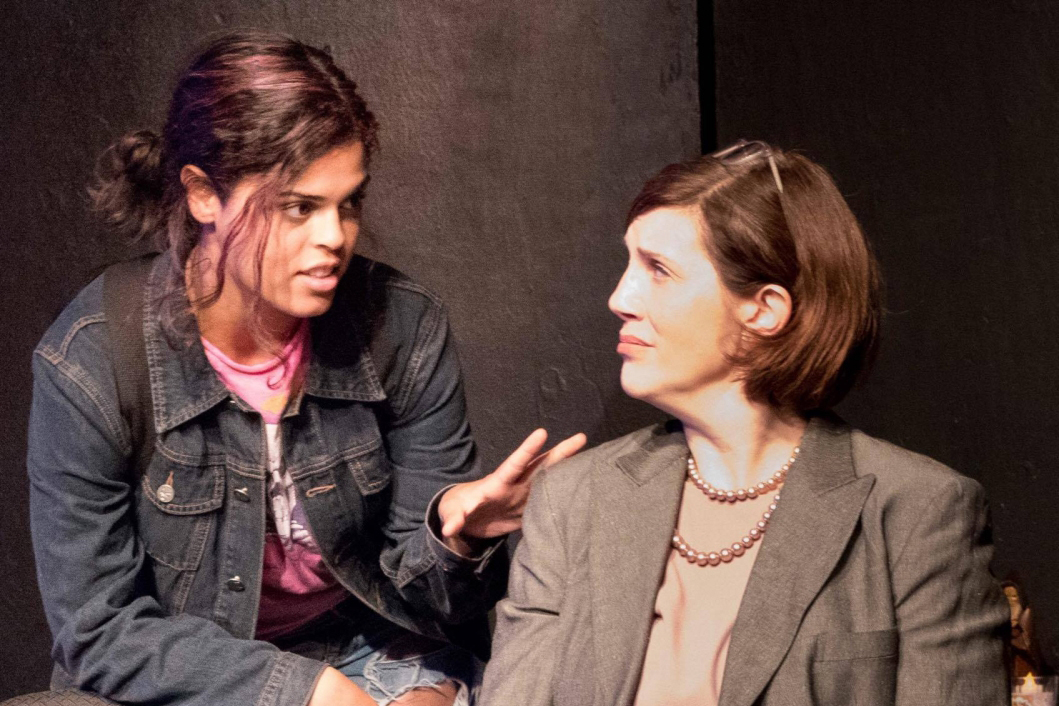 As a new resident of the neighborhood to which this play owes its setting and half its title, I admit my curiosity about The Werewolf of Washington Heights was driven by more than just artistic interest. And while I entered the East Village's Kraine Theater to pulsing Dominican beats, wondering how my uptown home would be portrayed, I emerged with a deeper awareness of what communities like Washington Heights can represent as pressure points of national wellbeing--particularly in the Trump era. This dark play, written by Christie Perfetti Williams and directed by Charmaine Broad, lingers over a multi-tiered intersection of vulnerable identities--gender, ethnic, racial, sexual, age, socio-economic--and confronts the devastating consequences of an oppressive scenario that's all too easy to imagine. Few places better embody diversity of this show's characters and themes as Washington Heights, labeled by one character as "the cusp" between worlds.
The Werewolf of Washington Heights
takes place on one evening in October, 2020, as the presidential election looms. Worst fears for the next three years have been realized: the nation is at war following a bombing in the New York City subway. The executive has been quick to consolidate power in a seeming pseudo-state of emergency. Public television, radio, and arts endowments have all been dissolved and replaced with state-run programs, the independent media is largely muzzled, curfews have been enacted, and the draft reinstated. The country's sharp authoritarian turn has brought a rollback of rights, with abortions illegal, immigration halted, and citizens enlisted as government eyes and ears. Into this bleak future, an innocent high school girl, Mary, has gone missing. It's the latest in a nationwide string of disappearances and brutal attacks on young black and brown women. Though the story surrounds the angelic Mary, it is not about her, but the pack of gritty women that surround her, whose deeper selves are slowly revealed as they all grapple with the question of her whereabouts. The plot is driven by a search for answers, led by Delia Bumbah (
Lori Funk
), a seasoned reporter determined to capture a story that will finally catapult her through journalism's glass ceiling (which she's convinced is cement). The play's apparent voice of privileged tone-deafness, Delia is mocked for her plastic sympathy by almost every other character, including her sardonic Iranian-immigrant videographer, Amira (
Sheila Joon
Ostadazim). Each character receives Delia's tactless investigation differently. Mary's mother, Izzy (Galit Sperling), is too consumed with panic and anguish to care, while her mom's undocumented ex-wife, Violet (Stephanie Annette Johnson), responds with distrust and rage, and her impish twin sister, Maggie (Pilar Gonzalez)--the yin to her yang--with deranged laughter. We also hear from Mary's strung-out aunt Trudy (Melanie Ryan), and no-nonsense New York-native neighbor (
Arlene A. McGruder
). But the chief truth-teller and soothsayer is Mary and Maggie's loopy, rambling grandmother, Imogene (Rosina Fernhoff), who observes much more than she lets on. Imogene's profound, hysterical (and at times incoherent) soliloquies, peppered with quotes from history's feminists, unveil complicating new layers of each character, muddying the waters on the question of what happened to Mary, but crystallizing the show's prominent themes. Fernhoff leads a versatile cast fearlessly, portraying an intriguing Imogene that's equal parts ridiculous, playful, and insightful. Most actors have to reveal several conflicting dimensions to their characters as the show unfolds, and all manage to do so. Annette Johnson convincingly blends Violet's heartfelt compassion and suppressed fury, while Gonzalez manages to melt away Maggie's initial obnoxious inhumanity by the final scene. A pair of wolf-masked dancers punctuated the performance, often giving motion to Maggie's musings. The dancers' nimble choreography enhanced the sense of mystery surrounding Imogene, and the play's all-around creepiness, though I sometimes found their placement distracting. An efficient cast and crew led by Stage Manager, Erinn Conlon, used a pared-back mix of light changes and a no-frills set with minimal transitions to let the play piece for itself. What happened to Mary? I will say that the play does satisfy the audience's curiosity with a concrete answer by the end. What was less concrete to me is the question of what the werewolf represents. Is it the perils of a society in denial of its oppressive systems? Is it a demagogue? Is it the inner demons of fear, mistrust, and greed that we all struggle against? Or is it an image of the repressed female spirit? To be honest I'm not entirely sure. But I do know two things. First,
The Werewolf of Washington Heights
is much more than a Halloween thriller, hitting chillingly close to home. And second, it will confront you with the consequences of apathy, and our human resilience to, if not prevent those consequences, withstand them.